Preparing your trip to Valle d'Aosta: advices & hints - things to do and to obey
1. Ski resorts of the region are the most expensive in the country. In part, high prices are due to the fact that resort guests have access to the slopes of other countries. At the same time, equipment of local ski centers deserves the highest praise.
2. The region has the excellent bus system, but it would be a pleasure to travel by car too. Renting a car is an ideal option for those who stay on vacation as a great company and is going to change places.
3. The region has more than 500 accommodation centers. You can find hotels and apartments for any taste and budget; as a rule, the most expensive hotels are located within major cities. Budget travelers prefer hotels at suburban areas; you can easily get from there to popular entertainment centers and ski areas.
4. Local ski resorts offer a wide range of services to people with disabilities. Many resort areas offer upscale wellness centers that would appeal not only to fans of active leisure, but also to those who want to improve their health.
5. The most popular souvenir is the local wine, as well as cheese and Tegola biscuit. Travelers are advised to search edible souvenirs in specialized shops, where the selection is the largest. Copyright www.orangesmile.com
6. The region has a pervasive system of cashless payment, so it's not necessary to carry large sums of cash. Cash would be useful to those who are looking forward to attend the open market or to spend time in remote rural areas and small towns.
7. In restaurants, tips are accepted; waiter tip is 10 - 15% of the total order. In some large dining places tip may be included in the total score; in this case it is appropriate just to round the amount up to any convenient sum.
Locals consider culinary traditions to be an integral part of their culture, so people protect latest from overpowering changes made by the modern world. The national menu consists of simple …
Open
8. Most travelers visit the region during major festivals and carnivals. A considerable part of the holidays fall on New Year's period, as well as on summer months, so in this period of time it's recommended to book hotel rooms in advance.

Preparing your trip to Valle d'Aosta: advices & hints - things to do and to obey You can re-publish this content with mandatory attribution: direct and active hyperlink to
www.orangesmile.com
.
What to visit being in Valle d'Aosta - unique sights
Cleuson-Dixence
From the series
"The Greatest Dams in the World"
Check on the map:
Distance from Valle d'Aosta center - 38 km.
A few years ago, the dam was connected to the flat districts by the cable car. Through the dam tunnel the exciting excursions for the tourists are carried out. After the visit of the magnificent building from the inside is still an interesting entertainment offered to the guests - all interested can stay in one of the tunnels under the dam. The dreamers prefer to visit this wonderful area in winter - amidst snowy mountain landscapes the dam still looks more impressive. …
Read further

Tortin Ski Slope
From the series
"Top 13 Furious Ski Resorts and Pistes"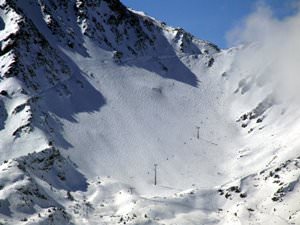 Check on the map:
Distance from Valle d'Aosta center - 42.6 km.
For this reason, the extreme sports fans prefer to visit the health resort in the spring when the snow begins to melt or in autumn, when it has not yet hidden all the special features of the 'black' slopes. The health resort Verbier also offers many opportunities for freeriding. However Verbier was known worldwide precisely because of the 'Torin' runway. …
Read further

Aiguille du Midi
From the series
"The World's Highest Observation Decks"
Check on the map:
Distance from Valle d'Aosta center - 44.5 km.
You can not only walk through the tunnels between levels, but also use a special lift that is much more convenient and faster. There is a special plate with the exact height of the platform and its number at each level. It's also worth to have a long and incredibly interesting tour to Aiguille du Midi that many tourists tend to visit in the summer. The fact is that it's always very cold and very windy at the top, so it would be more comfortable to climb it in the summer, when it's not so chilly. …
Read further

City tours, excursions and tickets in Valle d'Aosta and surroundings
Car rental on OrangeSmile.com

Saudi Arabia to Open 38 Hotels in Diriyah
Diriyah is one of the first mega projects in Saudi Arabia. Hotels and other infrastructure will start opening next year, and all works are expected to end in 2026. The first 18 restaurants in Bujairi Terrace will start operating already in early 2022.
Read this
01.06.2023
Photos of Valle d'Aosta
Services search (pharmacy, police, parking, banks) on Valle d'Aosta map
Tips for the cities around Valle d'Aosta
Travelling to Valle d'Aosta - advices and tips. What should be provisioned in advance, the rules you might want to follow, and the things you better avoid doing in Valle d'Aosta. We help you to make your trip smooth and easy, with no unexpected surprises.