City break in Turin. Active leisure ideas for Turin - attractions, recreation and nightlife
Turin offers its guests a unique opportunity to combine a fascinating tour with their favorite entertainment options. The city is popular among fans of eco-tourism, because its territory has more than ten large-scale gardens and parks as well as many picturesque squares and alleys. You can take a break from city life and make beautiful photos during a walk in the Valentino park; it is the most beautiful in the city. The park is perfect not only for walking and cycling, but also for sports entertainment.
Palazzo Madama, Teatro Regio, Basilica di Superga, Chiesa della Gran Madre di Dio, Chiesa di San Lorenzo, as well as many others, they all become the world's cultural heritage objects and remain as iconic monuments for Turin …
Open
The Bosco del Vaj park is popular among holidaymakers too. Those who wish to appreciate the diversity of local flora would like to walk through the botanical garden, Orto BotanicoTorino. Besides beautiful natural parks, the city has excellent amusement parks. Among them holidaymakers point out Parco Avventura Tre Querce that is famous for a wide range of rides and recreational areas.
Fans of water activities will enjoy a modern Piscina Comunale Trecate water park. Modern and colorful, it is ready to offer customers a great selection of pools and slides, as well as spacious areas for loafing and sunbathing. Luxury spa centers of Turin are also worth mentioning, as they are considered among the best in the country. QC Termetorino, Galleggiando, Hafa Hammam and Il Mulino del Benessere provide a huge selection of exclusive services. Copyright www.orangesmile.com
This ancient Italian city amazes visitors by the amazing diversity of tourist routes, cultural programs and historic sites. Each of its streets and squares certainly has so many fascinating …
Open
Fans of nightlife won't be disappointed with Turin too. The interesting evening program is offered not only by nightclubs, but also by numerous bars. A large company may have a great time at the Maison bar tasting branded treats and exotic cocktails. Noisy parties are held regularly at the Shamrock Inn nightclub. Fans of disco would appreciate the Bolero Music Hall. Among other popular nightlife places Funkiglia and El Barrio clubs deserve special attention.
You can go on a colorful Gran Balon street market to get some souvenirs. There customers are offered a wide range of products, interesting handmade and vintage items. There are lots of of specialty shops and art galleries, stylish boutiques and perfume shops on central streets of the city.

This guide on active recreation and leisure in Turin is protected by the copyright law. You can re-publish this content with mandatory attribution: direct and active hyperlink to
www.orangesmile.com
.
City tours, excursions and tickets in Turin and surroundings
Recommended places for active recreation and leisure in Turin
Hiroshima Mon Amour
Where: Via Bossoli 83, Turin; Telephone: 011 317 66 36;
Café Blue
Where: Via Valprato 68, Docks Dora. There are more clubs at the same address., Turin;
Matilda Fashion
Where: Corso Massimo d´Azeglio, Turin; Opening hours: Open from 21;
Sites around Turin from our surveys on extreme Earth places
Live House in Turin
From the series
"Unique Living Houses"
Check on the map:
Distance from Turin center - 11.8 km.
Turin also has an amazing live house, which curious travelers definitely have to see. It was built in 2012. The author of the project of the unusual residential complex is the well-known architect Luciano Pio. The residence consisting of 63 apartments is 7 500 square meters. Its facade is decorated with amazing natural plants and flowers. Among them, you can see lush bushes, real trees, and the composition of climbing plants. All the greenery on the facade is planted in special containers. …
Read further

Savoy Residences in Turin
From the series
"16 Most Fascinating Objects of Unesco in Italy"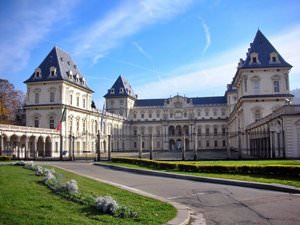 Check on the map:
Distance from Turin center - 0.3 km.
In Torino we can find palaces of an incredible beauty of Savoy Residences. In 1997 this architectural complex was included in a list of UNESCO world heritage site. In 1562, Emmanuel Philibert, Duke of Savoy, moved capital to Turin and commenced a series of building projects using the best architects available at the time. The palaces were built for the demonstration of wealth and power of Savoy Residence. Only the best materials and the most precious metals were used for inner and exterior decoration. …
Read further

Photogallery of picturesque Turin
Search for active leisure and attraction spots on Turin map
City break ideas for neighbours of Turin
Guide to your best city break in Turin - popular places for recreation and leisure. Things to do during the day in Turin - attractions, parks, beaches, aquaparks, racing tracks, biking trails or waterski. Recommendations (with addresses, phone numbers and links) where to spend your time in the evening (bars, discos, clubs, etc.). We share some good ideas and the question 'What to do in Turin?' disappears immediately.