Family trip to Naples with children. Ideas on where to go with your child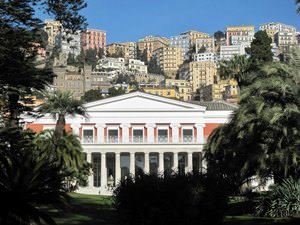 Naples has many unique historical sights and cultural centers, as well as entertainment venues for travelers with children. In the immediate vicinity of Naples, you'll find the famous Panda Park offering its visitors more than 20 rides. The park has an indoor pavilion full of inflatable attractions, trampolines, and ball pits for the smallest kids. You can ride a small train through the park, and some of its attractions are even suitable for adults. The best time to visit the park is the warm season, as there are many open-air rides.
Exploration of local landmarks and sights will turn into an unforgettable experience as the city of Naples and its suburbs count inestimable architectural landmarks and monuments as well as …
Open
A must-have for a family vacation in Naples is a visit to Lo Zoo di Napoli. This zoo is adorned by many living trees and plants, as well as artificial ponds. Some inhabitants of the zoo are almost tame - visitors will have the opportunity to feed friendly lamas or watch hippos living in a large pool. The zoo also has many dangerous predators, including brown bears and crocodiles.
The city also offers a great aquarium called Anton Dohrn Aquarium, which is mainly visited by traveling families. This aquarium presenting a unique collection of marine creatures is the oldest in Europe. Dozens of species of colorful fish and crustaceans, beautiful stingrays and rare sea predators, colonies of sea urchins and polyps - here you can meet the rarest and most unusual inhabitants of the deep sea. Copyright www.orangesmile.com
Naples will be of great interest and pleasure for open air leisure enthusiasts and for those tourists who can not imagine any vacation without visiting scenic natural attractions. The city …
Open
In the warm season, many picturesque parks are available for holidaymakers. Diguilandia Park is equipped for families on one of the streets every year. They can enjoy many interesting inflatable attractions, the park is largely aimed at small children. Children's towns, spacious playgrounds for active games, and a large pool with inflatable boats are always available for its visitors. The park offers many interesting souvenirs, toys, and sweets, so you can spend a great evening here.
On a rainy day, take your child to Kinderland Napoli. This entertainment center is quite large and offers playgrounds for children of all ages, including play areas for the smallest ones. Safe soft rides, ball pits, slides, swings, trampolines, and a nice cafe - all kids would be happy to visit this bright place. For older children, there is an excellent recreation area with board games. Besides that, the center is perfectly equipped for children's parties.
1. The heat of the tourist season falls within summer months. That is the reason for tourists wishing to visit Naples in summer to take care of hotel booking in advance. The hottest months …
Open
Those planning to visit Naples during the warm season should check out Oasi del Bimbo. This amusement park is quite small but has a fun and welcoming atmosphere. It provides excellent carousels and playgrounds for kids, as well as colorful inflatable attractions in summer. The park features a pretty original design with lots of sculptures and landscape decorations. A beautiful hall is available for special occasions so you can arrange a fun family holiday in the park.
Naples also has a wonderful children's museum - the Ospedale delle Bambole. It presents a collection of the most beautiful toys brought from different countries of the world. The museum displays a lot of unique antique exhibits. For many years, the owner of the museum has been collecting old discarded toys and repairing them herself.

This guide to family holidays in Naples is protected by the copyright law. You can re-publish this content with mandatory attribution: direct and active hyperlink to
www.orangesmile.com
.
City tours, excursions and tickets in Naples and surroundings
Photogallery of best places of Naples
Children attractions (aquaparks, zoos, amusement parks) on the map of Naples
Interesting places to visit with children around Naples
Guide to sightseeing and entertainment for children in Naples - parks, attractions, museums, zoos, water-parks. All fascinating and educational sites of Naples, which are must visit and see for your child. Find out the best discovery routes and places for kids (local theaters, exhibitions and museums), where you can spend quality time together. Naples for families with children.