City break in Naples. Active leisure ideas for Naples - attractions, recreation and nightlife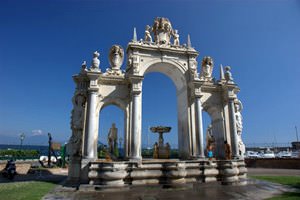 Naples will be of great interest and pleasure for open air leisure enthusiasts and for those tourists who can not imagine any vacation without visiting scenic natural attractions. The city features several amazing parks and awesome gardens. The city suburbs are crossed with innumerable walking routes and passes running through the most scenic areas. Nature attractions fans should visit a small island of Bivara which is joined with the mainland with a bridge.
Eco tourists should set off to the Visuvio Volcano. Those who will manage to climb up the volcano will get a perfect opportunity to make an exciting trip around the vent of the eruption as well as to enjoy a breath taking bird's eye view over the city and suburbs. Naples features a great many of entertaining centers which are perfect for family visits. Copyright www.orangesmile.com
Absolutely everyone will like doing shopping in Naples, as the city has shopping spots to suit every taste and budget. Via Calabritto is considered the city's most expensive shopping street …
Open
Tourists traveling with kids should visit a local aquarium named the Anton Dohrn Aquarium. It is located not far from the city center and offers its guests numerous exciting attractions and excursions. Those looking for more unusual leisure and adventures will like an entertaining program offered by the INAF Capodimonte Astronomical planetarium. The Panda park of attractions is of great popularity among city visitors. It is designed for younger children and toddlers, the territory of the park features various playing grounds and attractions.
Older kids will also find some entertainments as the park offers an excellent rest area equipped with prize machines and amazing unbelievable attractions. The city of Naples is known for its numerous night entertainment establishments as well. Tourists will discover exciting bars, dance floors and modern cinema centers there. Exotic treats and drinks fans will love the Aurelio night club. Those tourists giving preference to a quieter pace of life are recommended to visit the American Hall cinema complex. One of the best night clubs of the city is considered to be the Nabilah Beach. Almost every night the club explodes with new exciting parties. Shopping addicts will get enthused with a huge choice of shops, boutiques and markets. The largest market in the city is considered to be the Viale Dohrn Antique Market.
Discovering the architecture of Naples from bird's eye view! San Francesco di Paola, Castel Nuovo, Castel dell Ovo, Naples Cathedral, San Domenico Maggiore, Santissima Annunziata Maggiore, Mount Vesuvius, all those monuments are defining the image of Naples …
Open
Lo Zoo di Napoli is another must-have in the capital of Italy's Campania region. Its inhabitants are lemurs, tigers, lions, peacocks, flamingos, elephants, seals - this is only a small part of all the animals you can look at. Animal lovers will also enjoy Ippodromo di Agnano where graceful horses compete for the title of the best, while gamblers can place their bets to satisfy their need for adrenaline. Besides that, in Naples, everyone can handle a horse on their own - you only need to book an equestrian tour at Horse Riding Tour.
Naples is rich in beautiful art cafes and theaters where you can have a good time watching soul-thrilling shows. While in the city, it's worth clarifying which performances take place at concert halls like the Teatro Trianon Viviani or the Teatro Diana. At the art cafe Piccolo Teatro Lazzari Felici, performances are held almost every evening, especially in summer. Those who prefer films to drama should be advised to go to the most popular cinema in town - Cinema & Teatro Acacia.
Royal Palace, Santa Chiara, Museo di Capodimonte, Castel Sant. Elmo, Galleria Umberto I, as well as many others, they all become the world's cultural heritage objects and remain as iconic monuments for Naples …
Open
A perfect place to please dinosaur fans is Cratere degli Astroni, a dino park with a great variety of life-sized statues of ancient monsters. Kids will love this place for sure, while adults will get just as much positive emotions. Diving enthusiasts should never ignore Parco Sommerso di Gaiola Area Marina Protetta, a unique archaeological park under the waters of the Gulf of Naples. The fact is that there was once a resort for Roman patricians on a small island near Cape Posillipo, so today you can find the remains of villas, theaters, therms, and temples left over from Roman times.
Fans of eco-tourism will certainly appreciate Cape Posillipo, which is also an excellent observation point offering spectacular views of Mount Vesuvius and the Gulf of Naples. At the cape, you can find a very atmospheric place - Parco Vergiliano a Piedigrotta where the prominent Italian philosopher Giacomo Leopardi and the ancient Roman poet Virgil are buried. You will need to go up rock-cut stairs located near the Crypta Neapolitana to get to Virgil's tomb. No less attractive for fans of outdoor recreation is picturesque Parco Virgiliano where they can discover another beautiful cave - Grotta di Seiano.
The city is widely known as a popular holiday destination, so life doesn't stop here day and night, and there are always so many visitors in this place at any time of a year. Many …
Open
Funimondo is a great place for active tourists of any age and level of training. This is an adventure park with lots of interesting rope courses. Scenic views will make your pastime even more enjoyable - the park is located in an incredibly beautiful area. Besides rope attractions, visitors can enjoy picnicking, as all conditions are created for this kind of leisure here. Young tourists should also be invited to Edenlandia Amusement Park where a variety of rides are available for them. While the kids are frolicking, adults can grab a bite at a cafe or try some extreme attractions.
Pausilya Therme di Donn'Anna is happy to provide a serene and relaxing environment where visitors can use great sunbathing areas, massage rooms, and swimming pools (including a jacuzzi) for every taste. An indisputable advantage of the spa center is the fantastic views of the Gulf of Naples. Another popular spa is Lite Life with its wide range of thermal pools, massage rooms, and saunas. Of equal interest is Istituto Ego Shape striking with its atmosphere and scenic views. As for spa treatments, there are lots of options to choose from.
Naples has many unique historical sights and cultural centers, as well as entertainment venues for travelers with children. In the immediate vicinity of Naples, you'll find the famous Panda …
Open
Piscine Karibu is another must-have destination for those wishing to have a great time in Naples. Visitors will appreciate shady sunbathing areas, swimming pools, excellent cuisine in its cafe, as well as a relaxing atmosphere. The city has several entertainment centers where friends should go to have a lot of fun together. These include Show Bowl and Bowling Oltremare where tourists can play bowling, billiards, video games, as well as have a meal at a pizzeria. By the way, failing to learn the basics of Neapolitan pizza cooking while in Naples is akin to a crime, so be sure to visit culinary studios such as Pizza Experience and Toffini Academy Cooking Classes to get some skills in Neapolitan-style cooking.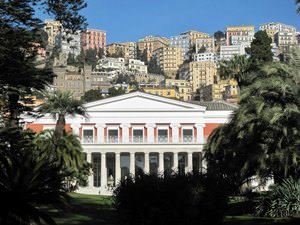 The capital of Campania offers several great escape clubs where tourists can spend their free time trying to find a way out of the room using their wits. The most popular center is simple-named Escape Napoli offering themes ranging from post-apocalyptic to historical. Another center - Aenigma Escape Rooms - is no less interesting. Here, participants can feel like Indiana Jones or try themselves as a tester of an amusement park where far not everything is as smooth as it seems at first glance. Participants can be sure they will have a pleasant experience regardless of which club they choose.

This guide on active recreation and leisure in Naples is protected by the copyright law. You can re-publish this content with mandatory attribution: direct and active hyperlink to
www.orangesmile.com
.
City tours, excursions and tickets in Naples and surroundings
Recommended places for active recreation and leisure in Naples
Enoteca Belledonne
Where: via Belledonne a Chiaia, 18, Naples;
Intra Moenia
Where: piazza Bellini 70, Naples;
Chalet Ciro A Mergellina
Where: via Caracciolo 66, Naples;
S'moove
Where: vico dei Sospiri 10A, Naples;
Burbon Street
Where: via Bellini, 52, Naples;
Velvet Zone
Where: via Cisterna dell'Olio 11, Naples;
L'arenile
Where: Via Coroglio 10, Naples;
Freezer
Where: Centro direzionale isola G6, Naples;
Mutiny Republic
Where: via Bellini, Naples;
Photogallery of picturesque Naples
Search for active leisure and attraction spots on Naples map
City break ideas for neighbours of Naples
Guide to your best city break in Naples - popular places for recreation and leisure. Things to do during the day in Naples - attractions, parks, beaches, aquaparks, racing tracks, biking trails or waterski. Recommendations (with addresses, phone numbers and links) where to spend your time in the evening (bars, discos, clubs, etc.). We share some good ideas and the question 'What to do in Naples?' disappears immediately.