Cuisine of Naples for gourmets. Places for dinner - best restaurants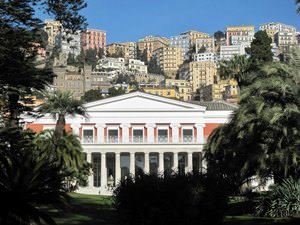 Gastronomy diversity of Naples will impress the fans of Italian cuisine. Attractive restaurants and pizza houses are located in all city districts. One of the most attractive gastronomy establishments of the city is the Starita pizza house greeting its guests day and night. A cost of an excellent pizza will not exceed 20Euro. The cozy pizza restaurant will turn to a perfect place for a family visit. Pot pizza with mozzarella is one of the main specialities regular customers of the house give preference to. It is hard to resist its tempting flavor and taste.
Many people identify the city of Naples with pizza treat first of all. Actually the city is considered to be a birthplace of a popular Italian treat. Italian cuisine experts consider Naples …
Open
The Da Donato restaurant will also treat its guests with speciality pizza and will offer a great choice of traditional Italian dishes as well. If necessary its guests can order to-go dishes. Among budgetary eating houses the Antico Forno delle Sfogliatelle Calde Fratelli Attanasio restaurant is best worth noticing. Its ambient hall decorated in modern style can comfortably set up to a hundred guests at once.
In the daytime the restaurant is filled with visitors with kids who love speciality sandwiches and refreshing drinks of the eating house. In the evenings the restaurant attracts many local people, that is why a table should be reserved in advance. One of the most romantic gastronomy establishments of the city is considered to be the Tartufi che passione restaurant offering truffle as its main speciality. Copyright www.orangesmile.com
Exploration of local landmarks and sights will turn into an unforgettable experience as the city of Naples and its suburbs count inestimable architectural landmarks and monuments as well as …
Open
In the evening the restaurant sinks in amiable informal atmosphere which is added with nice live music. The pleasure of the visit will be enhanced with speciality culinary masterpieces of the local chefs. Ice cream and sweets addicts can not leave the Gay Odin café out of sight as it features a vast choice of desserts and refreshing drinks. Among upscale establishments the Napoli Mia restaurant specializing in ethnic cuisine is best worth mentioning.
The dishes served in the restaurant feature not only excellent execution and quality but an original artistic design. The Napoli Mia offers an excellent choice of desserts on the menu. The restaurant possesses a perfect wine list. The Sorbillo restaurant offers a vast choice of traditional dishes of European cuisine apart from Italian treats and Neapolitan pizza. The restaurant will be of great interest and pleasure as for sea foods admirers so for meat dishes fans. Sea foods admirers will love the Palazzo Petrucci restaurant which offers the most incredible chef's specialities on the menu. A major part of speciality treats of the restaurant is prepared of sea foods.
Naples will be of great interest and pleasure for open air leisure enthusiasts and for those tourists who can not imagine any vacation without visiting scenic natural attractions. The city …
Open
Neapolitan cuisine is striking with its diversity. Locals cook dozens of interesting dishes of fish and seafood, bake wonderful pizza, and prepare salads with aromatic basil and fresh mozzarella from local farms. Small home restaurants are widespread in the city. Here you can try dishes prepared according to family recipes.
A very interesting and popular local dish is Mozzarella in Carrozza - a special kind of mozzarella sandwich. Once it was prepared just to use mozzarella leftovers, but over time, it has turned into the most popular snack local snack. Local restaurants also serve a lot of interesting potato dishes, including Crocchè di Patate. The deep-fried croquettes are made from mashed potatoes with cheese and herbs. Small "friggitorie" shops specializing in cooking this dish are common in the historic center of Naples.
1. The heat of the tourist season falls within summer months. That is the reason for tourists wishing to visit Naples in summer to take care of hotel booking in advance. The hottest months …
Open
The most popular vegetable dish is Parmigiana di Melanzane - a kind of vegetable casserole. Its main ingredients are eggplant, tomatoes, basil and mozzarella, and popular spices, of course. At local pizzerias, be sure to try the authentic Neapolitan pizza, which is known throughout the world under the name of "Pizza alla Napoletana". Filling for this pizza is prepared from only three components: tomato paste, mozzarella, and basil. Such pizza is served in literally all local restaurants, often baked in a wood-burning oven.
Fans of true Italian pasta will have a chance to try a special dish - Pasta e Fagioli. This pasta is prepared with the addition of beans, it is one of the most common regional dishes. Among the variety of meat dishes, it is worth giving preference to traditional Neapolitan stew, which can be prepared from various meats. Usually, pork or beef is used for cooking, and in some Naples restaurants, you can also taste more original offal stews. The dish is cooked for four hours to make the meat taste absolutely unique. The city's residents consider Baba al Rhum - a special type of cake soaked in rum syrup - to be their main dessert.

This guide to cuisine and restauraunt in Naples is protected by the copyright law. You can re-publish this content with mandatory attribution: direct and active hyperlink to
www.orangesmile.com
.
City tours, excursions and tickets in Naples and surroundings
Where to go for dinner in Naples: recommended cafe and restaurants
Ristorante Mimì Alla Ferrovia
Where: via Alfonso d'Aragona 19, Naples; Telephone: +39 081 553 8525;
Ristorante Ciro
Where: via Luculliana, 29/30, Naples; Telephone: +39 081 764 6006;
Ristorante La Fila
Where: via nazionale 6D, Naples; Telephone: +39 081 206 717;
Ristorante Amici Miei
Where: via Monte di Dio, 78, Naples; Telephone: +39 081 764 6063;
La Taverna Del Buongustaio
Where: via Basilio Puoti 8, Naples; Telephone: +39 081 551 2626;
Pizzeria Cafasso
Where: via Giulio cesare, 156, Naples; Telephone: +39 081 239 5281;
Pizzeria Pellone
Where: via Nazionale 93, Naples; Telephone: +39 081 553 8614;
Pizzeria Da Michele
Where: Via Cesare Sersale, 1/3, Naples; Telephone: +39 081 553 9204;
Reference information
Michelin-starred restaurants in Naples
♥ Restaurant 'La Cantinella' NAPOLI. Type - Regional cuisine. 0.1 km from the center.
On the map
Photo
♥ Restaurant 'Caruso Roof Garden' NAPOLI. Type - Classic cuisine. 0.4 km from the center.
On the map
Photo
♥ Restaurant 'Amici miei' Napoli. Type - Italian. 0.4 km from the center.
On the map
Photo
♥ Restaurant 'Locanda N'Tretella' Napoli. Type - Country. 0.5 km from the center.
On the map
Photo
♥ Restaurant 'L'Altro Coco Loco' Napoli. Type - Seafood. 0.5 km from the center.
On the map
Photo
♥ Restaurant 'Il Comandante' Napoli. Type - Creative. 1 km from the center.
On the map
Photo
♥ Restaurant 'L'Europeo di Mattozzi' NAPOLI. Type - Campanian. 1.2 km from the center.
On the map
Photo
♥ Restaurant 'Veritas' Napoli. Type - Modern cuisine. 1.7 km from the center.
On the map
Photo
♥ Restaurant 'Palazzo Petrucci' Napoli. Type - Creative. 1.7 km from the center.
On the map
Photo
♥ Restaurant 'Sorbillo' Napoli. Type - Pizza. 2 km from the center.
On the map
Photo
Naples in photo set
Searching where to eat - restaurants and cafe on Naples map
Cuisine and restaurants in the neighbours of Naples
Travel notes on best cuisine and restaurants of Naples (Italy) on OrangeSmile.com. Famous recipes and traditional dishes and courses in Naples restaurants. Where to eat - our recommendations on popular places in Naples, where you can taste delicious meal and also spend a good time with your friends.