Shopping in Naples - authentic goods, best outlets, malls and boutiques
Absolutely everyone will like doing shopping in Naples, as the city has shopping spots to suit every taste and budget. Via Calabritto is considered the city's most expensive shopping street concentrating elite designer boutiques. This is where one should go in search of fresh designer stuff, original accessories, and the most expensive souvenirs. There are Ferragamo, Prada and Versace boutiques on this street. Besides clothes, you can also buy luxury jewelry and perfumes.
Gastronomy diversity of Naples will impress the fans of Italian cuisine. Attractive restaurants and pizza houses are located in all city districts. One of the most attractive gastronomy …
Open
Budget travelers would rather prefer shops located on Via Chiaia. They all offer affordable prices and goods of any nature. On the street, you will find men's, women's and children's clothes, as well as cosmetics and perfume stores. The main tourist attraction on Via Chiaia is the numerous souvenir shops where you can choose wonderful handicrafts by local artisans.
One of the main commercial streets in Naples is Via Roma with a length of more than 3 km. Here you can find shops of different price categories, restaurants and cafes. It is also worth noting that Naples' main shopping streets are distinguished by magnificent architecture, so walking along them brings an incredible aesthetic enjoyment. Copyright www.orangesmile.com
Many people identify the city of Naples with pizza treat first of all. Actually the city is considered to be a birthplace of a popular Italian treat. Italian cuisine experts consider Naples …
Open
While in Naples, be sure to check out some gastronomic shops, the most interesting of which are concentrated in the area of La Pignasecca. Here you can walk along several picturesque streets, each of which is a series of small shops. Here you can buy rare delicacies and wines not only from various regions of Italy but from other European countries. Here, tourists usually buy their favorite Italian wines and liquors, rare cheeses and homemade pasta packages. The choice of sweets is also great in such stores, and special attention should be paid to sweets made from fruits.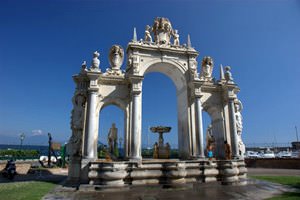 The colorful Port Alba quarter is a real mecca for book lovers that can be found in the historic district. It concentrates the most popular and famous bookstores in town, including second-hand bookstores where you can find rare old books. Local bookstores sell beautiful brochures and books on Naples attractions. Besides that, they are known for their rich selection of souvenirs. In Port Alba, a flea market is open once a month on weekends. It would be interesting to wander around here for collectors and fans of unusual souvenirs.
Exploration of local landmarks and sights will turn into an unforgettable experience as the city of Naples and its suburbs count inestimable architectural landmarks and monuments as well as …
Open
Among fashionistas, the most purchased goods in Naples are locally made clothes and shoes. They also pay attention to cosmetics and perfumes from leading European brands. Many jewelry stores have pretty affordable prices. Antique shops are another interesting feature of the city. Here you can find modest vintage souvenirs or real works of art that cost a lot. Edible souvenirs are equally relevant, especially when it comes to Italian wines, olive oil, cheeses, and prosciutto.
On the outskirts of Naples, several large outlets would be of great interest to all men and women of fashion. The most popular one is Centro Commerciale Campania located in the suburban area of Caserta. The outlet houses 180 stores, which makes it very popular with families. Customers will find Guess, Oltre, H&M, Pimkie, Bershka, Stradivarius, Jennifer, and Persona stores, as well as several stores of famous sports brands. In this outlet, you can pick up great clothes and shoes for the whole family, and go to a cafe or a restaurant after shopping.
Naples will be of great interest and pleasure for open air leisure enthusiasts and for those tourists who can not imagine any vacation without visiting scenic natural attractions. The city …
Open
In the suburban area of Nola area is Vulcano Buono, an outlet offering its visitors more than 200 stores of all possible profiles. Besides clothes and shoes, customers can choose cosmetics and perfumes from world-famous brands, home goods, and electronics. The shopping center has a large play area for children and restaurants and cafes for the convenience of all visitors.
Naples has one of the largest and most famous antique markets in Italy - Fiera Antiquaira Napoletana located on Via Caracciolo. It is only open on certain days, so the work schedule should be specified in advance. The range of goods it offers is huge, from old books and Christmas decorations to works of art and genuine antique jewelry. At this market, you can also buy a popular local souvenir - an antique Pulcinella doll, which has long become one of the main symbols of the city.

This guide to shopping in Naples is protected by the copyright law. You can re-publish this content with mandatory attribution: direct and active hyperlink to
www.orangesmile.com
.
City tours, excursions and tickets in Naples and surroundings
Reference information
Shopping streets in Naples
♥ Shopping area ' Via Chiaia' Naples, 0.5 km from the center.
On the map
Photo
♥ Shopping area ' Piazza de Martiri' Naples, 0.7 km from the center.
On the map
Photo
♥ Shopping area ' Via Calabritto' Naples, 0.7 km from the center.
On the map
Photo
♥ Shopping area ' Via Toledo' Naples, 1.1 km from the center.
On the map
Photo
♥ Shopping area ' Via Scarlatti' Naples, 2 km from the center.
On the map
Photo
Designer outlets in Naples and nearby
♥ Outlet 'LA REGGIA DESIGNER OUTLET' S.P. 336, Sannitica Marcianise (CE), 81025, Italy, 20.3 km from Naples.
On the map
♥ Outlet 'CASTEL ROMANO DESIGNER OUTLET' Via Ponte di Piscina Cupa 64, Castel Romano (Roma), 00128 Italy, 179.9 km from Naples.
On the map
Photogallery of Naples best places
Search for shopping areas, streets, boutiques and supermarkeets on Naples map
Shopping advices for the whole region around Naples
Shopping advices for Naples. The best spots for buying designer clothes and local delicacies from Italy - shops, galleries, boutiques and outlets. We provide you with the shopping streets map, so you can plan your efficient shopping routes, while hunting for authentic souvenirs, goods, drinks, shoes and clothes in Naples.