City break in Sorrento. Active leisure ideas for Sorrento - attractions, recreation and nightlife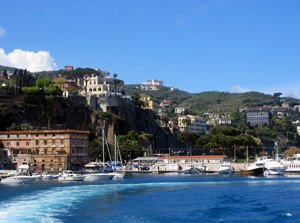 Sorrento isn't distinguished by an abundance of noisy entertainment venues, but the resort is sure to please fans of shopping, hiking and beach holidays. Fans of loafing and those who prefer to sunbathe in a secluded place would like the Punta del Capo Beach. Here you can perfectly relax all day long, enjoying the serenity and natural splendor. No less attractive is the Leonelli's Beach; it is perfect for a family holiday. At any time, visitors can leave the coast and go for a stroll through the picturesque groves and gardens.
1. Going to the beach, be sure to take special shoes and a thick beach mat. The coast in Sorrento is rocky, so it isn't always safe to go into the water without shoes. You can use the …
Open
The tour around I Giardini di Cataldo winery, which produces Limoncello liquor, is extremely popular among tourists. Near winery there are vast lemon groves, a walk through which is an inescapable part of the tour. There is also a small shop where you can taste different kinds of liquor and buy a bottle of drink. Interesting place to walk is Deep Valley of the Mills. It is located near Piazza Tasso; the valley offers a beautiful panoramic view of the city.
Those who can't relax without spa and sports training should definitely visit the modern wellness center, Ulysse Wellness Experience. It offers customers a wide range of services, from traditional massages and swimming pool to the exclusive spa and beauty treatments. Copyright www.orangesmile.com
Sorrento is a real cultural treasure of Italy. Here you will find a great number of museums and theaters, historic buildings and monuments simply can't fail to leave indifferent …
Open
Finish off the day with a trip to the city's most popular bar - Banana Split. Visitors will find a huge selection of drinks and refreshments, a friendly atmosphere and an amazing evening program there. The Kiosk bar is also popular among vacationers. It serves visitors until late at night. The Kiosk is perfect for relaxing with friends; a cozy bar features a fun and lively atmosphere. Jazz fans should visit the Naima lounge. Theme parties are regularly organized here. It also offers gourmet treats for its guests.
Dance and listen to your favorite music in the stylish Fauno club. It will delight visitors with a large selection of exotic cocktails. A walk along the Via Corso will make shoppers excited, as the most popular stores are situated there. For the liquor you can go to a specialty store Confetti e Agrumetti. The Gargiulo & Jannuzzi shopping pavilion will offer a wide selection of souvenirs.

This guide on active recreation and leisure in Sorrento is protected by the copyright law. You can re-publish this content with mandatory attribution: direct and active hyperlink to
www.orangesmile.com
.
City tours, excursions and tickets in Sorrento and surroundings
Reference information
National and city parks around Sorrento
♥ National Park 'Parco nazionale del Vesuvio' , 22.8 km from the center.
On the map
Photo
♥ National Park 'Parco nazionale del Cilento e Vallo di Diano' , 91.4 km from the center.
On the map
Photo
♥ National Park 'Parco nazionale Abruzzo, Lazio e Molise' , 140.3 km from the center.
On the map
Photo
Amusement parks near Sorrento
♥ Amusement park 'Edenlandia' Naples, 27.1 km from the center.
On the map
Photo
♥ Amusement park 'Magic World' Giugliano in Campania, 39.1 km from the center.
On the map
Photo
Michelin-starred restaurants in Sorrento
♥ Restaurant 'La Basilica' Sorrento. Type - Regional cuisine. 0.1 km from the center.
On the map
Photo
♥ Restaurant 'L'Antica Trattoria' SORRENTO. Type - Regional cuisine. 0.3 km from the center.
On the map
Photo
♥ Restaurant 'Coku' SANT'AGNELLO. Type - Asian influences|Japanese. 1.4 km from the center.
On the map
Photo
♥ Restaurant 'Don Geppi' SANT' AGNELLO. Type - Modern cuisine. 1.6 km from the center.
On the map
Photo
♥ Restaurant 'Lo Stuzzichino' SANT'AGATA SUI DUE GOLFI. Type - Campanian. 2 km from the center.
On the map
Photo
Sites around Sorrento from our surveys on extreme Earth places
Positano Village
From the series
"Small Flamboyant Towns Painted with Van Gogh Colors"
Check on the map:
Distance from Sorrento center - 9.1 km.
However, a tiny town on the Amalfi coast, is famous not only for its religious sites. It is located on a rocky slope, so colorful houses are arranged in stages and form an incredibly beautiful landscape. In addition to colorful houses, the picturesque town features many olive and orange groves. Hikers are sure to enjoy vacations here. …
Read further

Arco Naturale
From the series
"Incredible Natural Arches Built by Water and Wind"
Check on the map:
Distance from Sorrento center - 13.1 km.
The arch has impressive dimensions, its height is about 18 meters, and the width is about 12 meters. It has constantly been formed by the influence of water, wind and sun rays. Today it is incredibly harmonious and beautiful natural object. The eastern coast of the island of Capri is visited not only by curious tourists, but also by professional photographers who strive to make spectaculat pictures of the coast in these places. …
Read further

Photogallery of picturesque Sorrento
Search for active leisure and attraction spots on Sorrento map
City break ideas for neighbours of Sorrento
Guide to your best city break in Sorrento - popular places for recreation and leisure. Things to do during the day in Sorrento - attractions, parks, beaches, aquaparks, racing tracks, biking trails or waterski. Recommendations (with addresses, phone numbers and links) where to spend your time in the evening (bars, discos, clubs, etc.). We share some good ideas and the question 'What to do in Sorrento?' disappears immediately.