Colors of Larisa - traditions, festivals, mentality and lifestyle
Greece is not by chance considered one of the most conservative countries in the world. Locals treat their historical traditions with great trepidation. On national holidays, residents of Larissa necessarily put on beautiful national costumes. Not only representatives of folklore groups wear them here. Beautiful religious traditions have been preserved in Larissa. Throughout the year, a lot of interesting religious celebrations take place here, and the most significant one is Easter.
The city with the beautiful name of Larissa is a great place to spend a vacation. It has many historical and cultural attractions that are definitely worth being explored. Be sure to take …
Open
Despite such a commitment to religion, townspeople are also distinguished by some superstitiousness. While walking around the city, one can see that both men and women wear small pendants and other eye-shaped accessories. They believe that such talismans can protect them from the evil eye, even children have small pendants here. Drivers decorate their cars with talismans, and owners of restaurants and taverns will certainly hang amulets at the entrance. Colorful beads with painted eyes are sold in all local markets and souvenir shops. They are among the favorite memorable souvenirs of tourists.
Locals are also distinguished by a very unhurried and measured rhythm of life, delays have long become the norm here. Do not be upset if a waiter serves you not as quickly you wish, or a business partner is late for a meeting. Here, such manifestations are not at all considered signs of disrespect, people here are just used to live an unhurried life. This feature of character is reflected literally in everything here. Buses and taxis often arrive late, sightseeing tours and even movies in the cinema may be delayed. Copyright www.orangesmile.com
Larisa will be a great destination to explore the traditions of Greek cuisine. The local cuisine is known for its naturalness, as only regional products are used for cooking here. Fresh …
Open
The special hot climate also has its effect on the local lifestyle. Larissa has a kind of siesta - a big break at the height of the day, which is called "mesimeri". All banks, shops, and other institutions close here at 2:00 PM and resume their work only by 5:00 PM. During the break, it is not customary to go visit friends and make phone calls. They spend a few hours in the middle of the day having a rest.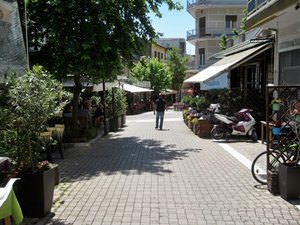 Representatives of other nations and cultures are treated with respect and interest; local residents are distinguished by a very friendly and warm character. Since Larissa is quite a popular tourist city, its residents have long been accustomed to a large number of foreign visitors. There are no hard rules concerning the norms of behavior and style in clothing here. One can safely visit high-end restaurants in comfortable casual clothes, and this behavior will never draw side glances.
The city of Larissa is one of the oldest in the world, it was founded over 4,000 years ago. Today, many unique ancient attractions can be found in the city and its immediate vicinity. The …
Open
Following strict etiquette rules is also alien to the townspeople who never bother themselves with such unnecessary formalities. When serving a table in an ordinary restaurant or tavern, they may not even use a tablecloth, but replace it with a clean sheet of paper. Traditional cutlery is always offered to guests in restaurants that are often visited by foreign tourists. Interestingly, locals rarely use cutlery themselves, as many everyday dishes are usually eaten here with fingers.
Even though the inhabitants of Larissa and many other Greek towns are considered big fans of wine, the attitude to alcohol consumption is very strict here. Appearing in public places in a state of alcoholic intoxication is not accepted, strong alcoholic beverages are not popular here at all. The favorite drink of locals, wine, can be drunk even in the middle of the day. Before drinking it is usually diluted with water so the drink loses its intoxicating properties.
Excellent conditions for recreation and entertainment are created in Larissa for tourists who, besides relaxing on the beach, can diversify their leisure time with interesting walks. Near …
Open
It would be interesting to visit Larissa during major national holidays. Lush celebrations are always arranged here in honor of Christmas and Easter, each of these holidays lasts several days. Their participants can enjoy colorful parades, performances of folklore groups and a huge selection of special festive treats.
In recent years, Larissa is the permanent venue for the international short film festival Piontas Ethos. It is participated by young directors from many countries of the world. The popular movie festival usually takes place in early March. Apart from film screenings, art and photo exhibitions, master classes and meetings with prominent filmmakers are an indispensable part of the holiday. Larisa can be called a very contrasting and peculiar city in terms of culture and traditions. Here they still honor traditions that have more than one hundred years. Along with that, the city remains open to new cultural trends. As tourists say, the main attractive feature of the city is the friendly nature of its people.

This guide to traditions and festivals in Larisa is protected by the copyright law. You can re-publish this content with mandatory attribution: direct and active hyperlink to
www.orangesmile.com
.
City tours, excursions and tickets in Larisa and surroundings
Reference information
Survived castles around Larisa
♥ Castle 'Platamon Castle' Platamon, 44.2 km from the center.
On the map
Photo
Car rental on OrangeSmile.com

Thailand Relaxes Its COVID-19 Policy
New Year events in Thailand are likely to bring more people this year because everyone is tired of lockdowns and craving normal life. Many tourists, who book hotels in Pattaya, Krabi, or Phuket for the holiday season, also want to participate. As champagne has become an essential drink for New Year celebrations, the question regarding alcohol consumption comes to mind. The government allowed serving alcoholic drinks during the New Year countdown but only open-air cafes and restaurants with good ventilation will be permitted to do this until 1 am on 1 January 2022. This rule is nationwide.
Read this
29.03.2023
Colors of Larisa in photos
Search for popular touristic sites on Larisa map
Traditions and festivals in cities around Larisa
Cityguide on traditions, mentality and lifestyle of people in Larisa. Learn the best periods to visit Larisa to discover its soul - authentic festivals, events and celebrations. We will also reveal the interesting habits, attitude towards the world and to tourists in Larisa.