City break in Larisa. Active leisure ideas for Larisa - attractions, recreation and nightlife
Excellent conditions for recreation and entertainment are created in Larissa for tourists who, besides relaxing on the beach, can diversify their leisure time with interesting walks. Near the city is the majestic 1978-meter high Mount Ossa. Walking along its slopes and picturesque foothills are very popular with hikers and mountain bikers. One can explore many interesting natural sites in this area. The mountain also attracts climbers who can ascend it at almost any time of the year.
Larissa is a Greek town and the administrative center of Larissa nom. The town is connected with Thessaloniki and Athens through a system of railway and automobile roads. This place is also …
Open
If you do not want to go outside the city, you can visit charming Alcazar Park founded in 1887. It lies on the riverbank and is the most beautiful in town. In the late 19th century, the extensive park began to be used for horse races, which were held here until 1937.
The park was a favorite leisure area of nobles so its design and landscaping have always been given special attention. It is still incredibly beautiful, in the park one can see unusual landscape decorations, as well as lovely gazebos. A beautiful mini-golf course and an open-air cinema can be found in the park today. Copyright www.orangesmile.com
The city with the beautiful name of Larissa is a great place to spend a vacation. It has many historical and cultural attractions that are definitely worth being explored. Be sure to take …
Open
One can hardly find beaches comfortable for rest within the city, but one of the most famous beaches in Greece - Agiokampos - is not far from Larissa. It received many prestigious awards for keeping high ecological standards. Today, this beach is the perfect place for enjoying both serene relaxation and water sports. Here you can visit a sports equipment rental office to hire diving and snorkeling gears. Also, interesting sea tours and fishing trips are organized for holidaymakers.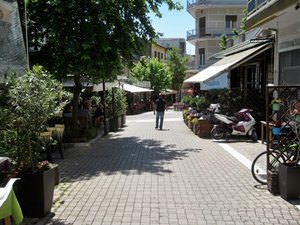 One of Larissa's most popular routes among fans of outdoor activities is Olympos Trek passing through Olympus mountain range. This area provides dozens of hiking trails, some of which can only be overcome by experienced climbers. The mountainous area is known for its unique vegetation and fauna. In some places, one can see incredibly beautiful waterfalls and even swim in lakes formed by them.
Larisa will be a great destination to explore the traditions of Greek cuisine. The local cuisine is known for its naturalness, as only regional products are used for cooking here. Fresh …
Open
These scenic locations attract hiking enthusiasts and experienced climbers from around the world. Many unique ancient sites were discovered in the mountainous region, therefore walks through the picturesque natural places can be successfully combined with tours of historical attractions. The town of Elassona boasts a state-of-art ski center. In winter, some hillsides are ideally suitable for skiing.
Among natural attractions located near the city, it's worth noting the picturesque Tempi Valley, through which the Pineios River flows. The gorge is situated at the foot of Mount Olympus and is considered one of the most picturesque places in the region. Here you can admire mighty ancient willows whose age is more than 200 years, as well as explore several interesting caves. This natural area is sacred for local residents, the ruins of ancient temples and monasteries were discovered here. Not only curious tourists but also a large number of pilgrims come to see these places every year.
Greece is not by chance considered one of the most conservative countries in the world. Locals treat their historical traditions with great trepidation. On national holidays, residents of …
Open
Visiting local craft workshops and art galleries selling exclusive souvenirs should become a mandatory part of the vacation. Larissa has several dozen workshops where one can buy interesting handmade jewelry, locally produced textiles and unique works of art. One of the most famous art galleries in town is CASK, all the works presented here are for sale. Masterclasses are often organized for tourists in such galleries and workshops.
Even though Larissa cannot boast of many noisy nightclubs and discos, it still has a lot of interesting venues for evening rest to choose from. The largest and most popular club in town is Red Button, which is aimed at people of all ages. Here you can always enjoy a cheerful, casual atmosphere, the modern music of various genres, and signature cocktails. In addition to the variety of drinks, the club's bar serves popular regional dishes - that's why so many people choose this colorful club for a late dinner.
The city of Larissa is one of the oldest in the world, it was founded over 4,000 years ago. Today, many unique ancient attractions can be found in the city and its immediate vicinity. The …
Open
Mylos 1927 is another bar offering visitors excellent conditions for recreation. It is sure to appeal to those who wish to try the best Greek wines. A large part of nightclubs and bars that welcome visitors until late at night operates on the grounds of big hotels and nearby beaches.

This guide on active recreation and leisure in Larisa is protected by the copyright law. You can re-publish this content with mandatory attribution: direct and active hyperlink to
www.orangesmile.com
.
City tours, excursions and tickets in Larisa and surroundings
Reference information
National and city parks around Larisa
♥ World Heritage Site 'Meteora' , 68 km from the center.
On the map
Photo
♥ National Park 'Ethniko Parko Tzoumerkon-Peristeriou kai charadras Arachthou (Zoni III)' , 110.2 km from the center.
On the map
Photo
♥ National Park 'Ethniko Parko ygrotopon ton limnon Koroneias - Volvis kai ton Makedonikon Tempon' , 148.9 km from the center.
On the map
Photo
♥ National Park 'Ethniko Parko limnothalasson Mesolongiou – Aitolikou' , 171.4 km from the center.
On the map
Photo
Amusement parks near Larisa
♥ Amusement park 'Waterland' , 110.1 km from the center.
On the map
Photo
♥ Amusement park 'Magic Park' Thessaloniki, 113.5 km from the center.
On the map
Photo
Water attractions around Larisa
♥ Water park 'Waterland WaterPark' Thessaloniki, 110.1 km from the center.
On the map
Photo
Car rental on OrangeSmile.com

Saudi Arabia to Open 38 Hotels in Diriyah
Diriyah is one of the first mega projects in Saudi Arabia. Hotels and other infrastructure will start opening next year, and all works are expected to end in 2026. The first 18 restaurants in Bujairi Terrace will start operating already in early 2022.
Read this
31.01.2023
Photogallery of picturesque Larisa
Search for active leisure and attraction spots on Larisa map
City break ideas for neighbours of Larisa
Guide to your best city break in Larisa - popular places for recreation and leisure. Things to do during the day in Larisa - attractions, parks, beaches, aquaparks, racing tracks, biking trails or waterski. Recommendations (with addresses, phone numbers and links) where to spend your time in the evening (bars, discos, clubs, etc.). We share some good ideas and the question 'What to do in Larisa?' disappears immediately.