Cuisine of Larisa for gourmets. Places for dinner - best restaurants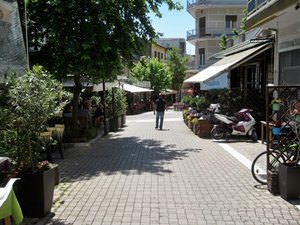 Larisa will be a great destination to explore the traditions of Greek cuisine. The local cuisine is known for its naturalness, as only regional products are used for cooking here. Fresh vegetables and fruits, high-quality olive oil and spicy herbs, dozens of types of olives and excellent cheese lie at the heart of local cooking. As experienced tourists say, for traditional regional dishes, it's best going to small family taverns where you can try not only regional delicacies but also the best wines.
Larissa is a Greek town and the administrative center of Larissa nom. The town is connected with Thessaloniki and Athens through a system of railway and automobile roads. This place is also …
Open
Here it is customary to start a meal with light snacks. One of the most popular appetizers is called "Tzatziki" It is made from light yogurt, in which crushed cucumber and garlic are added. Such a tender sauce can be served both as an independent snack and as a complement to some meat and fish dishes. In Larissa, you can try a lot of wonderful vegetable dishes, which, however, are not limited to salads only.
A popular dish prepared from eggplants is "Melitzanosalata". It is a peculiar analog of eggplant caviar having a rather liquid consistency. This appetizer is usually eaten with bread dipping in it. At the beginning of the meal, they usually serve light vegetable salads in which various types of cheese are usually added in addition to traditional olives and vegetables. Copyright www.orangesmile.com
The city with the beautiful name of Larissa is a great place to spend a vacation. It has many historical and cultural attractions that are definitely worth being explored. Be sure to take …
Open
Various types of meat, fish, and seafood are served as main courses in such taverns. Much of these dishes are usually cooked over an open fire so even the simplest dish of shrimp or sardine has a unique taste here. Different types of steaks and kebabs are made from meat. Meat and fish soups are also quite common.
Particular attention should be paid to lamb dishes, this type of meat is considered quite difficult to prepare. Local chefs keep it in marinades based on lemon juice and olive oil so after grilling over charcoal the meat turns out very juicy and tender. In a variety of desserts, preference should be given to sweets made from yogurt and fresh fruit. Some types of cheese can also be served as dessert.
Greece is not by chance considered one of the most conservative countries in the world. Locals treat their historical traditions with great trepidation. On national holidays, residents of …
Open
Adamos restaurant located on one of the central streets invites its guests to try the best Greek dishes. Here they serve masterfully prepared dishes of lamb, dozens of types of salads, various cheese plates, and mixed seafood. The menu is dominated by hearty meat dishes, in addition to which they serve rich vegetable garnishes. An ideal complement to such dishes would be the best Greek wines.
Enjoy delicious meat dishes in Piatelas Mousikos Tavernochoros. Here they prepare chic Mediterranean-style meat, all dishes are cooked exclusively over charcoal. The restaurant offers more than ten kinds of kebab alone. Many signature dishes are distinguished by a spectacular way of serving. This restaurant is also highly recommended to vegetarians. They will be offered grilled vegetables, as well as salads that are popular in regional cuisine.
The city of Larissa is one of the oldest in the world, it was founded over 4,000 years ago. Today, many unique ancient attractions can be found in the city and its immediate vicinity. The …
Open
Ladokola Restaurant introduces guests to the traditional home-style cooking. Many tourists are attracted by its affordable price level. All the dishes are very simple and incredibly tasty, the restaurant will appeal to all fans of home cuisine. It serves traditional "souvlaki" kebabs made of various types of meat, as well as wonderful salads from fresh vegetables. Here you can always order a large portion of french fries with a delicate cream sauce, as well as try different types of homemade pastries.
To Paradosiako is quite a small restaurant housed in a beautiful historic building. Antique wooden furniture was used to decorate its hall, and one of its main decorations is wooden wine barrels. This is another place where you can try the best dishes of regional cuisine, as well as enjoy great wines from local wineries.
Excellent conditions for recreation and entertainment are created in Larissa for tourists who, besides relaxing on the beach, can diversify their leisure time with interesting walks. Near …
Open
Travelers who like to relax in a refined romantic atmosphere may be advised to choose Na me Thimasai. This restaurant is also decorated in the style of past years, using original works of art. Here you can taste the best regional delicacies and wines from all regions of Greece. Seafood and various types of meat are prepared here according to author's recipes, all dishes are distinguished by an incredibly beautiful presentation. Apart from restaurants and taverns, attractive wine bars are also common in Larissa. The stylish bar Bukowski Eatery & Drink welcomes visitors until late at night. Here you can not only taste great wines and signature cocktails but also enjoy some exquisite Greek dishes.

This guide to cuisine and restauraunt in Larisa is protected by the copyright law. You can re-publish this content with mandatory attribution: direct and active hyperlink to
www.orangesmile.com
.
City tours, excursions and tickets in Larisa and surroundings
Car rental on OrangeSmile.com

Expo 2020 in Dubai Was Visited by More Than 7 Million Visitors
If you haven't visited this event yet, there is still time to book a hotel in Dubai because Expo 2020 Dubai runs until 31 March 2022. People who are unable to visit the emirate can make a virtual tour on the Expo 2020 website. By the way, the virtual visitation has already reached 31.6 million by the end of December.
Read this
29.09.2023
Larisa in photo set
Searching where to eat - restaurants and cafe on Larisa map
Cuisine and restaurants in the neighbours of Larisa
Travel notes on best cuisine and restaurants of Larisa (Greece) on OrangeSmile.com. Famous recipes and traditional dishes and courses in Larisa restaurants. Where to eat - our recommendations on popular places in Larisa, where you can taste delicious meal and also spend a good time with your friends.