How to spend top weekend in Ancona - ideas on extraordinary attractions and sites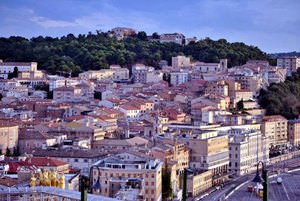 Monte Conero Park Tour
If you are a fan of outdoor activities and generally like to be close to nature, you will enjoy a tour in the Monte Conero Park that is conveniently located in the mountain region. The park was opened in 1987. It occupies a large area of 5800 square meters. There are 18 different routes that pass through forests and are suitable for both walking and cycling. These routes also offer breath-taking views of the Adriatic Sea.
Hotel Della Rosa is situated close to the main train station of Ancona. This comfortable hotel has its own unique style. Clients can get spacious rooms with luxurious hardwood floors and …
Open
Visitors are also welcome to make their own routes. You can explore the park independently or together with a guide who will make you get acquainted with local flora and fauna. You will be able to see numerous birds and animals, such as the peregrine falcon, marten, badger, ermine, and many other species. During your walk, you can also see many other fantastic landmarks – Santa Maria and San Petro Churches.
Monte Conero has caves and cliffs made of white limestone. Get to the top of the mountain to see ruins of an ancient settlement that was there during the Palaeolithic age. The age of this settlement is more than 100 thousand hundred years. The excursion in the park has one more peculiarity – you are simply ought to try local wine and food. Therefore, a tour in the park will be not only interesting from the historical and but also from the gastronomical point of view. Copyright www.orangesmile.com
Ancona has several first-class hotels that are sure to appeal to fans of upscale relaxation. The most prestigious hotel is the resort-style Grand Hotel Passetto. It has a landscaped adjacent …
Open
Exploration of the Frasassi Caves
If you are tired of leisure sunbathing at the seaside and crave for some cool air or if you are fond of everything mysterious and unknown, the Frasassi Caves are the right place to visit. The gorgeous landmark created by nature is located 60 kilometers away from Ancona. You will reach it by train – the road will take approximately half an hour. The Farasassi Caves are open every day starting from the beginning of spring and till mid-autumn. The first excursion starts at 10 in the morning and the last one starts at 5 in the evening.
Don't forget to take a light jacket or a warm sweater with you, as well as comfortable shoes that won't get wet. The temperature in the caves is 14 oC, and the humidity is 99%. Keep in mind that it is not possible to explore the caves independently. You must hire a guide if you want an individual excursion or join a tourist group.
Many couples coming to Ancona in search of romance and seclusion prefer Complesso Residenziale Augustus aparthotel. It can be safely called the most romantic apartment hotel in the city. …
Open
The caves consist of five gorgeous grottoes and have quite an unnoticeable entrance. However, once you step in, you will feel like you have appeared in a fairytale land. You will see stalactites and stalagmites of different colors and unbelievable shapes, a lake with candles, a "castle of a fairy", and a stone waterfall. You will not regret visiting the Farasassi Caves and will be pleased with exploring this nature's wonder.
Marine Voyage as a Captain
If you were fond of reading books about pirates and marine adventures in childhood or you enjoyed pretending to be a seadog, you have something interesting to try during your vacation in Ancona. You will certainly like an idea to make a marine voyage in a beautiful white ship not just as a passenger but as a captain! You will keep the helm in your hands and look how fresh wind plays with sails.
Amateurs of luxury brand things in Ancona have an opportunity to look into Gisa Boutique multi-brand store. The opening of this store was held back in 1965. Nowadays, one can buy clothes and …
Open
If you have been on a voyage at least once, you know that the captain is the one who controls the ship. Now you have a unique opportunity to feel like a true seadog and learn how to stir a yacht. For that purpose, you will need to attend special lessons at a yachting school – there are quite many of them in Ancona. The training lasts two weeks. Once it is over, you will receive a special certificate.
After that you will be able to rent a yacht and enjoy marine adventures as a captain. In case you already have this document, you can make longer marine adventures that last a week or even more, enjoying unforgettable moments and picturesque views. You can enjoy this marine adventure alone or together with your friends. The certificate also allows you to participate in the regatta that takes place in Ancona every autumn.

This article about ideas on extraordinary weekend in Ancona is protected by the copyright law. You can re-publish this content with mandatory attribution: direct and active hyperlink to
www.orangesmile.com
.
City tours, excursions and tickets in Ancona and surroundings
Reference information
Michelin-starred restaurants in Ancona
♥ Restaurant 'Dario' PORTO RECANATI. Type - Seafood. 19 km from the center.
On the map
Photo
♥ Restaurant 'Madonnina del Pescatore' Marzocca di Senigallia. Type - Creative. 20.7 km from the center.
On the map
Photo
♥ Restaurant 'Andreina' LORETO. Type - Regional cuisine. 21.2 km from the center.
On the map
Photo
♥ Restaurant 'Uliassi' SENIGALLIA. Type - Seafood. 26.6 km from the center.
On the map
Photo
♥ Restaurant 'Osteria dei Segreti' Appignano. Type - Regional cuisine. 29.1 km from the center.
On the map
Photo
Survived castles around Ancona
♥ Castle 'Rocca di Offagna' Offagna, 11.8 km from the center.
On the map
Photo
♥ Castle 'Rocca Roveresca' Senigallia, 26.4 km from the center.
On the map
Photo
♥ Castle 'Volardi Castle' Torre di Santa Maria, 37.1 km from the center.
On the map
Photo
♥ Castle 'Rocca di Mondavio' Mondavio, 44.8 km from the center.
On the map
Photo
♥ Castle 'Castello della rancia' Tolentino, 44.9 km from the center.
On the map
Photo
Car rental on OrangeSmile.com

Thailand Relaxes Its COVID-19 Policy
New Year events in Thailand are likely to bring more people this year because everyone is tired of lockdowns and craving normal life. Many tourists, who book hotels in Pattaya, Krabi, or Phuket for the holiday season, also want to participate. As champagne has become an essential drink for New Year celebrations, the question regarding alcohol consumption comes to mind. The government allowed serving alcoholic drinks during the New Year countdown but only open-air cafes and restaurants with good ventilation will be permitted to do this until 1 am on 1 January 2022. This rule is nationwide.
Read this
29.03.2023
Ancona by photo artists
Search for interesting places on Ancona map
Visiting neighbours of Ancona for exclusive entertainment
Walk through hidden local streets, sneak to a small cafe, breathe and enjoy Ancona from inside. Stay out from the beaten track during your city weekend, discover the soul of Ancona as a real travel gourment. Follow our guide, take one of the exclusive services and spend your time in Ancona unforgettably and with a full passion!