City break in Ancona. Active leisure ideas for Ancona - attractions, recreation and nightlife
Ancona Province is not only a paradise for fans of history and antique landmarks. It's a place of miraculous beauty that will make everyone keen on outdoor activities simply fall in love with this region. Beautiful sceneries, mountains, and hills offer fantastic opportunities for cycling, hiking, rock climbing, horseback riding, and even alpine skiing during winter months. Moreover, fans of unusual experiences will be thrilled to explore potholing trains in the three Frasassi Caves together with an experienced guide.
Many couples coming to Ancona in search of romance and seclusion prefer Complesso Residenziale Augustus aparthotel. It can be safely called the most romantic apartment hotel in the city. …
Open
Active tourists and their fellow travelers are waiting for mountain tracking in the park of Monte Conero. During a hike along the slopes of the mountains, you can see a large number of migrating birds. Particularly attentive visitors here will be able to see ermines and badgers. Key stops of the journey are caves and limestone cliffs, as well as the churches of Santa Maria della Piazza and the Church of St. Peter. An obligatory point of the excursion will be acquaintance with local dishes and wines. Sea walks with sightseeing of Ancona and its surroundings will be offered to tourists in Skipper Armatori. A complex of spa treatments and a relaxing massage await guests in La Parrucchieria Senigalliese.
The city of Ancona gives an opportunity for active and unordinary rest to its guests. In order to explore the city and spend time on fresh air - rent a bicycle for health and cognitive purposes. The rental service you can find at Vicolo della Serpe. The cost of an hour of rent is 3 euros, and the cost of the whole day is 15 euros. On a bicycle, in just 30 minutes, you can reach the famous Frassassi caves where you can take a guide and discover these incredible underground cities of bizarre forms. The cave tours take place every hour and will cost you 15 euros. As far as Ancona is a port city, here you will be able to take a boat trip. After visiting the city from the sea, preferably at sunset, in the rays of the golden sun, you will be able to feel the city's atmosphere to the maximum. Adriatic is full of deep sea areas with an amazing underwater world, so diving enthusiasts can find perfect dive sites in Ancona and its environs. Copyright www.orangesmile.com
Amateurs of luxury brand things in Ancona have an opportunity to look into Gisa Boutique multi-brand store. The opening of this store was held back in 1965. Nowadays, one can buy clothes and …
Open
North of the Conero Riviera, there is a fantastic nature landmark – Mezzavalle Bay. Conveniently located between Ancona and Portonovo, the sandy bay is separated from the rest of the world by rocks. It takes 15 minutes to reach the pristine beach with tender sun and warm azure water. This beach doesn't have a well-developed infrastructure and there are no resorts nearby, only a small café and a restaurant. Fans of wellness procedures will prefer Trave Beach. This strip of the coastal area is quite rocky and has a quarry. Local people believe that the key to beautiful skin is hidden in the quarry – its clay has rejuvenating properties.
Fans of wild nature and sunbathing also have a suitable place in the Ancona region - Spiaggia della Vedova. It is a rock and stone beach with many charming caves. However, it is not that easy to reach as you will need to walk through the Conero Park. Spiaggia della Vedova is not suitable for families with children as there is no infrastructure and it's important to prepare water and other belongings.
Italy is full of picturesque towns and Ancona is one of them. Here you will find many interesting historical sights and visit multiple cultural events. The town offers so many different …
Open
The area of Baia Verde or the Green Bay is one of the most popular destinations for all fans of beach recreation. Stone and grit beaches, well-developed infrastructure, simple access by public transport, and clean environment (the Blue Flag award) are the reasons that make Baia Verde a popular destination among tourists with children. There are both free beaches and beaches with an entrance fee. If you decide to visit this place, don't forget to attend the gorgeous beautiful Romanesque church of St Mary of Portonovo. The ancient landmark is mentioned in Dante's Divine Comedy.
Ancona is also not deprived of beautiful beaches. The caves of Passetto are a popular location for an evening stroll. One of the most charming beaches in whole Italy is located not far away from the main streets. Once a favorite place of local fishermen, now the coast is empty and only dotted colored grottoes and rocks greet visitors. It is important to mention that swimming is not allowed there.
La Moretta is one of the oldest and most prestigious restaurants in Ancona. It's a great place to try not only popular national dishes but also the best tiramisu in the city, as well …
Open
Areas not far from the town offer many possibilities for trekking and mountain biking as there are several beautiful nature parks there. Besides that, the coastal area between Ancona and Senigallia is the place to enjoy fishing, parachuting, sailing, and diving. If you're not a fan of any of these and do not want to leave the town, there are also interesting places to attend.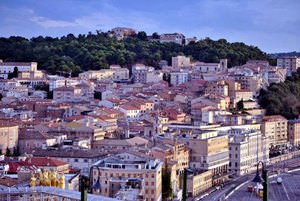 Caffe Del Teatro is a great place for everyone who wants to get acquainted with Italian food and style at the same time. This incredibly artistic café is located not far from the Teatro delle Muse and offers many popular Italian dishes and desserts. It has a lovely open-air veranda that is perfect for the "aperitivo" time. Unlike many Italian cities, the aperitivo starts quite early in Ancona, around 18.30. Al Chiosco da Morena is, perhaps, the most popular aperitivo venue in the town. Don't be fooled by quite a modest, kiosk-type look of this café. Al Chiosco da Morena offers freshest shellfish or mussels together with white wine. Young people like to gather at Plaza Café in the evening and enjoy its cozy atmosphere and bamboo furniture. If you want to explore Ancona nightlife, it is better to wait until 22.00 and then head to one of the discos. Naomi Optimistic Club is one of the most popular venues in the town. It has a lounge bar near the beach and a modern dance floor.

This guide on active recreation and leisure in Ancona is protected by the copyright law. You can re-publish this content with mandatory attribution: direct and active hyperlink to
www.orangesmile.com
.
City tours, excursions and tickets in Ancona and surroundings
Recommended places for active recreation and leisure in Ancona
Liberty Cocktail Lounge
Where: Via del Traffico, 7/11, Ancona; Telephone: +39 071 203484;
Chiosco
Where: Corso Mazzini, Ancona;
Bar Torino
Where: Corso Garibaldi Giuseppe, 49, Ancona; Telephone: +39 071 202559;
Classic Caffé
Where: Corso Giuseppe Mazzini, 19, Ancona; Telephone: +39 071 203000;
Nu54
Where: Piazza del Plebiscito, 54, Ancona; Telephone: +39 071 2072226;
Plaza Café
Where: Piazza del Plebiscito, 3, Ancona; Telephone: +39 071 202415;
Car rental on OrangeSmile.com

Saudi Arabia to Open 38 Hotels in Diriyah
Diriyah is one of the first mega projects in Saudi Arabia. Hotels and other infrastructure will start opening next year, and all works are expected to end in 2026. The first 18 restaurants in Bujairi Terrace will start operating already in early 2022.
Read this
30.09.2023
Photogallery of picturesque Ancona
Search for active leisure and attraction spots on Ancona map
City break ideas for neighbours of Ancona
Guide to your best city break in Ancona - popular places for recreation and leisure. Things to do during the day in Ancona - attractions, parks, beaches, aquaparks, racing tracks, biking trails or waterski. Recommendations (with addresses, phone numbers and links) where to spend your time in the evening (bars, discos, clubs, etc.). We share some good ideas and the question 'What to do in Ancona?' disappears immediately.