Preparing your trip to Ancona: advices & hints - things to do and to obey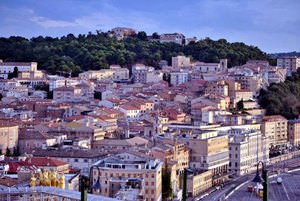 1.
When packing your luggage, don't forget to take an Italian phrase book. The majority of local people, sellers, and taxi drivers do not speak English. You can also make your vacation in Ancona more comfortable if you learn the names of the main landmarks of the city. This way it will be a lot more comfortable to navigate.
2. Make sure you check compatibility of all the electrical appliances that you plan to take to your vacation. The electric line voltage is 220V. The majority of hotels do not have such an important everyday gadget as a smoothing iron. It is excluded from the list of electric appliances due to fire safety reasons, but many enterprising tourists prefer to put small smoothing irons to their suitcases.
3. It is better to keep all precious items in a special safe deposit that is available in the majority of guest rooms. Tourists are also not recommended to take many precious items with them when heading to explore the city.
4. It is possible to exchange currency in both special exchange offices and in banks. In addition to the exchange rate, travelers should pay their attention to the commission fees. In some exchange offices, the fee can be quite high – up to 10%. As a rule, the offices near the railway station and the airport offer the least lucrative exchange conditions.
5.
The majority of state institutions and shops have lunch hours during which they don't work. As a rule, the lunch hour starts on 14.00 and lasts until 15.00 or 15.30. During this period, it is recommended to refrain from phone calls. By the way, in the morning, it is allowed to call starting from 7 a.m. Copyright www.orangesmile.com
6. Local restaurants and bars do not really differ in price. Luxury dining venues are the only exception, but they are not that widespread in the city. Budget tourists will easily find charming cafes and coffee houses that offer delicious and inexpensive food. Besides traditional fast-food, many cafes offer salads and fresh pastries.
7. Travelers, who plan to visit Ancona with children, will be pleased with the discount system that is adopted in the city. Children of minority age and students are eligible for discounts on public transport and various excursions.
Italy is full of picturesque towns and Ancona is one of them. Here you will find many interesting historical sights and visit multiple cultural events. The town offers so many different …
Open
8.
It is better to take a taxi on special taxi stops that are located close to all major landmarks. It is virtually impossible to flag a taxi the usual way. If you need a taxi at your hotel or restaurant, it is better to call to a special service.
9.
It is incredibly comfortable to reach different parts of Ancona by underground or bus. The tickets are sold in special kiosks that are located near each stop. The tickets are purchased in advance, and then you need to stamp them in a bus or a metro station.

Preparing your trip to Ancona: advices & hints - things to do and to obey You can re-publish this content with mandatory attribution: direct and active hyperlink to
www.orangesmile.com
.
City tours, excursions and tickets in Ancona and surroundings
Italy: travelling advices

12. In three-star hotels, air conditioning can be designed as an additional service, in which case an additional amount will be charged for it.
13. Central districts of Italian cities are completely paved with a stone, which is why it is much hotter in them than in the suburbs. When going on a tour or a walk, you need to wear comfortable clothes and shoes.
14. On the streets of Italy you can meet fountains with drinking water. In them, you can quench your thirst or take water with you.
15. Rooms in hotels are usually small; families with children may be quite crowded in them. Breakfasts usually include coffee with fresh pastries. There are almost no rich smorgasbords in Italian hotels. …
Open

Car rental on OrangeSmile.com

Hilton builds third luxury hotel in Kyoto
Hilton has announced that it will soon begin a project to build a new hotel in Kyoto. It will be located in the heart of the city, in the prestigious area of Sanjo-Kawaramachi. Guests will be able to easily reach all areas of interest in the dynamic city, many popular attractions and recreation areas will be within a walking distance from the hotel.
Read this
02.04.2023
Photos of Ancona
Services search (pharmacy, police, parking, banks) on Ancona map
Tips for the cities around Ancona
Travelling to Ancona - advices and tips. What should be provisioned in advance, the rules you might want to follow, and the things you better avoid doing in Ancona. We help you to make your trip smooth and easy, with no unexpected surprises.