Shopping in Zakynthos Island - authentic goods, best outlets, malls and boutiques
Zakynthos is not the best place to buy brand clothes, shoes, and cosmetics. If you want, you can surely go to any shopping center and buy things you like, but the choice here is not too big, and the prices, although pleasant, differ little from those in any other place in the world. Nevertheless, people do not leave this place empty-handed. From the island, you should bring the goods of local producers, which you will not find anywhere else. When you go shopping, do not forget that from 1 or 2 p.m. to 4 or 5 p.m. there is siesta time and almost all shops are closed.
In Zakynthos, it is necessary to visit the Bay of Navajo, sometimes also called the "smugglers' bay". In addition to the most beautiful view that some people consider to be a real …
Open
In Zakynthos, it is possible to bargain with the sellers for the thing you like in shops where there are no cash registers. Note that here, unlike many Asian countries, the key to the successful trading is not arrogance, but sincerity and friendly disposition. Smile to the seller, make a compliment to him, his store and the whole country. Remind himself about the similarity in religious views or historical paths. In a word, ingratiate yourself. It's really quite common here when the seller is ready to drink a little ouzo with a completely unfamiliar customer and talk "heart to heart." Do not directly show interest in the product, but don't criticize it either. If the seller does not reduce the price any way, then try to leave. If the seller is ready to give in, he will stop you.
The Greeks in general appreciate honesty and expect an honest attitude from the tourists. That is why here it is quite possible to agree upon delivery of the thing you like to the hotel, because you just don't have enough cash with you right now. The deposit is not needed, and payment is made directly on the spot. Remember that although in general the locals do not strive to profit from the travelers by any means, you can't say the same about the migrants from neighboring countries, who are living in Zakynthos. Copyright www.orangesmile.com
Zakynthos is a recognized world-famous beach resort with lots of comfortable coast areas spread all over the island. Gerakas sand beach is widely regarded as one of the best on Zakynthos. It …
Open
It is best to go to the capital for shopping. In Zakynthos, the vast majority of shops are concentrated on Alexander Roma Street and the adjacent Foscolou and Terseti. A good choice of souvenirs is also in the resorts of Laganas, Tsilivi, Alykes, Kalamaki, and Alykanas. Everywhere you can find leather goods of good quality from the island masters. Local jewelers sell rings, bracelets, pendants, and earrings with precious and semiprecious stones for a reasonably low price. In some workshops you can observe the process of jewelry creation.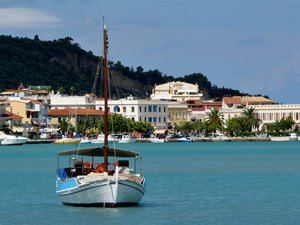 Fashionable women adore local textiles and beautiful handmade embroidery. Many bring as a souvenir from the island various silver utensils. A traditional souvenir from Zakynthos is also statuettes and a variety of crafts made of olive wood and ceramics of all types and sizes. Often, the travelers buy in Zakynthos the products of the local craftsmen. In case you need a useful and practical gift to someone close to you or for yourself, you should buy a bottle of olive oil. They sell ​​it here in a variety of containers, including the shaped ones.
There are few hundreds of accommodation places on Zakynthos and some are very popular among tourists. First of all, resort hotels are worth mentioning and Pantheon is one of the best of …
Open
If the road home is not too long, then be sure to bring one or two heads of the local home-made cheese from Zakynthos. Sweetmongers will like the local honey, picked up by the island's beekeepers. A popular purchase is also almonds and figs The latter, by the way, is sold not only fresh, but also in the form of cooked sweets. Be sure to bring with you at least some mandolato, tasty local nougat produce. You should also buy a bottle of each local drink – ouzo and raki. An interesting choice will be a local wine made from varieties of grapes that do not grow anywhere else in the world. If you don't like alcohol that much, then choose the locally produced coffee.

This guide to shopping in Zakynthos Island is protected by the copyright law. You can re-publish this content with mandatory attribution: direct and active hyperlink to
www.orangesmile.com
.
City tours, excursions and tickets in Zakynthos Island and surroundings
Shopping in Greece

Shopping on Crete is centered in the big cities of Chania, Rethymnon, and Heraklion. In Heraklion, it's worth going to the central street of Dadal. Travelers can find shops of both Greek and foreign brands, with Zara, MEXX, Bershka, and Lacoste among them. In small shops, you can buy outfits by local designers, who offer unique solutions and excellent quality. The real feature of Crete are flokati, which are plaids and rugs made of sheep wool. The best olive oil producers are located in Sitia. …
Open

Car rental on OrangeSmile.com

Thailand Relaxes Its COVID-19 Policy
New Year events in Thailand are likely to bring more people this year because everyone is tired of lockdowns and craving normal life. Many tourists, who book hotels in Pattaya, Krabi, or Phuket for the holiday season, also want to participate. As champagne has become an essential drink for New Year celebrations, the question regarding alcohol consumption comes to mind. The government allowed serving alcoholic drinks during the New Year countdown but only open-air cafes and restaurants with good ventilation will be permitted to do this until 1 am on 1 January 2022. This rule is nationwide.
Read this
28.05.2023
Photogallery of Zakynthos Island best places
Search for shopping areas, streets, boutiques and supermarkeets on Zakynthos Island map
Shopping advices for the whole region around Zakynthos Island
Shopping advices for Zakynthos Island. The best spots for buying designer clothes and local delicacies from Greece - shops, galleries, boutiques and outlets. We provide you with the shopping streets map, so you can plan your efficient shopping routes, while hunting for authentic souvenirs, goods, drinks, shoes and clothes in Zakynthos Island.