City break in Piedmont. Active leisure ideas for Piedmont - attractions, recreation and nightlife
Piemonte is ready to offer excellent facilities for fans of skiing and hiking, those fond of noisy parties and shopping trips, as well as tourists looking for a relaxing stay or wishing to spend a holiday with health benefits. After the Olympic Games of 2006, which took place in Turin, more travelers began to visit the region, but its calm and harmonious atmosphere was in no way affected.
Piemonte is known to travelers as the location of major ski centers, the old wine-growing region and a unique cultural center. It is famous for its rich historical heritage and all travelers …
Open
Experienced athletes and those who are just starting to learn the basics of skiing are recommended to visit the region of Val di Susa. It combines several attractive towns with a huge number of tracks, among which there are zones of different levels of complexity. Here there is also a popular Milky Way ski area, where the best athletes of the world competed in 2006. Thrifty travelers are recommended to choose Limone Piemonte.
The region is known for its therapeutic spas too. Holidaymakers can successfully combine wellness treatments with their rest. One of the most popular spa places is Acqui Terme; the resort is a unique historical site. The Bollente Pavillion was built in 1870 around the mineral springs; it is an amazingly beautiful place appealing to have a rest. Agliano Terme, Bognanco and Croda are also ideal for a relaxing holiday; resorts offer their customers a wide range of beauty and health treatments. Lurisia Terme is very popular; the most upscale health complexes are located there. Copyright www.orangesmile.com
1. Despite the fact that Piemonte differs with magnificent climate and a huge choice of entertainment options, much of the travelers prefer to visit the region in winter; most tourists visit …
Open
Italian wine lovers should definitely visit Barolo producing excellent red wine of the same name. Here you can stroll through the picturesque vineyards and visit one of the oldest wineries. Hikers and those who want to relax away from civilization would like the town of Stresa. It is surrounded by fabulously beautiful nature reserves. There are excellent conditions for sports, entertainment and for a relaxing pastime. The popular resort of Verbania is situated on the shores of Lake Maggiore. It is suitable for families with children; fans of beach activities like to visit these places in summer.

This guide on active recreation and leisure in Piedmont is protected by the copyright law. You can re-publish this content with mandatory attribution: direct and active hyperlink to
www.orangesmile.com
.
City tours, excursions and tickets in Piedmont and surroundings
Sites around Piedmont from our surveys on extreme Earth places
Savoy Residences in Turin
From the series
"16 Most Fascinating Objects of Unesco in Italy"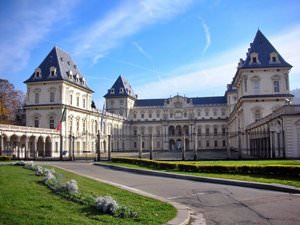 Check on the map:
Distance from Piedmont center - 13.6 km.
In Torino we can find palaces of an incredible beauty of Savoy Residences. In 1997 this architectural complex was included in a list of UNESCO world heritage site. In 1562, Emmanuel Philibert, Duke of Savoy, moved capital to Turin and commenced a series of building projects using the best architects available at the time. The palaces were built for the demonstration of wealth and power of Savoy Residence. Only the best materials and the most precious metals were used for inner and exterior decoration. …
Read further

Live House in Turin
From the series
"Unique Living Houses"
Check on the map:
Distance from Piedmont center - 2.9 km.
Turin also has an amazing live house, which curious travelers definitely have to see. It was built in 2012. The author of the project of the unusual residential complex is the well-known architect Luciano Pio. The residence consisting of 63 apartments is 7 500 square meters. Its facade is decorated with amazing natural plants and flowers. Among them, you can see lush bushes, real trees, and the composition of climbing plants. All the greenery on the facade is planted in special containers. …
Read further

Car rental on OrangeSmile.com

Saudi Arabia to Open 38 Hotels in Diriyah
Diriyah is one of the first mega projects in Saudi Arabia. Hotels and other infrastructure will start opening next year, and all works are expected to end in 2026. The first 18 restaurants in Bujairi Terrace will start operating already in early 2022.
Read this
02.10.2023
Photogallery of picturesque Piedmont
Search for active leisure and attraction spots on Piedmont map
City break ideas for neighbours of Piedmont
Guide to your best city break in Piedmont - popular places for recreation and leisure. Things to do during the day in Piedmont - attractions, parks, beaches, aquaparks, racing tracks, biking trails or waterski. Recommendations (with addresses, phone numbers and links) where to spend your time in the evening (bars, discos, clubs, etc.). We share some good ideas and the question 'What to do in Piedmont?' disappears immediately.