City break in Valle d'Aosta. Active leisure ideas for Valle d'Aosta - attractions, recreation and nightlife
Many travelers know the region as the location of upscale ski resorts. Despite the fact that Valle d'Aosta is the smallest region in the country, the range of entertainment options is just huge. The length of ski trails at local resorts is about 1,200 kilometers; all ski centers are well equipped for skiers of different experience levels. The main feature of local ski centers is that they border with popular ski areas of France and Switzerland. Guests have the unique opportunity to assess the quality of ski slopes of three different countries.
1. Ski resorts of the region are the most expensive in the country. In part, high prices are due to the fact that resort guests have access to the slopes of other countries. At the same …
Open
The most popular ski resorts are Cervinia, La Thuile, Courmayeur, Monte Rosa and Pila. Mountain areas attract not only fans of skiing, but also fans of mountaineering. In warmer months you won't find a more suitable place for hiking and studying of natural attractions. Courmayeur appeals not only to winter sports enthusiasts, but also to those who wish to spend a holiday with health benefits. The resort was founded at healing thermal springs, so it offers a wide range of health services.
Paragliding centers are common at the resort; one of the most famous among them is Aerostatico Monte Bianco. After a short course with an experienced instructor everyone can appreciate a bird's eye panorama of the region. Gran Paradiso National Park is popular among fans of ecotourism; a huge amount of hiking trails is laid on its territory. Holidaymakers can admire the charming rural landscape and see rare plants and flowers, while hiking. Rare species of animals, which can't be seen in any other region of the country, inhabit the park. Copyright www.orangesmile.com
Many luxurious ski-resorts are situated in Valle d'Aosta. There are excellent ski slopes of various difficulty, easy lifts, cozy hotels, as well as numerous entertainment venues, restaurants …
Open
Climbing to the top of Mont Blanc is popular entertainment among foreign guests. Only experienced climbers take a risk to climb it; there is an excellent lift for those who don't have special training. You can visit the world famous wineries, have scenic trips, take part in holidays in modern entertainment centers and walk to numerous shopping centers – this small Italian region knows good how to entertain travelers.

This guide on active recreation and leisure in Valle d'Aosta is protected by the copyright law. You can re-publish this content with mandatory attribution: direct and active hyperlink to
www.orangesmile.com
.
City tours, excursions and tickets in Valle d'Aosta and surroundings
Sites around Valle d'Aosta from our surveys on extreme Earth places
Cleuson-Dixence
From the series
"The Greatest Dams in the World"
Check on the map:
Distance from Valle d'Aosta center - 38 km.
It should be noted that Cleuson-Dixence Dam is one of the country's most popular tourist attractions. In the middle of the 20th century the small house was built for the construction workers, which was later converted into the hotel. The experienced travelers recommend visiting this area in the second half of September. In this period, the water basin has the maximum water level, its depth can reach 284 meters. …
Read further

Tortin Ski Slope
From the series
"Top 13 Furious Ski Resorts and Pistes"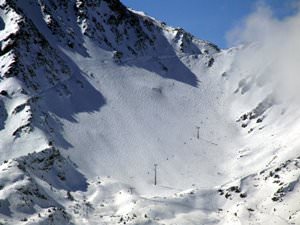 Check on the map:
Distance from Valle d'Aosta center - 42.6 km.
The big sharp stones, the cracks and the icy stretches on which you can slip through - even some professionals can not overcome this difficult path. The general length of the slopes, which are available to guests Verbier, is about 200 km. More than a quarter of the slopes are black. In many respects, the complexity of certain routes depends on the season. In the Hochwinter some difficult ski slopes completely hidden under the thick snowcrests and therefore fit even for the middle level athletes. …
Read further

Aiguille du Midi
From the series
"The World's Highest Observation Decks"
Check on the map:
Distance from Valle d'Aosta center - 44.5 km.
A pleasant surprise will wait for visitors at the top; there you will see a multi-level observation deck with comfortable seating areas and cozy cafes. The open wooden platform acts as a viewing point; it features interconnected tunnels and passages carved directly into the rock. The uppermost area is at an altitude of 3842 meters; it is about 70 meters above the floor. …
Read further

Car rental on OrangeSmile.com

Expo 2020 in Dubai Was Visited by More Than 7 Million Visitors
If you haven't visited this event yet, there is still time to book a hotel in Dubai because Expo 2020 Dubai runs until 31 March 2022. People who are unable to visit the emirate can make a virtual tour on the Expo 2020 website. By the way, the virtual visitation has already reached 31.6 million by the end of December.
Read this
04.12.2022
Photogallery of picturesque Valle d'Aosta
Search for active leisure and attraction spots on Valle d'Aosta map
City break ideas for neighbours of Valle d'Aosta
Guide to your best city break in Valle d'Aosta - popular places for recreation and leisure. Things to do during the day in Valle d'Aosta - attractions, parks, beaches, aquaparks, racing tracks, biking trails or waterski. Recommendations (with addresses, phone numbers and links) where to spend your time in the evening (bars, discos, clubs, etc.). We share some good ideas and the question 'What to do in Valle d'Aosta?' disappears immediately.