Tram map of Rome. Download, print and take it with you to your trip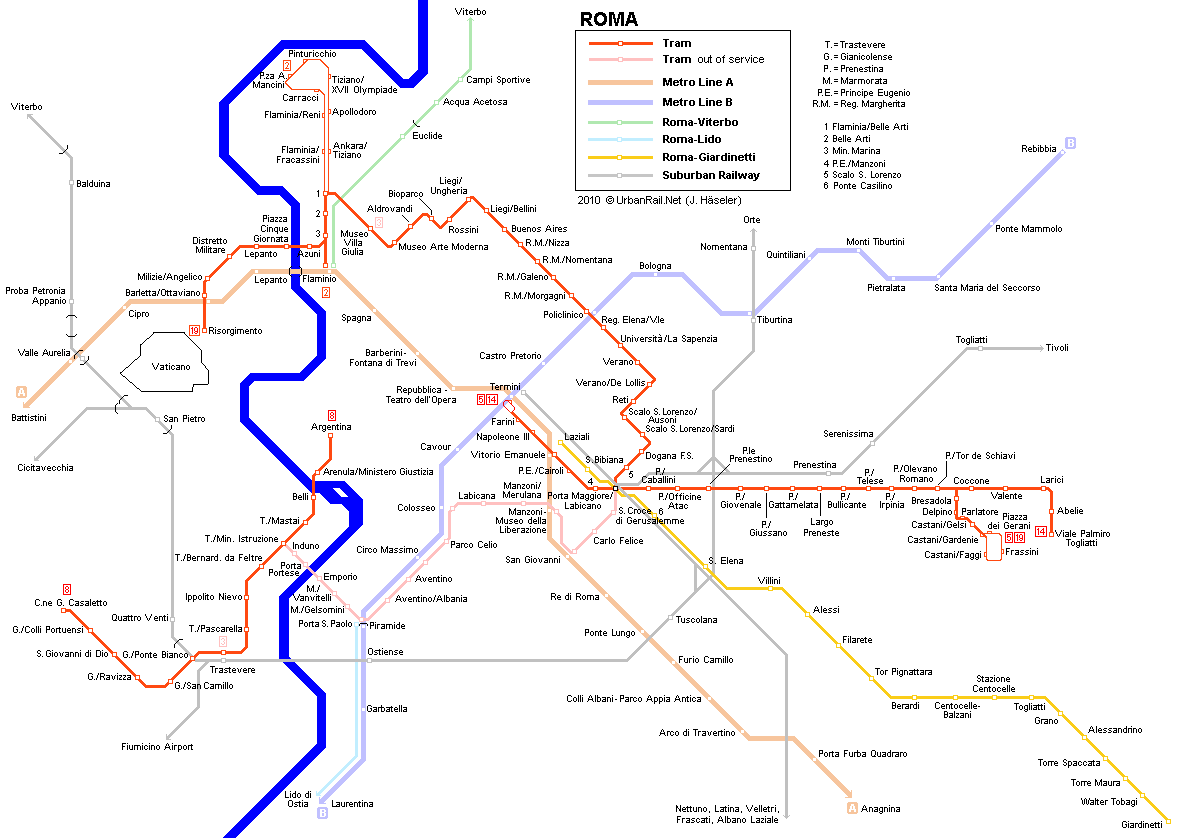 The actual dimensions of the Rome map are 1180 X 838 pixels, file size (in bytes) - 48763. You can open, download and print this detailed map of Rome by clicking on the map itself or via this link:
Open the map
.
City tours, excursions and tickets in Rome and surroundings
Travelling around Italy - transportation network

In large cities such as Milan or Rome, you will find an underground metro. You can buy tickets in kiosks or inside the subway. At peak hours, trains run every two to three minutes. At other times and on weekends, the frequency of the underground transport can vary within 7 minutes. The fare in most of Rome's subway lines is approximately 2 euros. The quality of the road surface in Italy is at a very high level. Therefore, quite often, tourists decide to rent a car. It can be selected in advance before arriving in Italy, or on the spot. A one-day car rental at the airport in Milan will cost at least 80 euros. Please note that many autobahns in the country are on a paid basis. The average fare is 30 euros. An alternative will be to travel by bike. In large cities, you will find bicycle paths of quite decent quality which are laid along all the central roads of the city. Also quite a popular mode of transportation is suburban trains and international trains. There are even high-speed passenger express trains. The fare depends on the class of the train and the distance of the trip. …
Open

Car rental on OrangeSmile.com

Luxury hotel will be built in the desert of Saudi Arabia
In the coming years, a new amazing hotel will begin to receive travelers in Saudi Arabia. It will be built right among the endless expanses of the desert. The exact date of the hotel opening is still unknown; the construction started on the territory of the Al-Ula oasis. The new hotel will be named Sharaan, in the honor of the surrounding nature reserve.
Read this
25.01.2021
Search transportation objects on Rome map
Photogallery of Rome
Travel guides to Rome
Tramway maps for cities nearby Rome