Shopping in Genoa - authentic goods, best outlets, malls and boutiques
The central Via XX Settembre street is the busiest shopping street of Genoa. It is a continuous series of boutiques and shopping pavilions. Stores of famous world brands are located there. Amateurs of Zara, Max Mara, Mexx and Benetton brands will be interested in walking this street. You'll also find several large trading centers, small antique shops and bookstores.
Budget tourists might like Serravalle Designer Outlet, which is located in the immediate vicinity of Genoa. This outlet is a real shopping mall. In the variety of its galleries, you can find clothes, shoes, and accessories from world famous manufacturers. All-year-round high-quality brand goods with discounts up to 70% are sold here. Ladies will appreciate La Perla boutique, where a fancy set of underwear can be purchased for only 20 euros. There is also an excellent store of men's shoes Pal Zileri, whose prices start from 15 euros. Copyright www.orangesmile.com
One of the brightest and most attractive hotels in Genoa is the comfortable Best Western Porto Antico, whose interior is full of colors and bold design solutions. The walls in its rooms are …
Open
For brand perfumery go to Galery store, that welcomes a wide range of customers. They sell elite perfumery of the world-famous Aqua and Kenzo brands, and products of less known companies. Ladies can also choose new costume jewelry, cosmetic products, and other irreplaceable accessories.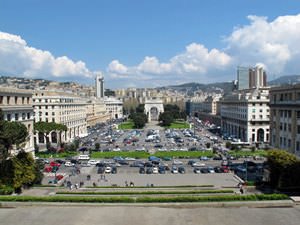 For men who also wish to add new stylish items to their wardrobe, we can recommend Scotch house store. It offers a huge choice of classic clothes. Despite the high price of goods, there're always many customers in the store. All the presented items are of high quality. Clients will be able to choose comfortable clothes for everyday wear and a new business suit for work.
The most luxurious and attractive hotel in Genoa is the Grand Hotel Savoia. It occupies a chic old building with a pink facade and is located near the Piazza del Principe train station. …
Open
Nice new accessories are available in Sister's, which is focused exclusively on women. Here, you can choose wonderful belts that cost less than 6 euros, and a new excellent handbag for 12 - 15 euros. In this store, they sell women's clothing, as well.
While in Genoa, make sure to take the time to gastronomic shopping. Romeo Viganotti store is really popular with lovers of sweet. Dozens of kinds of chocolate and sweets are available to its customers. This is actually a small chocolate factory, where candies are prepared according to special family recipes. Several tables are set up for visitors in the pavilion, so they can enjoy branded cakes and a cup of aromatic coffee. In this store, you can buy wonderful gifts for your loved ones.
Genoa is literally a warehouse of unique historic hotels, some of which are known far beyond the city limits. The fashionable Hotel Bristol Palace is one such real city attraction. The …
Open
Mercato Orientale deserves a priority among food markets. There is always a huge choice of fresh fruits and vegetables, popular seafood, and various meat delicacies on offer. You can purchase excellent spices, dried fruits, and even mushrooms. Many come here in search of homemade jam and healing tinctures.
For unusual souvenirs, come by Antica Confetteria Romanengo store. They sell originally designed chocolate, candied fruit, and other popular sweets. The level of prices is quite high, but the store still has a lot of customers.

This guide to shopping in Genoa is protected by the copyright law. You can re-publish this content with mandatory attribution: direct and active hyperlink to
www.orangesmile.com
.
City tours, excursions and tickets in Genoa and surroundings
Reference information
Shopping streets in Genoa
♥ Shopping area ' Via San Vincenzo' Genoa, 1.2 km from the center.
On the map
Photo
♥ Shopping area ' Via Roma' Genoa, 1.4 km from the center.
On the map
Photo
♥ Shopping area ' Via XX Settembre' Genoa, 1.5 km from the center.
On the map
Photo
♥ Shopping area ' Via XXV Aprile' Genoa, 1.5 km from the center.
On the map
Photo
♥ Shopping area ' Via Luccoli' Genoa, 1.5 km from the center.
On the map
Photo
♥ Shopping area ' Via San Luca' Genoa, 1.7 km from the center.
On the map
Photo
Designer outlets in Genoa and nearby
♥ Outlet 'SERRAVALLE DESIGNER OUTLET' Via della Moda 1, Serravalle Scrivia (AL), 15069, Italy, 36.6 km from Genoa.
On the map
♥ Outlet 'Fidenza Village' Via San Michele Campagna, Localit Fidenza, 43036, Italy, 104 km from Genoa.
On the map
♥ Outlet 'Vicolungo The Style Outlets' Piazza S. Caterina, Vicolungo Novara, 28060, Italy, 123.1 km from Genoa.
On the map
♥ Outlet 'Franciacorta Outlet Village' Piazza Cascina Moie 1/2, Rodengo Saiano, 25050, Italy, 158.4 km from Genoa.
On the map
♥ Outlet 'FoxTown Mendrisio' Via A. Maspoli 18 Mendrisio 6850 Switzerland, 162.2 km from Genoa.
On the map
Photogallery of Genoa best places
Search for shopping areas, streets, boutiques and supermarkeets on Genoa map
Shopping advices for the whole region around Genoa
Shopping advices for Genoa. The best spots for buying designer clothes and local delicacies from Italy - shops, galleries, boutiques and outlets. We provide you with the shopping streets map, so you can plan your efficient shopping routes, while hunting for authentic souvenirs, goods, drinks, shoes and clothes in Genoa.