City break in Genoa. Active leisure ideas for Genoa - attractions, recreation and nightlife
Numerous entertainment facilities of Genoa will surely help to make your rest in this city even more exciting and unforgettable. You will find a beautiful aquarium just a few steps away from the center of the city. The aquarium is considered one of the largest in Europe. This is the place where you can see the creatures of the deep sea in their diversity. Specially for visitors of the aquarium its staff prepares interesting performances and shows that traditionally delight both adults and children. The Old Port district - Porto Antico – is a perfect place for walks. This place is crowded even late in the evening. People unhurriedly stroll through winding alleys and admire the beautiful scenery, which can be seen from the waterfront.
One of the brightest and most attractive hotels in Genoa is the comfortable Best Western Porto Antico, whose interior is full of colors and bold design solutions. The walls in its rooms are …
Open
Bagni Vittoria Beach remains one of the favorite places of rest in warm part of year. The beach is equally liked by both residents and tourists. Bagni Vittoria is a perfect destination for either sports and entertainment or leisure rest. The territory of the beach is equipped with several sports areas. There are also special play areas for children. Bagni La Marina, Bagni Maddalena and Bagni Aldebaran are also no less attractive destinations. You will find sports equipment rental offices next to each of them, as well as numerous cozy restaurants and cafes.
Fans of active rest will surely fall in love with Bagni Nuovo Lido Sports Center, which provides its visitors with a huge choice of entertainment for every taste. Parchi di Nervi is considered the most famous park of the city. The territory of the park is home to a large recreational area, special lanes for cyclists and cozy gazebos, where visitors are welcome to relax and enjoy the splendor of nature. Fans of natural attractions are recommended to make an excursion to Ferrovia Genova-Casella Railroad. During a trip in the train participants will be able to see most beautiful natural places of the city and its suburbs. You will also find excellent botanical gardens in Genoa. Orto botanico is the most famous of them and it features a rich collection of exotic plants and flowers. Copyright www.orangesmile.com
The most luxurious and attractive hotel in Genoa is the Grand Hotel Savoia. It occupies a chic old building with a pink facade and is located near the Piazza del Principe train station. …
Open
If during the daytime vacationers prefer to walk in beautiful natural places or relax on a beach, evening is the time when a huge number of visitors move their feet to amazing local clubs. Club New Ghost Music is a popular night spot. Here you can hear music and tracks of different directions. The club is also famous for its wonderful bar, which will be definitely valued high by fans of exotic cocktails. Senhor Do Bonfim is the most popular disco of Genoa. The club often organizes interesting themed evenings devoted to specific music styles, so the audience in the club is often very different.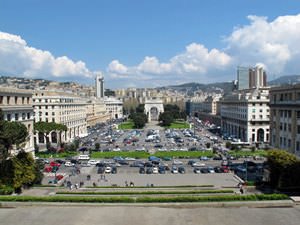 Christopher Columbus' hometown offers a lot of water-related entertainment, which is not surprising, given the Genoa's location on the coast of the Ligurian Sea. Here you can try to go on cruises to watch dolphins, which seem to enjoy being admired. Companies providing services of this kind include Consorzio Liguria Via Mare, Sailing Dream Team, Yacht Charter GCC, and Whalewatch Genova. And if travel to Genoa with your family, you can get a supercharge of great mood from kids because everyone knows that children's fun is infectious, especially on such fantastic tours.
Genoa is literally a warehouse of unique historic hotels, some of which are known far beyond the city limits. The fashionable Hotel Bristol Palace is one such real city attraction. The …
Open
Kayaking and rafting are quite popular here, and such a company as Scuola Canoa Kayak Lo Scalo is a striking evidence of this - there are always many people here who want to try this type of leisure activity. You can go diving, and there is no need to go to Australia - there are companies such as Arco89 Diving And Sailing Services and Posidonia Diving Center with whom you can explore the underwater world as a team. And it is really diverse - here you can see underwater sculptures, fish, and the rich marine flora.
Active recreation enthusiasts dream about ziplines. In the capital of Liguria, this activity is represented by Parco Avventura Righi and Parco Avventura Pegli. Another good way to get the hormone of extreme is visiting escape rooms. In Genoa, The Cage, Evasione, and Intrappola can be called the best centers of this kind. The capital of Liguria also provides mini-golf opportunities through Minigolf Genova. Gambling players go to Sala Bingo Augustus, and those wishing to climb the rocks to Boulder Factory.
In Genoa, couples in love will not have any difficulty finding the right hotel for a get-away. An excellent option would be the upscale Best Western Hotel Moderno Verdi. Its elegant rooms …
Open
You can have fun riding a graceful horse, and for this purpose, the city has Societa Ippica del Bardigiano. Horseback riding gives an unimaginable feeling of serenity and tranquility, and, of course, an unforgettable experience. Needless to say, this is a must-have for families with children. Just like Luna Park Genova, one of the largest amusement parks in all of Europe, and Al Parko dei Dinosauri, a theme park that, as the name implies, is dedicated to dinosaurs. What child doesn't like dinosaurs? Everyone loves them, so this place will be really comfortable and interesting for them. Some more interesting entertainment centers to visit with children are Giocomondo and L'Isola Che C'e.
If there's a desire to go to the movies and watch something fresh, head to The Space Cinema. In the hometown of Paganini, this kind of entertainment is represented by cinemas such as America, San Siro, Odeon, and Uci Cinemas Fiumara. Those who prefer theatrical performances would likely prefer local theaters like Teatro della Gioventù, Teatro Carlo Felice. It is worth checking the repertoire of L'Angelo Azzurro Club, which is popular among all fans of live music and strong drinks, while opera connoisseurs can listen to it at Genova in Concerto.
The central Via XX Settembre street is the busiest shopping street of Genoa. It is a continuous series of boutiques and shopping pavilions. Stores of famous world brands are located there. …
Open
Visiting the main observation platform, namely, Il Bigo, is a must since this is tantamount to ignoring the Eiffel Tower while in Paris. It offers a spectacular panorama, for the sake of which many tourists travel to the capital of Liguria. Just like visiting La Casa di Colombo where you can learn a lot of interesting information about the great native of Genoa. Lanterna di Genova is another interesting place in Liguria's capital from which you can enjoy beautiful views of the Italian city's harbor.
A great idea would be to open the Musei di Nervi Wolfsoniana, especially for those who appreciate interesting design. Genoa Museo is perfect for getting acquainted with the culture of the city. Here, among other things, there's a lot of football artifacts attracting football fans. Fans of maritime theme should not pass by Galata Museo del Mare, and those who are interested in archeology will like Museo di Archeologia Ligure. Tourists wishing to learn more about the city and its history during the Second World War must visit Forte Castellaccio. Art connoisseurs are welcome in Palazzo Bianco and Museo del Risorgimento Istituto Mazziniano.

This guide on active recreation and leisure in Genoa is protected by the copyright law. You can re-publish this content with mandatory attribution: direct and active hyperlink to
www.orangesmile.com
.
City tours, excursions and tickets in Genoa and surroundings
Photogallery of picturesque Genoa
Search for active leisure and attraction spots on Genoa map
City break ideas for neighbours of Genoa
Guide to your best city break in Genoa - popular places for recreation and leisure. Things to do during the day in Genoa - attractions, parks, beaches, aquaparks, racing tracks, biking trails or waterski. Recommendations (with addresses, phone numbers and links) where to spend your time in the evening (bars, discos, clubs, etc.). We share some good ideas and the question 'What to do in Genoa?' disappears immediately.