Shopping in Menton - authentic goods, best outlets, malls and boutiques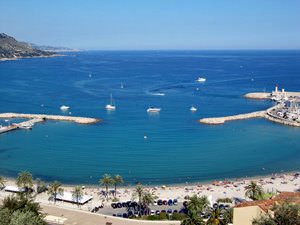 Menton has many original stores delighting customers with a variety of interesting goods and unusual decorations. Le cave Saint-Pierre wine shop features a very original design. Here, a bottle of fine French wine starts from 5 euros. You can choose very beautiful gift-wrapped wines, and for wealthy customers, there are some elite vintage wines.
Menton is of great popularity among beach recreation fans and those eagerly spending vacations in the scenic nature areas. The destination offers its guests perfect pebble and sand beaches …
Open
In the popular souvenir shop Beanis, you can find exclusive gifts that are not sold in other stores. It always presents a huge selection of cheap magnets and keyrings, T-shirts with national symbols, and all kinds of figurines. Many tourists come here for beautiful wall clocks, which cost only 10 euros. For those who buy several souvenirs, the store always offers a big discount.
Ladies who are not indifferent to designer clothes will be interested in visiting Toscane store. It sells exclusive clothing and accessories, and despite the high level of prices, the store is always full of customers. Bright and glamorous clothes prevail here, far from every store can offer business suits colored in rich red. Copyright www.orangesmile.com
1. The coldest month of the year in Menton is considered to be January meanwhile the hottest one is commonly July. Generally Menton is always interesting to visit despite of the season and …
Open
Augusto Ballestra specializes in shoes and accessories, attracting budget travelers with affordable prices. The cost of a pair of women's shoes starts from 5 euros. However, experienced travelers advise paying special attention to the quality of the cheapest models. In addition to men's and women's shoes, the store offers a wide range of bags that cost 15 euros and upwards, as well as interesting jewelry and accessories.
For the most beautiful postcards in town, one should go to La Havane. Lovely postcards with city landscapes and sights are sold at just 0.30 euros. For only 5 euros, visitors can choose big landscape cards. The choice of other souvenir products is also extensive in the store. Most of the goods are sold at very attractive prices, so it'd be a good idea to come here in search of original magnets or colorful T-shirts.
Menton is a city located in the heart of France. This is a famous beachside resort, a town of mimosa and hot sun. The main peculiarity of the city is the magnificent gardens, large lemon and …
Open
The city's largest shopping center is Galeries Lafayette accommodating stores of the most famous brands within its walls. Visitors have access to a large Dior showroom, Lacoste and Chanel stores. A large part of the stores in the shopping center belongs to the highest price category. Thrifty travelers will be more interested in visiting Galeries Lafayette during sales periods. The biggest discounts are usually offered in July and January.
A real attraction of Menton is Marche Couvert, which works every day from early morning closing after midnight. At the market, you can find the most popular national products and delicacies, try street food at local cafes, and just stroll through the rows in search of unusual souvenirs. Many tourists come to the market in search of homemade wine and farm cheese.
The Koaland Park is extremely famous among vacationers with children in Menton. It is a small and incredibly comfortable amusement park which has a Ferris wheel, attractions for the youngest …
Open
Keep searching for distinct gastronomic delicacies in Au Pays du Citron. It offers customers a wide selection of liquors and tinctures, canned olives and jams, biscuits and other popular sweets. The store often hosts tastings of food and drinks, which might be of interest to all gourmets.
An unusual store that sells Italian products and delicacies is called Pasta Piemonte. Besides original homemade pasta and dozens of types of ravioli, you can buy Italian wines, various sauces and vinegar, as well as canned foods and fresh pastries.
Italy has profoundly influenced culinary traditions of Menton. During the tour over historical part of the city travelers will come across numerous cozy bistros. The best one among them is …
Open
For the best chocolate in town, head to Chocolaterie de Puyricard Menton. The store is ready to offer an unbelievable choice of sweets and figured chocolate. In addition to sweet gifts, you can buy a gift-wrapped bottle of wonderful wine. Virtually all types of sweets in this store can be bought by weight.

This guide to shopping in Menton is protected by the copyright law. You can re-publish this content with mandatory attribution: direct and active hyperlink to
www.orangesmile.com
.
City tours, excursions and tickets in Menton and surroundings
Reference information
Designer outlets in Menton and nearby
♥ Outlet 'SERRAVALLE DESIGNER OUTLET' Via della Moda 1, Serravalle Scrivia (AL), 15069, Italy, 150.2 km from Menton.
On the map
♥ Outlet 'Vicolungo The Style Outlets' Piazza S. Caterina, Vicolungo Novara, 28060, Italy, 202.2 km from Menton.
On the map
Car rental on OrangeSmile.com

Preferred to Open 9 New Hotels in 2022
In September 2022, the Sommerro hotel in Oslo will start operating in a carefully restored 1930s Art Deco building. This building is a true landmark of Frogner, a historic neighborhood of the Norwegian capital. A multi-million-dollar renovation carefully turned the largest preservation project in Norway into a modern hotel with 231 rooms, including 56 residences. Preferred will open five more hotels in 2022, namely, The Wall Street Hotel in New York, Amrit Ocean Resort & Residences on Singer Island (Florida, the US), TOA Hotel & Spa in Zanzibar, Pendry hotel in Washington, and Pendry Park City hotel in Utah.
Read this
05.06.2023
Photogallery of Menton best places
Search for shopping areas, streets, boutiques and supermarkeets on Menton map
Shopping advices for the whole region around Menton
Shopping advices for Menton. The best spots for buying designer clothes and local delicacies from France - shops, galleries, boutiques and outlets. We provide you with the shopping streets map, so you can plan your efficient shopping routes, while hunting for authentic souvenirs, goods, drinks, shoes and clothes in Menton.