Colors of Genoa - traditions, festivals, mentality and lifestyle
Genoa has already become a permanent venue of numerous festivals and cultural events of the international level. Just before the Christmas holidays Genoa hosts Festival of Circus Art, which is a great holiday gift for residents and tourists. During the festival you will find engaging performances not only in numerous theaters and concert halls of the city, but also on the main streets of Genoa, as well as on its squares. The port area of the city is equipped with beautiful stages. Starting from early in the morning here take place numerous musical concerts, plays for children, as well as performances by famous circus troupes.
The most luxurious and attractive hotel in Genoa is the Grand Hotel Savoia. It occupies a chic old building with a pink facade and is located near the Piazza del Principe train station. …
Open
The grandiose celebration attracts circus troupes from various countries of Europe. They come to Genoa to show off their skills in front of enthusiastic audience and compete with other troupes. In addition to entertaining circus performances both locals and tourists enjoy visiting numerous fairs that work during the days of the festival. Without a doubt, Book Fair is one of the most anticipated events. Here visitors can buy books imported from various countries at discounted prices.
As a rule, craft fairs are the most popular among travelers because they are distinguished by a rich choice of interesting souvenirs and handicrafts. Such events are a great place to try delicious national food and taste wine. Circus Festival is finished by installing the main Christmas tree. All further festivities, fairs and presentations continue throughout Christmas holidays near the tree. Copyright www.orangesmile.com
Genoa is literally a warehouse of unique historic hotels, some of which are known far beyond the city limits. The fashionable Hotel Bristol Palace is one such real city attraction. The …
Open
Festival of Science is another very interesting event. This festival is rather a young one comparing to other festivals of Genoa. At first glance, this event may seem a little boring and too serious for an entertaining vacation. In fact, during the festival visitors can participate in the mass of exciting events and everyone is welcome to take part in them. Interesting films about achievements of modern science, cognitive and enchanting shows, numerous exhibits and special activities for children are extremely popular among local residents and tourists who come to Genoa to have rest. Each festival has a specified theme, which can be noticed in all activities. It is worth noting that not only famous scientists take part in this large-scale event, but also young pupils and students. They present their developments to the audience and compete in knowledge.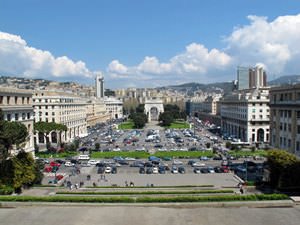 Speaking about the character of locals, first of all, it's worth noting their restraint. This is something that distinguishes the Genoese from the traditional image of Italians, which comes to mind at their mention. They are not as talkative (if not to say over-talkative) as many typical Italians. They only open up to those who have already won their trust. Just behave naturally and don't try to seem better than you actually are, and they will surely appreciate it. That's when their real, passionate and temperamental soul opens up.
In Genoa, couples in love will not have any difficulty finding the right hotel for a get-away. An excellent option would be the upscale Best Western Hotel Moderno Verdi. Its elegant rooms …
Open
Genoese dialect prevails here. However, it is not so difficult to understand, especially if you speak French, because it is a bizarre combination of Italian and French. Among the variety of culinary delights traditionally served in the capital of Liguria, it is worth noting "farinata" (flatbread made from chickpea flour with spices and olive oil), "focaccia" (flatbread with various fillings - olives, cheese, tomatoes, salami), the famous Pesto sauce, which has become synonymous with Genoa. Colline de Levante and Coronata stand out among the wines of Columbus's hometown.
At the end of April, one of the most important musical events of the region is held - the Supernova Festival. The venue is Porto Antico where you can hear music playing non-stop throughout the festival. Among the musicians, you can see (and, of course, listen to) both eminent performers and those who have not yet managed to win a name for themselves on the Italian stage. Nevertheless, the festival is worth a visit if only for the sake of discovering new facets of music. Electronic music, indie rock, pop punk, hip-hop - everyone can find the right music to their liking.
The central Via XX Settembre street is the busiest shopping street of Genoa. It is a continuous series of boutiques and shopping pavilions. Stores of famous world brands are located there. …
Open
Starting in mid-April and ending in early May, one of the most significant events in the city's festival life takes place. We are talking about Lanterna in fiore - this is the time when the capital of Liguria is literally buried in flowers. Along with the beginning of spring, the time of flowering comes, as this holiday proclaims. The program includes exhibitions, tastings, seminars, workshops where you can learn a lot of interesting and new information - for example, about how chocolate and coffee is produced, where basil grows.
In mid-June, Porto Antico becomes the venue for the Suq Festival. This is an event dedicated to the meeting of different cultures, allowing to plunge into a particular culture through shows, meet-and-greets, workshops, and discussions. Besides that, visitors can taste the cuisines of different nations. Since the festival is very multifaceted, it is recommended to all those who want to become better acquainted not only with the culture of Genoa but also with other cultures, as well as discover something new in art. It's hardly possible to remain without pleasant impressions from visiting the festival.
Genoa is the capital of Liguria province, Italy. This is a port-city that has a great economic importance for whole country. La Lanterna lighthouse built in the port of Genoa is one of the …
Open
Fiera del mare, an event scheduled for mid-May, gathers all fans of colorful shows in the square between the Old Port and La Darsena (Fiera di Genova exhibition complex on Piazzale John Fitzgerald Kennedy, 1). This is the time of theatrical performances, exhibitions, conferences, and seminars. The festival's organizer is the University of Genoa whose main goal is to draw attention to some issues through an interesting program. The issues are usually related to the sea - for example, here you can hear discussions about the role of the sea in the modern world and sea depths explorations. An interactive program is prepared for visitors as a bonus. Some events can be visited for free.
At the beginning of April, the above-mentioned exhibition complex, Fiera di Genova on Piazzale John Fitzgerald Kennedy 1, gathers everyone at Fiera Primavera - one of the largest fairs in Paganini's hometown. The fair is absolutely free of charge, here you can buy culinary and furniture products, clothing, accessories, and souvenirs. In May, the same complex becomes the venue for Torneo Ravano, namely the Paolo Mantovani Cup, one of the largest sports competitions in the region, with is definitely worth a visit.

This guide to traditions and festivals in Genoa is protected by the copyright law. You can re-publish this content with mandatory attribution: direct and active hyperlink to
www.orangesmile.com
.
City tours, excursions and tickets in Genoa and surroundings
Reference information
Cathedrals and basilicas near Genoa
♥ Basilica di S. Maria Immacolata, Genova, 0.9 km from the center.
On the map
Photo
♥ Basilica di S. Maria del Monte, Genova, 1.2 km from the center.
On the map
Photo
♥ Basilica di S. Maria delle Vigne, Genova, 1.7 km from the center.
On the map
Photo
♥ Cattedrale di S. Lorenzo, Genova, 1.8 km from the center.
On the map
Photo
♥ Basilica di S. Francesco di Paola, Genova, 2.9 km from the center.
On the map
Photo
♥ Santuario di Nostra Signora della Guardia, Ceranesi, 10.7 km from the center.
On the map
Photo
♥ Basilica di Nostra Signora Assunta, Genova, 14 km from the center.
On the map
Photo
Survived castles around Genoa
♥ Castle 'Castello Mackenzie' Genoa, 0.3 km from the center.
On the map
Photo
♥ Castle 'Palazzo Cicala' , 1.8 km from the center.
On the map
Photo
♥ Castle 'Albertis Castle' Genoa, 2 km from the center.
On the map
Photo
♥ Castle 'Castello Raggio' Genoa, 6.1 km from the center.
On the map
Photo
♥ Castle 'Castello di Montoggio' Montoggio, 13.8 km from the center.
On the map
Photo
♥ Castle 'Castello di Savignone' Savignone, 16.6 km from the center.
On the map
Photo
♥ Castle 'Castello della Dragonara' Camogli, 17.6 km from the center.
On the map
Photo
Colors of Genoa in photos
Search for popular touristic sites on Genoa map
Traditions and festivals in cities around Genoa
Cityguide on traditions, mentality and lifestyle of people in Genoa. Learn the best periods to visit Genoa to discover its soul - authentic festivals, events and celebrations. We will also reveal the interesting habits, attitude towards the world and to tourists in Genoa.