Preparing your trip to Lombardy: advices & hints - things to do and to obey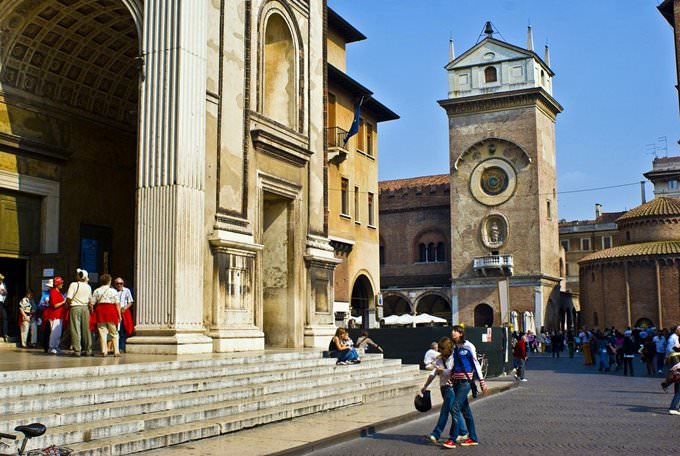 1. The region has the well-developed public transport system, so it's comfortable to travel by trains and buses. There are waterways on large lakes; such trips will certainly give a lot of impressions and allow enjoying the local beauty.
2. It's better to visit Milan in January or August, when there are sales in local malls. It's worth noting that at this time shops are always visited by many people, so you should prepare for long lines.
3. A lot of foreign guests visit Milan in December, as the Christmas Fair opens on December, 7. Those planning a trip to this period have to book a hotel in advance.
4. Travelers buy local wines, cheeses and meat specialties as souvenirs. Each city has a decent selection of specialty shops where you can choose the best good.
5. Travelers who expect to visit national restaurants have to consider that local dishes are very hearty and portions are quite large. It is appropriate to order one dish for two. Copyright www.orangesmile.com
6. Almost all major cities of the region offer a welcome card, which can be purchased at the hotel or in the tourist office. Such cards provide free travel with public transport and discounts at some cultural sites; the card helps to save considerably.
7. Tourists can be annoyed by uninvited helpers in Milan and other major cities. Usually those are Gipsies asking for money; they mingle near numerous electronic machines. They will diligently explain how to use a machine, even if the client doesn't need their help, and then ask for money.
Lombardy is the economic, cultural and gastronomic landmark of the country. Even discerning palates would be fond of the local cuisine. The region is located in the Po Plain, often called …
Open
8. For the above reason, you should beware of pickpockets and try not to carry valuables without special need. Money and documents shouldn't be carried in pockets; it's better to keep cameras and cell phones in the bag.
9. Huge queues at railway stations and bus stations are quite common. It's worth noting that you can buy tickets for some destinations not only in specialized offices, but also in the nearby kiosks selling drinks and snacks.
Next:
Guide intro
Preparing your trip to Lombardy: advices & hints - things to do and to obey You can re-publish this content with mandatory attribution: direct and active hyperlink to
www.orangesmile.com
.
What to visit being in Lombardy - unique sights
Toilet at Dolce Gabbana Gold
From the series
"Public Toilets, Who Makes it Extravagant"
Check on the map:
Distance from Lombardy center - 49.5 km.
The tourists, who travel in the footsteps of the world-wide celebrities, must take into account that the restaurant is demanded by the world-famous cinema and music stars. The most elegant toilet in Italy has been visited by Gisele Bündchen, Kylie Minogue, Paris Hilton and many other celebrities. Many travelers go to the restaurant especially to sit at the next table with the favorite actor or musician. Dolce & Gabbana Gold is one of the few places in the world, where you can meet the famous actors and musicians even in the WC. …
Read further
Church of Santa Maria delle Grazie
From the series
"Top 15 Unesco Sites in Europe"
Check on the map:
Distance from Lombardy center - 52.6 km.
The famous Church of Santa Maria delle Grazie is situated in Milan. It was built in the second half of the 15th century. That's the striking architectural monument of the late Gothic. A unique artifact is hidden within the walls of the medieval church. That's the famous fresco by Leonardo da Vinci, Last Supper. This mural decorates the refectory of the church. Many amazing stories relate to it. In 1943, Milan has undergone a heavy bombardment of the Anglo-American air force. As a result, the Church of Santa Maria delle Grazie was destroyed almost completely. The refectory also laid in ruins, but the fresco did not suffer miraculously. …
Read further
City tours, excursions and tickets in Lombardy and surroundings
Photos of Lombardy
Services search (pharmacy, police, parking, banks) on Lombardy map
Tips for the cities around Lombardy
Travelling to Lombardy - advices and tips. What should be provisioned in advance, the rules you might want to follow, and the things you better avoid doing in Lombardy. We help you to make your trip smooth and easy, with no unexpected surprises.