Preparing your trip to Milan: advices & hints - things to do and to obey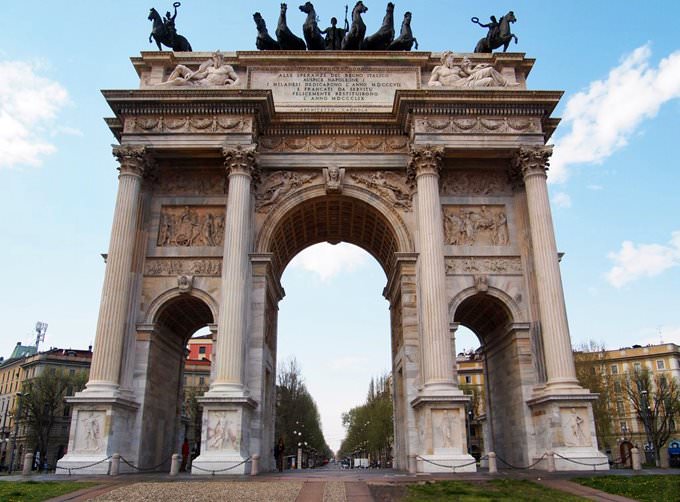 1.
The most popular means of transport are subway and buses. By using them you can easily get to any place of interest in the city. It should be noted that buses here stop not at all stops. You will need to raise your hand to stop the bus.
2. The majority of religious attractions are not allowed to be visited by tourists during service and lunch break, so before you go you should definitely clarify the convenient time for visiting the shrine of your choice.
3. It's recommended to leave tips in local restaurants and cafes. The amount of a tip is usually 10% of the total bill. Tips are also welcome in a taxi, but in this case it's common to round the price up to any convenient amount.
4. The majority of restaurants, banks and other institutions are closed during the daytime – from about 14.00 to 16.00. This is the time the locals call "siesta". It is also recommended to refrain from phone calls during the time of rest.
5.
It is simply impossible to "catch" a taxi on the road in Milan. In order to get one you need to move closer to any transportation stop. Local drivers just do not stop their cars in the wrong place. Copyright www.orangesmile.com
6. Travelling by subway is very convenient in the city. All stations are located close to each other and there are exits close to all major attractions. Tickets for travelling are available at any newsstand or in special vending machines located next to each station.
7. Those, who want to save money on food, are recommended to go to one of the "Autogrill" coffeehouses for lunch. Here meals are served in a buffet and there are always dishes to suit all tastes at affordable prices. These cafes do not work on evenings.
Italian cuisine is considered one of the most elegant and attractive cuisines in the world. Everyone knows the passion of local people to macaroni and spaghetti, which are prepared in the …
Open
8.
Large part of interesting shops and supermarkets are located outside the city, so shoppers should not limit themselves to the urban boutiques only.
Preparing your trip to Milan: advices & hints - things to do and to obey You can re-publish this content with mandatory attribution: direct and active hyperlink to
www.orangesmile.com
.
What to visit being in Milan - unique sights
Crespi d Adda
From the series
"16 Most Fascinating Objects of Unesco in Italy"
Check on the map:
Distance from Milan center - 30.7 km.
Later the entrepreneur has founded a large cotton factory. In 1878 near the factory have appeared houses for workers, hospital, school, nice church and theatre. Until 1929 Crespi family was the owner of the factory. Unfortunately, within the time, their family business stopped bring large profit. For several years the factory was plagued by huge debts, that's why the family decided to pass through to the government. …
Read further
Church of Santa Maria delle Grazie
From the series
"Top 15 Unesco Sites in Europe"
Check on the map:
Distance from Milan center - 1.4 km.
The Church was called a World Heritage Site in 1980. Today, it is of great interest for all those fond of the ancient architecture and paintings. The church features the luxurious interior. It is decorated with priceless frescoes by Serrano and Ferrari dating back to the 17th century. They were created during the regular large-scale reconstruction. One of the most beautiful design elements in Santa Maria delle Grazie is its dome. It impresses with its exquisite fine painting. …
Read further
City tours, excursions and tickets in Milan and surroundings
Photos of Milan
Services search (pharmacy, police, parking, banks) on Milan map
Tips for the cities around Milan
Travelling to Milan - advices and tips. What should be provisioned in advance, the rules you might want to follow, and the things you better avoid doing in Milan. We help you to make your trip smooth and easy, with no unexpected surprises.