Shopping in Kalymnos Island - authentic goods, best outlets, malls and boutiques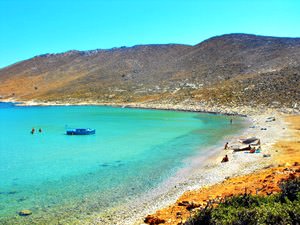 The first thing you should buy on Kalymnos is sponges. After the invention of synthetic analogues, the popularity of natural sponges fell but most of the inhabitants of the island still produce them. The best place to buy sponge is a local market, try to find those which have been less subjected to chemical treatment. They are quite inexpensive here, and you can bring such interesting and practical souvenir to all your friends, family and colleagues. Sponges can be easily packaged and can take them home.
The island has a decent selection of mid-priced hotels and comfortable apartments suitable for longer stays. There is the famous hotel Katina close to Myrties Beach; that's a paradise …
Open
The second popular item is olive oil. Greeks love it and they widely produce oil on the island. You won't find a kitchen in Greece without a couple of olive oil bottles. The most high quality product is cold pressed Extra-Virgin Olive Oil with low acidity level. You can find it in plastic bottles, jerrycans or gift packages in the shape of famous Greek characters. If you have bought olive oil in a tin package, it is better to pour it into a plastic bottle, otherwise, the taste of the product will change.
Natural cosmetics are also popular here. It has become popular in Greece in recent years. The most popular product is soup, which can be found everywhere on Kalymnos. It is a handmade product made according to a simple technique. Greek soap is a high quality natural product with a variety of smells: from grapefruit to tea. Moreover, it is popular not only among tourists. Shampoos, lotions, creams and scrubs are based on olive oil too. You should buy these products in pharmacies or specialized shops. However, it is cheaper on markets, but you can't be sure about product composition. Copyright www.orangesmile.com
The picturesque Greek island of Kalymnos is known primarily as a major center of production of sponge; fishery has remained the main harvesting of locals for many hundreds of years. …
Open
Sweet teeth will like local lokum, baklava, kozinaki and nougat. Moreover, you can try local chocolate sweets. They are sold by weight with a variety of toppings. A pack of coffee is a nice gift too. Greeks love this drink and it is always a high quality product here. The coffee machine is a nice idea too. Be sure to buy a bottle of local retsina. Look for it in the refrigerators of local supermarkets, but not on the shelves with wine because it is served chilled. Local wines also deserve your attention. There are more than 70 types of it on the island. Local cognac Metaxa, grape vodka grappa and anise vodka ouzo are extremely popular on the island. Remember that the last one is always diluted with water.
Komboloi can be an interesting souvenir for travellers. It is a local variant of beads. It is twenty beads strung on a solid thread. Komboloi is not a cult object, it is usually used for relaxation and concentration. The material of the item shows the social status of a person. They can be made of wood, clay and semi-precious stones. You can also buy matopetra. This souvenir is well-known among superstitious people. It is believed that this stone protects from the evil eye.
Kalymnos is a great place for curious and active children. There are no amusement parks and waterparks, but historical attractions and sports centres will make holidays eventful. For …
Open
You can also buy jewellery on the island. Masters work in a unique Byzantine technique which is used only in Greece. Moreover, there is a chance to buy an accessory and admire the process of its production. A local painting is an original gift. Artists from all over the world come here to capture amazing views. Cult objects are very popular here. You can find various icons on Kalymnos.

This guide to shopping in Kalymnos Island is protected by the copyright law. You can re-publish this content with mandatory attribution: direct and active hyperlink to
www.orangesmile.com
.
City tours, excursions and tickets in Kalymnos Island and surroundings
Shopping in Greece

Shopping on Crete is centered in the big cities of Chania, Rethymnon, and Heraklion. In Heraklion, it's worth going to the central street of Dadal. Travelers can find shops of both Greek and foreign brands, with Zara, MEXX, Bershka, and Lacoste among them. In small shops, you can buy outfits by local designers, who offer unique solutions and excellent quality. The real feature of Crete are flokati, which are plaids and rugs made of sheep wool. The best olive oil producers are located in Sitia. …
Open

Photogallery of Kalymnos Island best places
Search for shopping areas, streets, boutiques and supermarkeets on Kalymnos Island map
Shopping advices for the whole region around Kalymnos Island
Shopping advices for Kalymnos Island. The best spots for buying designer clothes and local delicacies from Greece - shops, galleries, boutiques and outlets. We provide you with the shopping streets map, so you can plan your efficient shopping routes, while hunting for authentic souvenirs, goods, drinks, shoes and clothes in Kalymnos Island.