Colors of Vicenza - traditions, festivals, mentality and lifestyle
Vicenza became a permanent venue for various festivals. Many local holidays are of global importance and attract a huge number of foreign tourists. At the end of May, the Classical Music Festival starts, which has been held in the magnificent Olympic Theater for more than 20 years. The venue of the festival was not chosen by chance. The thing is that the famous theater building dating back to 1580 is the oldest of its kind.
For quality and inexpensive clothing in Vicenza go to Rizzato store. A new luxury swimsuit costs no more than 30 euros there, and for 20 euros you can choose a stylish bag. They sell …
Open
Festival participants have the opportunity to attend performances of chamber orchestras, symphony concerts, and listen to the best opera singers. Besides that, the festival's program involves interesting excursions, lectures, and master classes, as well as premieres of films devoted to the life and work of famous musicians. This event also attracts jazz fans with performances by Italy's most famous musical bands.
It should be noted that many concerts are completely improvised, which makes them even more original and unique. The festival usually ends in mid-June. Besides the world-famous "Musical Weeks", there are many other interesting national celebrations in Vicenza. Copyright www.orangesmile.com
Vicenza is a capital of the similarly named province in Veneto region. This city is located 60 kilometers away from Venice and 200 km away from Milan. Vicenza is the city of the global …
Open
The Autumn Festival, or the Harvest Festival, is very popular among travelers. This event is always accompanied by grandiose festivities, agricultural fairs, exhibitions, and competitions. The beautiful festival smoothly passes into Baccala, which is celebrated in early October. It is in no way inferior to the previous festival in its richness and is also accompanied by a lot of interesting cultural and entertainment events.
The best way to get acquainted with the culture of local residents is to visit Marronata Folk Festival. National music sounds on the city streets, beautiful dance and theater performances, children's parties and concerts are held on these days. A very interesting holiday is San Martino, a kind of "Italian-style" Thanksgiving. The main part of the celebration is its fair where local craftsmen present their products. Besides a variety of handicrafts and home decorations, here you can buy new wine, all sorts of national treats and sweets. Winter is time for fascinating Tonezza Christmas Festival. Each holiday is notable for its original history and an abundance of interesting events that would be of great interest to every traveler.
Vicenza pleases its guests with an abundance of cozy restaurants, pizzerias, and coffee shops. Gourmets will have a chance to enjoy exquisite delicacies in prestigious restaurants, and big …
Open
Vicenza is a charming city located in the Veneto region along with Venice and Verona. And if the first is famous for its carnival, Verona is known as a city of love and romance, then Vicenza is primarily known as an industrial center (jewelry, engineering products, and textiles). Secondarily, the city is popular thanks to Andrea Palladio who made a huge contribution to the architecture of the city. Speaking of the local population, it is worth noting friendliness and willingness to help. People always smile and charge everyone around them with their positive energy. At the same time, they are characterized by restraint, politeness, tactfulness.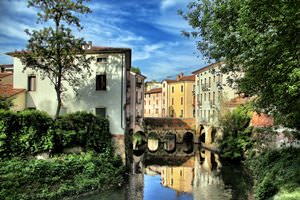 Vicenza is a relatively small city, so it is not surprising that locals know each other by sight. Here it is customary to visit each other's homes and never refuse to help, whatever it takes. Local residents also have a tendency to complain about life. They do not imagine their life without comfort - however, almost all Italians share the same character trait. As well as love and respect for the family as the main value in everyone's life. Here people speak the "Veneto" dialect, which is somewhat different from traditional Italian, but it's still quite possible to understand the locals.
Vicenza is famous for its grandiose architectural monuments, the most famous among which is the Basilica. It is the first building in the city constructed under the guidance of the famous …
Open
Traditional products that make up the national dishes are cheeses, meats, and legumes. While in the city, you must definitely try such specialties as "Sopressa" (aged salami), Asiago cheese, "Bigoli" (pasta with meat or vegetable stew), "Brodo" (soup with pasta), "Coniglio" (rabbit stewed in vegetables), "Frittata" (omelette with white asparagus), "Zaletti" (cornmeal cookies). Speaking of drinks, the traditional drink is wine, like in any other Italian city. It is worth trying such local wines as Vespaiolo, Torcolato, Recotto, Vin Santo. Another popular drink is Grappa, which is a must-try while in Vicenza.
The festival year begins in mid-May when Vicenza Jazz comes. At this time, nightclubs, bars, theaters and city squares turn into scenes where eminent and talented performers entertain visitors who came for a portion of quality music. The festival is regularly attended by participants and spectators from all over the world. Festival Musica delle Tradizioni held in September will be an excellent opportunity to become closer acquainted with the local culture. At this time, visitors have a unique chance to hear traditional Italian motifs. The venue is Teatro Comunale.
Vicenza is a perfect destination for a family holiday. The city has created excellent conditions for a wide variety of entertainment. Those traveling with kids will be primarily interested …
Open
In early June, you can witness another interesting musical event gathering fans of ethnic rock in one place - this is Riviera Folk Festival. Via V. Emanuele Orlando, 8 is chosen as the venue. The list of participants includes a lot of famous and talented musicians. Another significant musical event in the life of the city is called Ferrock and held in Parco Retrone in the middle of July. The fest is devoted to rock in all its manifestations. Here you can listen to completely different subgenres - from fiery and funny reggae to Nu metal and Indie rock. Almost at the same time, there's a chance to visit Spiorock where headliners are not so much eminent. A great opportunity to discover new facets in music. The venues are via Calvi, via Giuriato, and via Piazzetta.
On September 8, the central streets of the city are decorated with flowers, and people in colorful clothes are walking all around. This is how people in Vicenza celebrate the feast of the patron saint of the city (Festa della Madonna di Monte Berico). Despite the fact that the holiday is of religious origin, everyone is having fun. A special program for children is prepared in the form of the opening an amusement park in Campo Marzo. Another widely celebrated holiday is dedicated to Saint Giuseppe. It begins in mid-March and ends in early April. The celebration looks very impressive - on the central streets you can watch dance and theatrical performances, a beauty contest, Latin American dance competitions, and culinary competitions for the title of the best chef.

This guide to traditions and festivals in Vicenza is protected by the copyright law. You can re-publish this content with mandatory attribution: direct and active hyperlink to
www.orangesmile.com
.
City tours, excursions and tickets in Vicenza and surroundings
Reference information
Cathedrals and basilicas near Vicenza
♥ Cattedrale di S. Maria Annunziata, Vicenza, 0.7 km from the center.
On the map
Photo
♥ Basilica di S. Maria di Monte Berico, Vicenza, 1.7 km from the center.
On the map
Photo
♥ Basilica-Abbazia di S. Maria Assunta, Praglia, 25.3 km from the center.
On the map
Photo
♥ Basilica del Monte Carmelo, Padova, 29.5 km from the center.
On the map
Photo
♥ Basilica Cattedrale di S. Maria Assunta, Padova, 29.7 km from the center.
On the map
Photo
♥ Basilica Pontificia di Sant'Antonio, Padova, 30.6 km from the center.
On the map
Photo
♥ Basilica-Abbazia di S. Giustina, Padova, 30.9 km from the center.
On the map
Photo
Survived castles around Vicenza
♥ Castle 'Castello di Montegalda' Montegalda, 15.5 km from the center.
On the map
Photo
♥ Castle 'Palazzo Porto Colleoni Thiene' Thiene, 18.3 km from the center.
On the map
Photo
♥ Castle 'Castello di San Martino della Vaneza' Cervarese Santa Croce, 19.6 km from the center.
On the map
Photo
♥ Castle 'Cittadella' Padua, 21.2 km from the center.
On the map
Photo
♥ Castle 'Castello Della Montecchia' Selvazzano Dentro, 24.6 km from the center.
On the map
Photo
♥ Castle 'Castello di Valbona' Lozzo Atestino, 28.5 km from the center.
On the map
Photo
♥ Castle 'Castello Di San Pelagio' Padova, 33.7 km from the center.
On the map
Photo
Colors of Vicenza in photos
Search for popular touristic sites on Vicenza map
Traditions and festivals in cities around Vicenza
Cityguide on traditions, mentality and lifestyle of people in Vicenza. Learn the best periods to visit Vicenza to discover its soul - authentic festivals, events and celebrations. We will also reveal the interesting habits, attitude towards the world and to tourists in Vicenza.