City break in Vicenza. Active leisure ideas for Vicenza - attractions, recreation and nightlife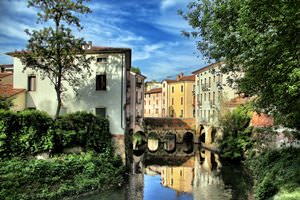 Vicenza is a perfect destination for a family holiday. The city has created excellent conditions for a wide variety of entertainment. Those traveling with kids will be primarily interested in visiting Parco Cappeller Zoo. Walking among aviaries and enclosures, you can see some really exotic animals and birds. The smallest visitors can take pictures with their favorites or feed them from hands, and as a sign of gratitude, the friendly inhabitants will certainly show their talents.
Among the most prestigious hotels in Vicenza, the designer Hotel Victoria deserves special attention. Fans of luxury can stay in any one of her executive rooms or comfortable apartments. All …
Open
Those who can't imagine a vacation without outdoor recreation should definitely go for a walk around Piazza dei Signori surrounded by a wonderful park. It is equally good for walking and cycling. The park has a special picnic area and several sports grounds, while children will enjoy rides and playgrounds available here. The abundance of exotic plants and flowers attracts visitors to Salvi Garden. Here you can go for a long leisurely walk to admire floral expositions and unusual miniature shrubs and trees.
Vicenza is sure to please fans of incendiary discos and nightclubs, and Cuore Matto is rightly considered the most vibrant one. Dancers are provided with a huge dance floor and a diverse music program, while fans of exotic cocktails and pizza can relax in a bar next door. Every evening, guests are welcome in stylish Victory Club House highly appreciated for its interesting entertainment program, well-designed interior, and a rich selection of treats at the bar. The club often hosts performances of popular music bands and DJs, so every night in Victory Club House can be special. Copyright www.orangesmile.com
Vicenza is famous for its amazing historic hotels. Relais Santa Corona is one of such. It is located in one of the most beautiful buildings of the 18th century. During the reconstruction of …
Open
Younger vacationers would likely prefer Distretto where they can listen to music from different genres. Jazz nights, modern techno parties, rock concerts are all held here, so Distretto will easily please any music addict.
Vicenza should not disappoint shoppers who can explore a variety of shops, markets, and malls. The city's most famous shopping center is Herba Sapiens, which is within walking distance of the center. Here you can find absolutely any product, from fashionable clothes and perfumes to home appliances and children's toys. Il Libraio Shopping Center located in a remote area of the city is also ready to offer travelers a broad selection of luxury boutiques, jewelry pavilions, and souvenir shops.
Travelers looking for a hotel for a romantic getaway should pay attention to the upscale Hotel Viest. It is aimed at a wide range of guests; for couples, for example, the hotel has prepared …
Open
Vicenza is a great city for those who love wonderful natural landscapes and magnificent architectural structures. That is, for all connoisseurs of aesthetic pleasure. Especially for them, Vicenza has a tour from El Sendero Nature Tours & Outdoor Events. This is definitely a great pastime, which is sure to be appreciated even by those who cannot call themselves true connoisseurs of beauty. It is hard to believe that there are so stunning views on Earth that can help you find peace of mind and soul.
Vicenza is also famous for its theaters. Thus, the best performances that can be watched in the city are presented in such theaters as Olimpico, Astra, and Comunale. It's advised to keep track of events, as there are often very interesting spectacles, as well as other performances within the framework of colorful festivals taking place in the city. In order to explore the numerous Vicenza attractions, it is worth to rent a transport, and the bicycle would be the most convenient option in this case. You can do this at Vi. BiciPark.
For quality and inexpensive clothing in Vicenza go to Rizzato store. A new luxury swimsuit costs no more than 30 euros there, and for 20 euros you can choose a stylish bag. They sell …
Open
Popular activities include escape quests, through which you can test and improve your wits. The best centers of this kind can be called Escape Room Intrappola.TO and Great Escape where both beginners and avid players can get a unique experience. Locals are very fond of movies, and therefore choose the best places for enjoying the fresh novelties. These are Cinema Teatro Araceli, Cinema Odeon s.r.l., and Multisala Roma. Sports are also popular here, and Stadio Romeo Menti is the place where major competitions are held.
Everyone who wants to get a good dose of adrenaline will definitely enjoy VKI, Vicenza Kart Indoor. This is the place where visitors can experience such entertainment as go-karting and try something really exciting and new - just don't be shy! For those who prefer sports and fitness, the city has Centro Sport Palladio, so you shouldn't worry about gaining some extra pounds while on vacation. Bowling enthusiasts can be found at Bowling For Fun, and fans of the aristocrats' favorite game at Golf Club Colli Berici. There is also Samarcanda Billiard Club.
Vicenza is a capital of the similarly named province in Veneto region. This city is located 60 kilometers away from Venice and 200 km away from Milan. Vicenza is the city of the global …
Open
Museums are something that is definitely worth visiting while in the city, and you can see it for yourself by visiting at least one of them. There is no doubt that art connoisseurs will appreciate them all. Especially for them, there are Palazzo Chiericati, Museo Diocesano, Gallerie di Palazzo Leoni Montanari, Villa Rotonda del Palladio, Villa Fracanzan Piovene. Fans of military history go to explore Museo del Risorgimento e della Resistenza, while Stamperia d'arte Busato introduces visitors to the craft of typography. The culture of the city is best reflected in Museo del Gioiello. Occupying an extraordinarily beautiful building (something Vicenza is famous for), this place also displays a small collection of jewelry.
The city can offer some absolutely unique shops and malls, which are definitely worth a visit. Those interested in buying antiques for keeping material things in the memory of the trip should be advised to go to Antica Bottega Artistica Dal Toso, and tourists preferring shopping in spacious malls will appreciate Centro Commerciale Palladio. Look for interesting souvenirs in Es Vicenza - High Cosmetics Bijoux & Vintage Fashion, Patrizia Fontana Design Store, Rossi Illuminazione, as well as Daniela Vettori Bottega Orafa.
Vicenza pleases its guests with an abundance of cozy restaurants, pizzerias, and coffee shops. Gourmets will have a chance to enjoy exquisite delicacies in prestigious restaurants, and big …
Open
Remarkable nightlife institutions deserving mention are La terrazza Bar appreciated by guests who prefer to dine on the rooftop, a visit to Lioy Bar will be a real gift for lovers of a relaxed, casual atmosphere, and Ai 2 Calici Bar attracts all those who prefer noisy places. The bar is also famous for its hearty food. Casamia Club is designed for partymakers dancing all night long who are also frequented at Totem Club. Bar La Fenice would be a good choice for those who cannot imagine a perfect evening without great cocktails, while Borsa is preferred by those who love spending nights in the company of quality live music in a pleasant, bewitching atmosphere where a pianist entertains the audience.

This guide on active recreation and leisure in Vicenza is protected by the copyright law. You can re-publish this content with mandatory attribution: direct and active hyperlink to
www.orangesmile.com
.
City tours, excursions and tickets in Vicenza and surroundings
Photogallery of picturesque Vicenza
Search for active leisure and attraction spots on Vicenza map
City break ideas for neighbours of Vicenza
Guide to your best city break in Vicenza - popular places for recreation and leisure. Things to do during the day in Vicenza - attractions, parks, beaches, aquaparks, racing tracks, biking trails or waterski. Recommendations (with addresses, phone numbers and links) where to spend your time in the evening (bars, discos, clubs, etc.). We share some good ideas and the question 'What to do in Vicenza?' disappears immediately.