Preparing your trip to Chamonix: advices & hints - things to do and to obey
1. Ski season in Chamonix runs from mid-December to late March, but under favorable weather conditions you can go skiing up to the middle of May. It's worth noting that the climate is very changeable in Chamonix, so weather conditions can change literally every day.
2. Train connecting the district with Saint Gervais Martigny runs along the valley. It remains one of the most popular forms of public transport; the train departs every hour. Travelers with guest cards and ski-passes can ride for free.
3. Buses are also common; they depart every 15 minutes. They can easily reach any site in the ski area, as well as neighborhoods.
4. Travelers planning to rent a car are recommended to call Europcar rental center. The resort is equipped with a sufficient number of covered parking spaces, which can simultaneously accommodate up to 4,000 cars.
5. In addition to standard hotels and inns, a vast selection of apartments and chalets are available for vacationers. Tourists could find a suitable place to stay at any area of ​​the resort, as a decent selection of luxury and budget hotels are represented in Chamonix. Copyright www.orangesmile.com
6. Tourists visiting the resort for the first time should definitely look into some of the local centers of information. There they can take leaflets describing local attractions, as well as Restaupoche guide telling about features of local restaurants.
7. Many cultural and recreational centers offer excellent discounts for younger guests. It would be profitable to take excursions as a whole family, as parents with children can purchase tickets at a discounted price.
Chamonix would surprise its guests with an abundance of attractions; sightseeing will please vacationers. The Alpine Museum invites tourists to learn many interesting facts about the history …
Open
8. Chamonix has its own railway station, so tourists have an opportunity to visit nearby towns and resorts. A trip to Paris by high speed TGV train will take about five hours; trains in different directions leave from the station daily.

Preparing your trip to Chamonix: advices & hints - things to do and to obey You can re-publish this content with mandatory attribution: direct and active hyperlink to
www.orangesmile.com
.
What to visit being in Chamonix - unique sights
Aiguille du Midi
From the series
"The World's Highest Observation Decks"
Check on the map:
Distance from Chamonix center - 4.5 km.
You can not only walk through the tunnels between levels, but also use a special lift that is much more convenient and faster. There is a special plate with the exact height of the platform and its number at each level. It's also worth to have a long and incredibly interesting tour to Aiguille du Midi that many tourists tend to visit in the summer. The fact is that it's always very cold and very windy at the top, so it would be more comfortable to climb it in the summer, when it's not so chilly. …
Read further

Tortin Ski Slope
From the series
"Top 13 Furious Ski Resorts and Pistes"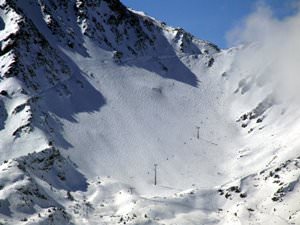 Check on the map:
Distance from Chamonix center - 34.4 km.
For this reason, the extreme sports fans prefer to visit the health resort in the spring when the snow begins to melt or in autumn, when it has not yet hidden all the special features of the 'black' slopes. The health resort Verbier also offers many opportunities for freeriding. However Verbier was known worldwide precisely because of the 'Torin' runway. …
Read further

Cleuson-Dixence
From the series
"The Greatest Dams in the World"
Check on the map:
Distance from Chamonix center - 45.3 km.
A few years ago, the dam was connected to the flat districts by the cable car. Through the dam tunnel the exciting excursions for the tourists are carried out. After the visit of the magnificent building from the inside is still an interesting entertainment offered to the guests - all interested can stay in one of the tunnels under the dam. The dreamers prefer to visit this wonderful area in winter - amidst snowy mountain landscapes the dam still looks more impressive. …
Read further

City tours, excursions and tickets in Chamonix and surroundings
Car rental on OrangeSmile.com

Preferred to Open 9 New Hotels in 2022
In September 2022, the Sommerro hotel in Oslo will start operating in a carefully restored 1930s Art Deco building. This building is a true landmark of Frogner, a historic neighborhood of the Norwegian capital. A multi-million-dollar renovation carefully turned the largest preservation project in Norway into a modern hotel with 231 rooms, including 56 residences. Preferred will open five more hotels in 2022, namely, The Wall Street Hotel in New York, Amrit Ocean Resort & Residences on Singer Island (Florida, the US), TOA Hotel & Spa in Zanzibar, Pendry hotel in Washington, and Pendry Park City hotel in Utah.
Read this
04.06.2023
Photos of Chamonix
Services search (pharmacy, police, parking, banks) on Chamonix map
Tips for the cities around Chamonix
Travelling to Chamonix - advices and tips. What should be provisioned in advance, the rules you might want to follow, and the things you better avoid doing in Chamonix. We help you to make your trip smooth and easy, with no unexpected surprises.