Cuisine of Messina for gourmets. Places for dinner - best restaurants
Messina will be a great place to experience traditional Sicilian cuisine. Amazing dishes be tasted at every step in the city. On lively streets, you will find stalls and small cafes with inexpensive meals. They sell very interesting food atypical for other Italian regions, and a great example is the common appetizer "arancini". This is how they call deep-fried rice balls, which can be cooked with various fillings. It is believed that it was first invented in Palermo, but today it is popular in many cities of Sicily. In Messina, you can try arancini with meat, vegetable fillings, and seafood.
The history of the City of Messina is cloaked in many fascinating myths and legends. This is a true city of fairytales, an enchanting and mysterious place. According to one of tales, angry …
Open
An equally popular snack option is chickpea cakes "panelle". They are very easy to prepare but have a unique taste. As in many other cities in Italy, pasta is extremely popular in Messina. It boasts many restaurants specializing exclusively in pasta. "Alla norma" is considered a typical regional dish. A special sauce of tomatoes, eggplant, and ricotta makes the dish nice-looking and very satisfying. Fans of original specialties will like "Pasta con I ricci" with sea urchin caviar added.
Regional cuisine is rich in seafood so gourmets will have the opportunity to try lots of rare delicacies. It is worth noting the freshest mussels, various shrimps and sardine specialties that have long become everyday for the townspeople. An interesting local specialty is swordfish, from which chefs prepare dozens of stunning dishes. Besides cozy restaurants and cafes, Messina is famous for its charming pastry shops, each of which offers guests interesting sweets. Copyright www.orangesmile.com
Messina is perfect for an active family holiday. The city has numerous beautiful parks and entertainment centers. One of the most unusual is the amusement center Parco Avventura Dei …
Open
Small tart cakes with fruit fillings and light cream are widespread here. You can also try rosy muffins and delicate meringues. Those with a sweet tooth must try traditional wafer rolls "canolli", which are made with traditional mascarpone cream. A popular dessert is "cassata" cake with candied fruit. Its recipe was invented more than a hundred years ago. In the midst of hot summer, the most popular dessert among locals is refreshing fruit ice called Granita.
Try the most popular Sicilian dishes and delicacies at I Ruggeri. It is distinguished by a variety of seafood dishes. It is here that you must try sea urchin caviar, fresh clams, and exotic fish. There are also classic Italian dishes on the menu, including super tasty pasta and pizza, as well as Mediterranean-style salads. The restaurant offers a rich wine list, so there are suitable drinks to match every dish.
The beautiful customs and traditions of Sicilians are considered one of the most inimitable and distinctive in Italy. Throughout the year, Messina hosts many interesting holidays ideal for …
Open
Kairos pizzeria located on one of Messina's main streets is very popular among budget travelers. Its guests are offered dozens of types of pizza, including very original options with seafood, various types of meat, and vegetarian components. Not only a variety of dishes but also affordable prices attract visitors - it would be a great place to dine with a family. At the pizzeria, vegetarians are provided with a separate menu.
Few tourists are aware of the existence of Amici Miei, a restaurant located away from the busiest city streets. The main visitors to this regional restaurant are locals who are used to typical homemade food. It serves fresh fish, shrimp, and other seafood. You can try authentic homemade seafood pasta and traditional fruit desserts. The restaurant will please connoisseurs of good Italian wine with an excellent collection of drinks from various regions of Italy.
Messina is rich in architectural sights of various periods, and one of the main symbols of the city is the wonderful Duomo di Messina. The cathedral built in the 12th century has survived …
Open
Some bars in Messina have become especially popular, and De Luca is among them. This stylish bar is open all day and looks more like a classic cafe. In addition to Italian wines and signature cocktails, it serves wonderful desserts. Many come here to enjoy the favorite ice cream. It would be a pleasure to visit this cozy bar with children who will appreciate a wide choice of sweets.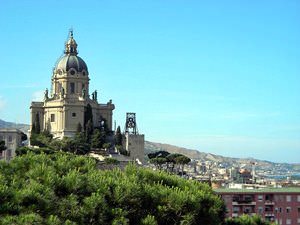 At San Paolo Tavern, you can taste the most popular Sicilian dishes enjoying a relaxed atmosphere. Apart from locally common seafood, it serves great meat dishes. Meat and fish specialties are often cooked over an open fire. The choice of salads and other vegetable dishes is brilliant too. If you look for original delicacies, you're warmly welcome!

This guide to cuisine and restauraunt in Messina is protected by the copyright law. You can re-publish this content with mandatory attribution: direct and active hyperlink to
www.orangesmile.com
.
City tours, excursions and tickets in Messina and surroundings
Reference information
Michelin-starred restaurants in Messina
♥ Restaurant 'La Durlindana' Messina. Type - Seafood. 0.5 km from the center.
On the map
Photo
♥ Restaurant 'Piero' MESSINA. Type - Regional cuisine. 0.7 km from the center.
On the map
Photo
♥ Restaurant 'Marina del Nettuno' Messina. Type - Creative. 0.7 km from the center.
On the map
Photo
♥ Restaurant 'Vecchio Porto' Villa San Giovanni. Type - Seafood. 8.4 km from the center.
On the map
Photo
♥ Restaurant 'La Sirena' Messina. Type - Seafood. 9.5 km from the center.
On the map
Photo
♥ Restaurant 'Baylik' REGGIO DI CALABRIA. Type - Seafood. 11.4 km from the center.
On the map
Photo
♥ Restaurant 'I Due Mari' SANTA TRADA DI CANNITELLO. Type - Traditional cuisine. 12.2 km from the center.
On the map
Photo
♥ Restaurant 'Alle Cantine della Lampara' PELLARO. Type - Regional cuisine. 20.3 km from the center.
On the map
Photo
♥ Restaurant 'Taverna Kerkira' BAGNARA CALABRA. Type - Seafood. 23.9 km from the center.
On the map
Photo
♥ Restaurant 'L'Angolo del Gusto' GAMBARIE D'ASPROMONTE. Type - Regional cuisine. 24.8 km from the center.
On the map
Photo
Messina in photo set
Searching where to eat - restaurants and cafe on Messina map
Cuisine and restaurants in the neighbours of Messina
Travel notes on best cuisine and restaurants of Messina (Italy) on OrangeSmile.com. Famous recipes and traditional dishes and courses in Messina restaurants. Where to eat - our recommendations on popular places in Messina, where you can taste delicious meal and also spend a good time with your friends.