Family trip to Messina with children. Ideas on where to go with your child
Messina is perfect for an active family holiday. The city has numerous beautiful parks and entertainment centers. One of the most unusual is the amusement center Parco Avventura Dei Peloritani. This center is equipped in a picturesque forest park area. In this rope town, visitors can enjoy a lot of attractions on which they can test their strength and dexterity. There are rope bridges, special cables for bungee jumping, and obstacle courses of various difficulty levels including suitable ones for children. This entertainment center employs a team of professional instructors. Entertainment here therefore promises to be safe.
Messina is rich in architectural sights of various periods, and one of the main symbols of the city is the wonderful Duomo di Messina. The cathedral built in the 12th century has survived …
Open
Fans of fast driving should definitely visit the Karting Club Messina which is considered to be the best in the city. Competitions are held regularly in this center. Several days a week, it is open for free visits. You can see routes of different levels of difficulty here. Even beginners in this sort of entertainment will be able to relax in the karting center.
The city has a small aquarium – Acquario Comunale, which is also largely focused on visitors with children. It presents a fascinating collection of colorful fish, among which there are also rare predators. Furthermore, visitors can see exotic jellyfish and crustaceans. There are incredibly informative excursions here for visitors. The oceanarium is quite small so children will not become weary of a tedious excursion. Copyright www.orangesmile.com
Messina is a large port city that offers its guests all kinds of entertainment. The city creates excellent conditions for beach recreation and water sports. First-class sports centers and …
Open
Vacationers with young children will like the amusement center Baby Park. A significant part of its attractions is designed for young children. The entertainment complex is positioned on the territory of a large picturesque park. Other than attractions and play areas, there is plenty of free space for walking here. This park is ideal for organizing a family picnic and for active outdoor games.
Messina has many exceptional historical centers, some of which will be interesting to visit with children. An extraordinary establishment is the Museo Tesoro del Duomo. This museum was opened within the walls of an ancient cathedral which in itself is a great historical monument. The historical center showcases an invaluable collection of jewelry and religious artifacts. Visitors can see the ancient orders inlaid with precious stones crosses, as well as the attributes of gold which were used during worship hundreds of years ago. Literally all the exhibits of the museum fascinate visitors – the precious stones shining and charming from the first sight.
1. Messina has a large port where active navigation is carried out even at night. Here, tourists are offered interesting tours of other Sicilian cities, as well as trips to remote beaches. …
Open
An astounding option for a family holiday will be an excursion to the Cascata Cataolo waterfall. It is located in a picturesque park where an exceptionally wonderful antiquated castle has been preserved. This is one of the few historical sites that will be interesting to visit with children. After visiting the castle, vacationers can stroll through the park and look into its most concealed corners. The principle feature of the park is a stunning waterfall. You can also see many exotic plants and trees here.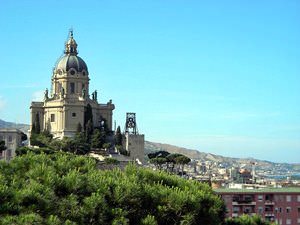 Those who like to spend their holidays with the whole family in nature, ought to go to the lake Lago di Ganzirri. These spots are considered one of the most beautiful in the vicinity of Messina. Along the shores of the lake, there is a beautiful forest park area. Children will love to watch fishes which swim very close to the shore. They can feed the fishes. On the shore of the lake are equipped comfortable recreation areas. In the midst of the tourist season, there are restaurants and cafes here.

This guide to family holidays in Messina is protected by the copyright law. You can re-publish this content with mandatory attribution: direct and active hyperlink to
www.orangesmile.com
.
City tours, excursions and tickets in Messina and surroundings
Reference information
Water attractions around Messina
♥ Water park 'Etnaland' Belpasso, Catania, 91.1 km from the center.
On the map
Photo
Photogallery of best places of Messina
Children attractions (aquaparks, zoos, amusement parks) on the map of Messina
Interesting places to visit with children around Messina
Guide to sightseeing and entertainment for children in Messina - parks, attractions, museums, zoos, water-parks. All fascinating and educational sites of Messina, which are must visit and see for your child. Find out the best discovery routes and places for kids (local theaters, exhibitions and museums), where you can spend quality time together. Messina for families with children.