Shopping in Messina - authentic goods, best outlets, malls and boutiques
Although Messina cannot boast an abundance of large malls and markets, shopping enthusiasts will not be bored here. Most of the popular souvenir shops can be found near the central square where you can find the most popular gifts. Postcards, magnets, painted plates and t-shirts, jewelry and crafts made of porcelain - all these and many other accessories are in abundance here. Since the central square is one of the city's liveliest touristic areas, the shops are quite expensive here.
The history of the City of Messina is cloaked in many fascinating myths and legends. This is a true city of fairytales, an enchanting and mysterious place. According to one of tales, angry …
Open
One of the main shopping streets is Via San Martino. Walking along it, you can visit a lot of interesting designer shops and prestigious salons. People come here for exclusive outfits and accessories from famous Italian designers.
On one of the main local shopping streets, you'll find the prestigious store Still Home Fashion, which would be of interest to those who want to buy interesting home decorations. The store sells exclusive textiles, designer lamps, paintings and vases, dishes and candlesticks, as well as a host of other accessories making the home more stylish and cozy. The store is quite expensive and is aimed at wealthy visitors. Copyright www.orangesmile.com
Messina is perfect for an active family holiday. The city has numerous beautiful parks and entertainment centers. One of the most unusual is the amusement center Parco Avventura Dei …
Open
A must-have for ladies is Mirage Profumeria, one of the most popular perfume stores in town. Its product range is very broad, from cheap miniature perfume bottles to original exclusive perfumes for the most demanding customers. Men's perfumes are presented in the store too.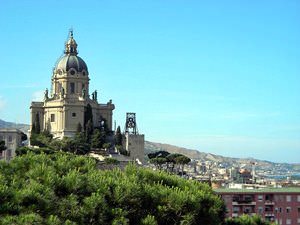 "Coin" is one of the city's most visited shopping centers. People come here to look for modern fashionable clothes, cosmetics and perfumes, home goods and souvenir products. Demanding travelers will like shopping here, as they will be offered many luxury boutiques and jewelry stores.
Messina will be a great place to experience traditional Sicilian cuisine. Amazing dishes be tasted at every step in the city. On lively streets, you will find stalls and small cafes with …
Open
One of Messina's most unusual souvenir shops is Bottega Sicula, which is often visited by tourists as a museum. It sells chic ceramic crafts, among which there are luxurious sculptures of quite impressive sizes and tiny products that even budget tourists can afford to buy. Customers will find a lot of unusual lamps and painted plates, as well as miniature ceramic plates with national motifs.
In search of unusual souvenirs, you can go to Moai Tiki, a store able to please all family members. Interesting toys and accessories are carefully placed in the windows - neither adults nor children will remain indifferent. For example, here you can buy a charming toy rabbit in a basket that looks just like a real one. Boys and men will like models of ships and lighthouses, as well as various construction toys. For the thriftiest customers, the store has prepared a large selection of magnets and postcards, and wealthy tourists can even get themselves a huge anchor, if wished.
The beautiful customs and traditions of Sicilians are considered one of the most inimitable and distinctive in Italy. Throughout the year, Messina hosts many interesting holidays ideal for …
Open
For wonderful Italian wine and delicacies, head to Principi di Sicilia Wine Store, one of the largest and most interesting gastronomic shops in town. Here you can always pick up a bottle of good wine from one of the local factories, delicious farm sausages and cheeses, liquors, and various canned products. In the warm season, a small terrace with tables is equipped at the entrance so that visitors to the store can taste great products with comfort.
Opuntia Sicily is another great place to choose interesting memorable gifts for yourself and loved ones. It sells interesting ceramic crafts, wicker baskets and bags, traditional magnets, and contemporary paintings. Ladies will love unusual kitchen accessories and handmade candles. The store also has a small gastronomic department full of popular national products.

This guide to shopping in Messina is protected by the copyright law. You can re-publish this content with mandatory attribution: direct and active hyperlink to
www.orangesmile.com
.
City tours, excursions and tickets in Messina and surroundings
Photogallery of Messina best places
Search for shopping areas, streets, boutiques and supermarkeets on Messina map
Shopping advices for the whole region around Messina
Shopping advices for Messina. The best spots for buying designer clothes and local delicacies from Italy - shops, galleries, boutiques and outlets. We provide you with the shopping streets map, so you can plan your efficient shopping routes, while hunting for authentic souvenirs, goods, drinks, shoes and clothes in Messina.