Cuisine of Kalamata for gourmets. Places for dinner - best restaurants
Kalamata is famous, first of all, for its excellent olive oil that has become internationally popular around the world. The olives, which have the same name as the city, are valued by many gourmets who always praise their amazing and unusual taste. Thanks to numerous olive groves in the neighborhoods of the city and overall popularity of olives in Greece in general, all restaurants in the region offer a range of dishes with this ingredient. For example, stuffed olives, olives marinated in different sauces, or olives as a decoration for many dishes. In Kalamata, travelers can always purchase olive oil of premium quality and enjoy Greek cuisine at home.
Kalamata is the second most populous city of the Peloponnese peninsula, but its population is just a bit more than half a hundred thousand people. On the other hand, this is a city with …
Open
Just like in many other cities in Greece, travelers can always try suckling pig or lamb on a spit roasted over coals. By the way, this delicacy is available at almost every restaurant! Depending on the serving style of a certain restaurant, visitors are provided with the whole roasted pig or chicken (the so-called "hunter" or "game-like" style) or it can be cut into pieces. When it comes to peculiarities of cooking the dish, there can be many different variants: stuffed, roasted with a crispy crust, marinated in oil or wine and covered with spices.
Classic Greek salad is widely known around the world. Locals call it Horiatiki or countryside salad. Needless to say, tourists should try it during their vacation in the country because Horiatiki tastes differently in Greece compared to the rest of the world. The key is in a simple and relaxed way that Greeks make their food. They slice cheese and vegetables in big chunks, black and green olives are not sliced, and ingredients are often not even mixed. The ready salad is generously sprinkled with olive oil. Classic Greek Salad contains tomato, cucumber, sweet pepper, onion (red onion preferred), feta cheese, and olives. The salad is dressed with olive oil. Salt, pepper, and lemon juice are added in accordance with personal preferences. Copyright www.orangesmile.com
Kalamata is a city with an ancient history. According to old annals, the city existed during the life of Homer, legendary poet of ancient Greece. Despite the fact that the city was damaged …
Open
Love for coffee is one more peculiarity of local cuisine. Cafes in Kalamata offer different varieties of this refreshing drink: traditional espresso, frappe (foam-covered iced coffee), unusual coffee with spices, mochaccino, latte, and many others. You will often see locals drink coffee and any time of the day, in the morning and late in the evening. However, pay attention to the fact that locals mostly use instant coffee to make all these variations because there are no coffee plantations in the country.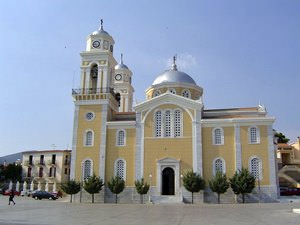 In Greece, the majority of restaurants are divided into categories. Souvlatzidiko specialize in cooking kebabs, Psistaries are barbecue type restaurants, and Psarotavernas offer mostly fish dishes. That being said, there are restaurants where visitors can try everything at once. Kardamo Edesmopoleio is one of these dining establishments. It offers authentic Greek cuisine. The restaurant is designed in a charming countryside style with some modern elements of decor and modern Greek symbols. The quality of food and serving will please even most discerning visitors who will definitely want to return to this restaurant again.
Kalamata is famous not only for its premium olive oil and ancient buildings but also for excellent beaches that are perfect for recreation. Without a doubt, Kalamata Beach is the most …
Open
Ta Rolla is a small family-owned café that is open for all guests. Locals and tourists equality like to eat here. The café is open in a picturesque and peaceful neighborhood, so it is perfectly suitable for an unhurried and relaxed meal when nothing disturbs and prevents from enjoying the food. The menu is full of Greek and Mediterranean dishes that are cooked in accordance with interesting recipes. There are also dishes for vegetarians. Inside the café, there is a display window with ready food, so visitors in a hurry can purchase it and do not wait until their order is ready.
In Kalamata, there are not only restaurants specializing in the national cuisine but also in Italian cuisine (Da Francesco, Fish & Pasta Kannas, Street Pasta), Asian cuisine (Umami Sushi and More, Beihai Restaurant), and American cuisine (The Burgery, Anais Musical Restaurant & Bar). All tourist areas and popular neighborhoods have numerous cafes and bistros, fast food chains, and food carts on the streets that sell kebabs and barbecue. Travelers are particularly fond of restaurants close to the seaside because they offer fresh seafood.

This guide to cuisine and restauraunt in Kalamata is protected by the copyright law. You can re-publish this content with mandatory attribution: direct and active hyperlink to
www.orangesmile.com
.
City tours, excursions and tickets in Kalamata and surroundings
Kalamata in photo set
Searching where to eat - restaurants and cafe on Kalamata map
Cuisine and restaurants in the neighbours of Kalamata
Travel notes on best cuisine and restaurants of Kalamata (Greece) on OrangeSmile.com. Famous recipes and traditional dishes and courses in Kalamata restaurants. Where to eat - our recommendations on popular places in Kalamata, where you can taste delicious meal and also spend a good time with your friends.