Preparing your trip to Rome: advices & hints - things to do and to obey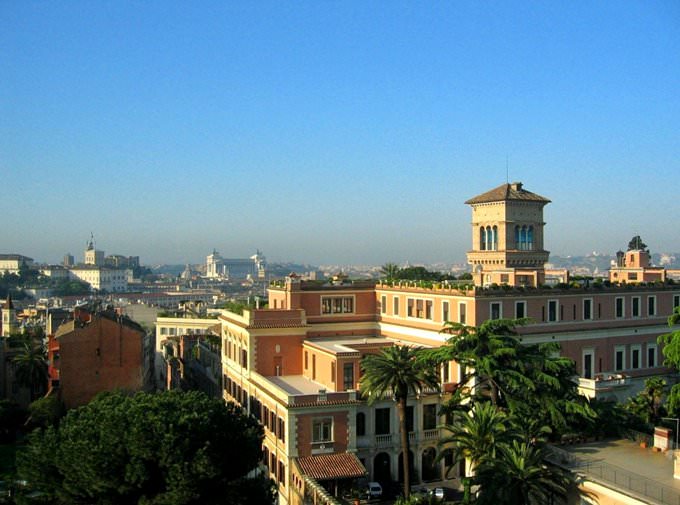 1.
Travelers are advised to make sightseeing on foot because amazing and unforgettable attractions are located here right at every step.
2. Those tourists, who want to make a trip to Vatican, should pick up clothes really carefully. No short skirts, dresses with deep neckline and shorts are available.
3. It is recommended to leave tips in local restaurants and cafes. The usual amount of tips is approximately 10% of the total bill.
4. A big break for lunch, which usually lasts from 13:00 to 16:00, is common for local residents. At this time of a day are closed the majority of shops and public institutions.
5.
You will not succeed in catching taxis with a flick of hand on any street. In order to get a taxi, you will need to look for a special stop, where taxi drivers have the right to stay. Copyright www.orangesmile.com
6. The city is very convenient to travel by subway. Special coupons for travel can be purchased at newsstands or in special kiosks that are located near each station.
7. A phrase book will not be a spare item during your rest in Rome. Not all sellers in shops and locals speak foreign languages.
Pantheon, Sant Agnese in Agone, St. John Lateran Basilica, Santa Maria Maggiore, Galleria Borghese, as well as many others, they all become the world's cultural heritage objects and remain as iconic monuments for Rome …
Open
8.
A big part of shops and shopping centers close no earlier than at 19:00; the majority of shops are open usually from 9:00 am. On weekends stores can work till late in the evening.
9. The public transport has a system of discounts. Such groups of passengers as children, students and people of retirement age are eligible for price reductions. In order to get the discount you should prepare all necessary documents that confirm the status in advance.
10.
Those tourists, who decide to make a trip to the catacombs of St. Callista, are recommended to bring warm clothes with them. The temperature in the caves never exceeds 15 degrees by Celsius and walk through them lasts more than an hour.
Preparing your trip to Rome: advices & hints - things to do and to obey You can re-publish this content with mandatory attribution: direct and active hyperlink to
www.orangesmile.com
.
What to visit being in Rome - unique sights
Museum of Dead Souls
From the series
"Strange, weird and unusual museums amusing its visitors"
Check on the map:
Distance from Rome center - 2.7 km.
The head of the church accompanies the guests and tells them the incredible stories about the ghosts. He notes that the deceased souls do not like human interference, and that is why the visit of the museum should be particularly careful and careful. The museum can be visited free of charge and the exhibits presented in it can be photographed, although the recording is absolutely vain. Until now, no visitor to the museum has succeeded in making the qualitative photographs of objects kept in it. And it is not the bad lighting or technical problems. …
Read further
Piramide di Caio Cestio
From the series
"Top survived pyramids from previous civilizations"
Check on the map:
Distance from Rome center - 2.6 km.
Besides the half-troubled, they found a few memorial announcements about the great deeds of the judge. The explorers have also written down their memoranda on one of the room walls. For more than one and a half thousand years one could not find the entrance into the pyramid, which was carefully masked. The impossibility to look into the building has created a lot of the interesting legends. Some inhabitants of Rome still believe today that the secret tomb Rems - the founder of the city is located in the pyramid. …
Read further
St. Peter's Basilica
From the series
" Survived artifacts of early Christian civilization"
Check on the map:
Distance from Rome center - 2.5 km.
The ancient Christian church managed to keep its main shrine - the relics of St. Peter. Pilgrims from around the world come here to worship. Those who have never had religious aspirations will also find it interesting to visit the cathedral. Visitors can admire beautiful sculptures in the antique style that depict holy preachers, and admire painted domes and frescoes. The majestic cathedral has many secrets that visitors will know during the tour. Literally every reconstruction discovers new artistic masterpieces within walls of the basilica. …
Read further
City tours, excursions and tickets in Rome and surroundings
Photos of Rome
Services search (pharmacy, police, parking, banks) on Rome map
Tips for the cities around Rome
Travelling to Rome - advices and tips. What should be provisioned in advance, the rules you might want to follow, and the things you better avoid doing in Rome. We help you to make your trip smooth and easy, with no unexpected surprises.