City break in Parma. Active leisure ideas for Parma - attractions, recreation and nightlife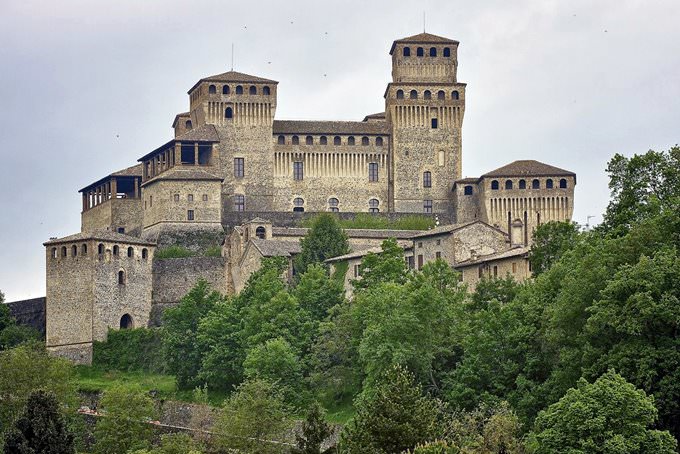 The city of Parma is rich in natural sights and attractions. The resort offers its guests to visit one of the beautiful parks. The most astonishing and the oldest parkland on the territory of Parma is the Parco Ducale natural area which is located in a few minute walk from the city center. The park is decorated with original fountains of ultimate beauty and majestic aged trees. The park will be a great place for families and big companies to spend a day in the open air. By the park entrance tourists will find a bicycle rental center. The parkland features several cozy cafés.
1. Prudent tourists are recommended to buy foods at open markets as in this case the cost of goods will be considerably lower than supermarkets will offer. Shop-a-holics should pay …
Open
The Parco Cittadella park will be a perfect destination for sport activity and barbeque. The park is located not far from the city center as well. Its visitors may enjoy the wild greenery of the aged trees or walk along the winding alleys and lanes admiring the majesty of nature. Eco tourism fans will love excursions and tours to the suburbs of Parma organized in the warm season as this area is as well rich in natural attractions and sights.
Golf fans should definitely pay attention to a local golf club named Campo di golf al Campus which will be of great interest not only for pro players but for amateurs too. Amateur players will get maximum attention from the first minutes. The Campo di golf al Campus club features a golf school and a rental center of sport equipment. The premises of the club feature an upscale restaurant apart from a high class golf course. Copyright www.orangesmile.com
This is one of the most popular resorts of Italy, a beautiful old city full of attractions and hospitality. Fascinating tours to the remarkable places remain among the most popular …
Open
Among night life destinations of Parma the Crazy Bull bar is of immense popularity as among local folks so among city guests. The bar offers its guests a vast choice of treats and drinks, bright dance floor and a well planned entertaining program. The bar is designed in cowboy style. The destination is always filled with atmosphere of holiday and joy. The same interesting and attractive establishment is the El Tropico Latino bar which is the only establishment in the city designed in Latin-American style.
The bar is of great popularity among cocktail admirers and theme music connoisseurs. The most prestigious entertaining establishment of Parma is considered to be the Gavanasa club. It attracts elite public to enjoy interesting program and to taste dainty delicacies. Bright barmen shows are of immense popularity among the guests as the preparation of cocktails resembles a real acrobatic performance. The most popular shopping centers and stores are accumulated in the city center. Tourists will find attractive souvenir shops in this area as well.
This guide on active recreation and leisure in Parma is protected by the copyright law. You can re-publish this content with mandatory attribution: direct and active hyperlink to
www.orangesmile.com
.
Recommended places for active recreation and leisure in Parma
Enoteca Fontana
Where: via Farini, 24/A, Parma; Telephone: +39 0521 286037;
Pepen
Where: Borgo S. Ambrogio, 2, Parma; Telephone: + 39 0521 282650;
Café San Biagio
Where: Viale Barilla, 3/A, Parma; Telephone: +39 0521 247605;
Tobago
Where: Piazzale S. Lorenzo, 1/1, Parma; Telephone: +39 0521 503139;
Gran Caffé Orientale
Where: Piazza Garibaldi, 19/O, Parma; Telephone: +39 0521 285819;
Gavanasa Club
Where: Via Farini, 22/a, Parma; Telephone: +39 0521 231036;
La Corte Del Sol
Where: Via Ugolotti, 1/A, Parma; Telephone: +39 347 6406006;
Tribeca Club
Where: Via Mazzini, 1, Parma; Telephone: +39 0521 504119;
Dadaumpa
Where: Via Emilio Lepido, 48, Parma; Telephone: +39 0521 483802;
City tours, excursions and tickets in Parma and surroundings
Sites around Parma from our surveys on extreme Earth places
Mantova
From the series
"The oldest inhabited cities on the planet"
Check on the map:
Distance from Parma center - 53.8 km.
Mantova is the legendary city of the Etruscans, which was founded in 2000 BC. Advantageous location near the waterways made the city incredibly attractive in eyes of the conquerors, so during its long history, Mantova was often the site of fierce military confrontations. The formation of the city's culture was influenced not only by the tribes of the Gauls and Etruscans, but the Roman Empire as well. Modern art historians and fans of poetry know Mantova as the birthplace of the greatest Roman poet, Vergil. …
Read further
Car rental on OrangeSmile.com
Photogallery of picturesque Parma
Search for active leisure and attraction spots on Parma map
City break ideas for neighbours of Parma
Guide to your best city break in Parma - popular places for recreation and leisure. Things to do during the day in Parma - attractions, parks, beaches, aquaparks, racing tracks, biking trails or waterski. Recommendations (with addresses, phone numbers and links) where to spend your time in the evening (bars, discos, clubs, etc.). We share some good ideas and the question 'What to do in Parma?' disappears immediately.