City break in Lefkada. Active leisure ideas for Lefkada - attractions, recreation and nightlife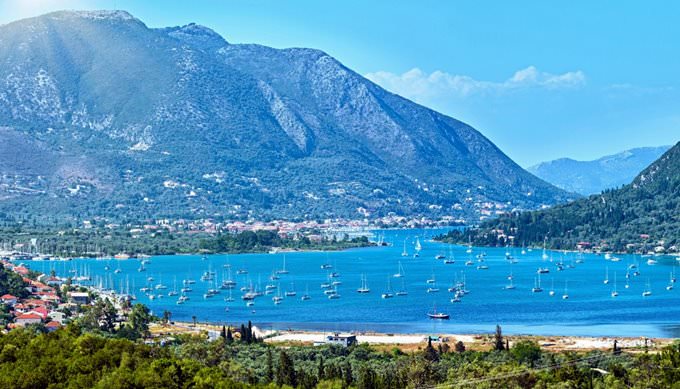 Each resort of Lefkada offers vacationers to enjoy a variety of entertainment options, to relax on the beautiful beaches and to have a look in attractive shops. The island has both noisy crowded resorts and quiet remote tourist areas, so it isn't difficult to choose a suitable place to stay. The village of Agios Nikitas is famous for its spacious sandy beaches surrounded by high mountains. This stretch of coast is perfect for a relaxing holiday in a peaceful and quiet environment; fans of eco-tourism would also enjoy time here. At any time, you can leave the hot beach and go to the foothills; there in the shade of century-old trees there is always a pleasant coolness.
It's worth to start a story about attractions of the island with Santa Maura fortress. Despite the fact that a large part of the old building hasn't managed to survive to the …
Open
Picturesque bay of Vassiliki is also surrounded by high mountains, these places have been chosen by windsurfing fans. Beaches are well-equipped for sports entertainment; attractive restaurants are another feature of the resort. In evenings, trips on yachts are organized for all interested; from the bay you can easily get to popular beaches of Porto Katziki and Agiofilli. Villages Nikiana and Ligia are also located in very beautiful scenery. Fans of environmental tourism like to relax here, shopping fans would also like these towns. There are numerous beautiful old houses in towns. Today, many of them are converted into taverns, shops and craft studios.
Nidri is considered the most busy and crowded resort of the island. Right here there are most popular and well equipped beaches, vibrant nightlife, fine dining and shopping places. The most interesting entertainment options are located near the waterfront. At every step you can discover interesting souvenir shops and restaurants. The popular nightlife club is Bubbles. It has no equals on the island in entertainment programs and an abundance of refreshments at the bar. Copyright www.orangesmile.com
Lefkada beaches are incredibly beautiful, and each one is unique. The most popular beach on the island is Porto Katsiki. It can be found in many tourist brochures and guides. A narrow strip …
Open
Excursions to the islands of Madhuri are organized on the local beach. Those wilderness areas will appeal to travelers who want to stay in a quiet and secluded place. In the heart of the island is the town of Karya. It is believed to be a great place for buying souvenirs. Local craftsmen hand-weave a beautiful lace and make tapestries. Each work of local artists is a masterpiece.
This guide on active recreation and leisure in Lefkada is protected by the copyright law. You can re-publish this content with mandatory attribution: direct and active hyperlink to
www.orangesmile.com
.
City tours, excursions and tickets in Lefkada and surroundings
Reference information
National and city parks around Lefkada
♥ National Park 'Ethniko Parko Ygrotopon Amvrakikou' , 40.7 km from the center.
On the map
Photo
♥ National Park 'Ethniko Parko limnothalasson Mesolongiou – Aitolikou' , 71.1 km from the center.
On the map
Photo
♥ National Park 'Ethniko Parko Tzoumerkon-Peristeriou kai charadras Arachthou (Zoni III)' , 96 km from the center.
On the map
Photo
♥ National Park 'Ethniko Parko Pindou' , 136.8 km from the center.
On the map
Photo
♥ World Heritage Site 'Meteora' , 138.1 km from the center.
On the map
Photo
Water attractions around Lefkada
♥ Water park 'Aqualand' Corfu, 121.7 km from the center.
On the map
Photo
Sites around Lefkada from our surveys on extreme Earth places
Melissani Cave
From the series
"Fantastic and Colorful Caves Inside the Earth"
Check on the map:
Distance from Lefkada center - 52.7 km.
In Greece on the island of Kefalonia is a unique Melissani cave, one of the most romantic and beautiful in the world. In the cave is a lake of the same name, the main feature of the cave is a huge hole in the ceiling through which bright daylight penetrates the underground world. A beautiful legend about the nymph Melissini is connected with the cave and the lake. The nymph was secretly in love with the god Pan. And when he rejected her love, she lost the meaning of life and drowned in the cave lake. …
Read further
Car rental on OrangeSmile.com
Photogallery of picturesque Lefkada
Search for active leisure and attraction spots on Lefkada map
City break ideas for neighbours of Lefkada
Guide to your best city break in Lefkada - popular places for recreation and leisure. Things to do during the day in Lefkada - attractions, parks, beaches, aquaparks, racing tracks, biking trails or waterski. Recommendations (with addresses, phone numbers and links) where to spend your time in the evening (bars, discos, clubs, etc.). We share some good ideas and the question 'What to do in Lefkada?' disappears immediately.