City break in Chania. Active leisure ideas for Chania - attractions, recreation and nightlife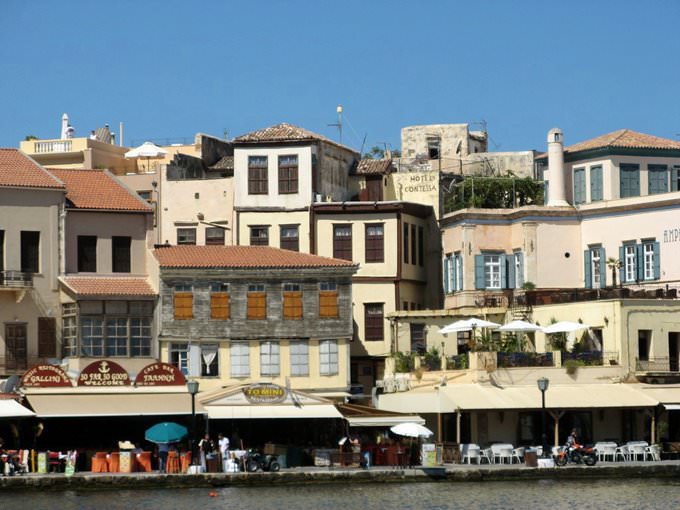 The resort is sure to appeal to those who prefer outdoor activities. There are all conditions for an exciting pastime. There are beautiful parks and modern entertainment centers, colorful shops and markets, night clubs and discos in Chania. One of the most beautiful places in the resort is the Botanical Park of Crete. It is a picturesque oasis with amazing variety of exotic plants and landscapes. The garden covers a vast mountainous area; its visitors can stroll through the picturesque flower meadows or relax in the shade of orange trees. There is also an excellent restaurant with a panoramic terrace in the garden.
A pearl of Crete, this is a charming and a picturesque town, the rest in which will bring in a lot of new experiences. The old part of the town is particularly popular among tourists. Here …
Open
Fans of water sports would like Limnoupolis Water Park. It provides a huge pool with an abundance of colorful slides and excellently equipped rest areas. In addition, the water park has several attractive bars and cafes. You can go karting in the Pista park, it is ideal for family holidays.
On the waterfront of Chania there are lots of exciting nightclubs and bars; they serve visitors until late at night. The Irish pub Conor Pass invites visitors to enjoy beer and friendly atmosphere; there is often an interesting entertainment program in it. Fans of noisy parties and loud music would like the Avalon club. Some restaurants offer entertainment for their guests too. Copyright www.orangesmile.com
There are more than a hundred of attractive restaurants and cafes in Chania, and every dining place may surprise visitors with its original specialties. One of the most popular and …
Open
The Mercato Agora di Chania is in great demand of shoppers. Walking through it, you can find a lot of interesting products including souvenirs, fresh fruit and vegetables, original sweets and homemade wine. There are several typical national taverns at the market, so followers of gastronomic tourism would also enjoy a trip to it. A large assortment of products at attractive prices can be found at the Rue du Cuir market. You can buy a lot of interesting handmade crafts and fresh seafood there.
This guide on active recreation and leisure in Chania is protected by the copyright law. You can re-publish this content with mandatory attribution: direct and active hyperlink to
www.orangesmile.com
.
City tours, excursions and tickets in Chania and surroundings
Recommended places for active recreation and leisure in Chania
Elmondo
Where: 35 Kondilaki, Chania;
Klik
Where: Old Harbour, Chania; Telephone: +30 6947122193;
Fort Firkas
Where: Quayside, Old Harbour, Chania; Telephone: +30 28210 92943;
Nota Bene
Where: 10 Kondilaki Street, Chania; Telephone: +30 28210 98073;
Point
Where: 2 Sourmeli St, Chania; Telephone: +30 28210 57556;
Reference information
Amusement parks near Chania
♥ Amusement park 'Water Park Limnoupolis' , 6.7 km from the center.
On the map
Photo
Water attractions around Chania
♥ Water park 'Watercity' Crete, 113.8 km from the center.
On the map
Photo
Sites around Chania from our surveys on extreme Earth places
Balos Beach
From the series
"Most Fabulous and Magic Beaches"
Check on the map:
Distance from Chania center - 52 km.
Those who like to relax at comfortable and well-equipped beaches have to consider that at Balos the infrastructure is almost non-existent. This place is attractive for its natural pristine beauty. A few cafes are open here at the high season, while services typical for many crowded beaches are completely absent. The Greek island of Agria, which is a popular tourist attraction, is perfectly visible from the coast. …
Read further
Elafonissi Beach
From the series
"Top 15 Most Romantic Beaches on Earth"
Check on the map:
Distance from Chania center - 51 km.
In search of the most romantic beach of Greece you should go to the island of Crete, near the coast of which is a miniature island of Elafonisi. It is on its territory that the eponymous beach is located. It is among the most romantic beaches of the country. Elafonisi is perfectly visible from the coast of Crete. It is not necessary to hire a boat to get to the island. The beach here is so shallow that you can wade from one island to another. …
Read further
Car rental on OrangeSmile.com
Photogallery of picturesque Chania
Search for active leisure and attraction spots on Chania map
City break ideas for neighbours of Chania
Guide to your best city break in Chania - popular places for recreation and leisure. Things to do during the day in Chania - attractions, parks, beaches, aquaparks, racing tracks, biking trails or waterski. Recommendations (with addresses, phone numbers and links) where to spend your time in the evening (bars, discos, clubs, etc.). We share some good ideas and the question 'What to do in Chania?' disappears immediately.