City break in Zermatt. Active leisure ideas for Zermatt - attractions, recreation and nightlife
City tours, excursions and tickets in Zermatt and surroundings
Sites around Zermatt from our surveys on extreme Earth places
Cleuson-Dixence
From the series
"The Greatest Dams in the World"
Check on the map:
Distance from Zermatt center - 27.6 km.
A few years ago, the dam was connected to the flat districts by the cable car. Through the dam tunnel the exciting excursions for the tourists are carried out. After the visit of the magnificent building from the inside is still an interesting entertainment offered to the guests - all interested can stay in one of the tunnels under the dam. The dreamers prefer to visit this wonderful area in winter - amidst snowy mountain landscapes the dam still looks more impressive. …
Read further

Niouc Bridge
From the series
"Thrilling Points for Bungee Jumping"
Check on the map:
Distance from Zermatt center - 31.3 km.
Thanks to the fortifications built in 1996, the bridge is no longer rocked by the wind, so you can jump out of altitude in the most comfortable conditions. Niouc is the highest peak in Switzerland, making it a place of interest for the world. The price for Freifall, which takes 4 seconds, is quite high and makes more than 200 USD. It should be noted that the platform for Bunjee jumping is open only at the daytime. …
Read further

Tortin Ski Slope
From the series
"Top 13 Furious Ski Resorts and Pistes"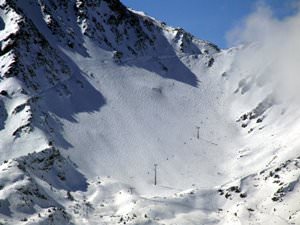 Check on the map:
Distance from Zermatt center - 41.2 km.
For this reason, the extreme sports fans prefer to visit the health resort in the spring when the snow begins to melt or in autumn, when it has not yet hidden all the special features of the 'black' slopes. The health resort Verbier also offers many opportunities for freeriding. However Verbier was known worldwide precisely because of the 'Torin' runway. …
Read further

Photogallery of picturesque Zermatt
Search for active leisure and attraction spots on Zermatt map
City break ideas for neighbours of Zermatt
Guide to your best city break in Zermatt - popular places for recreation and leisure. Things to do during the day in Zermatt - attractions, parks, beaches, aquaparks, racing tracks, biking trails or waterski. Recommendations (with addresses, phone numbers and links) where to spend your time in the evening (bars, discos, clubs, etc.). We share some good ideas and the question 'What to do in Zermatt?' disappears immediately.