Shopping in Sevilla - authentic goods, best outlets, malls and boutiques
Sierpes, which starts near San Francisco Square, is the main shopping street in Seville. On this street, you will find shops of different specification, including clothes and shoe boutiques of famous European brands. Savvy travelers prefer to visit this shopping street to buy cute souvenirs and memorable gifts that are inexpensive on Sierpes. Numerous tapas bars and cafes are another advantage of this part of the city. When the weather is fine, performances of street musicians and dancers never stop there.
Sevilla will please fans of gastronomic tourism by widest choice of cozy restaurants and bars. Not far away from Cathedral Square is located Corral del Rey restaurant, which is perfectly …
Open
If you want to bring ceramics from your vacation in Seville, it's better to visit a specialty store, such as Ceramica Santa Ana. This shop offers interesting ceramic items, many of which are handmade and exclusive. It's a fantastic place to buy gifts for friends and family. The choice of items for sale is fabulous, from giant sculptures to tiny and cute vases.
Collectors and fans of unusual souvenirs never forget to visit Poster Felix during their stay in Seville. This shop offers lovely posters in the national style. There are both new and rare old posters, as well as posters of different size. Many travelers visit Poster Felix as a picture gallery. Copyright www.orangesmile.com
Local residents are very cheerful and friendly people with great sense of humor. The only drawback is their lack of organization. Spanish people can be late even for a very important …
Open
A visit to the largest bookstore in Seville, La Casa del Libro, also promises to be an exciting one. The giant store offers rare gift sets, popular books and best sellers at affordable prices, and many souvenirs that tourists are usually so interested it. La Casa del Libro is an incredibly beautiful place, but the range and number of books for sale are still the main advantage as one cannot easily find such a large bookstore even in a big city.
If visiting modern shopping centers is your cup of tea, you will fall in love with Los Arcos. Located in the very heart of the city, this shopping center features more than a hundred stores. Such shops as Bershka, a popular male and female clothes brand, and a large Mango store, which never ceases to draw the attention of visitors with the variety of goods and affordable prices, are open in Los Arcos. There are several specialty pavilions that sell electronics, and, of course, large cosmetic and perfume shops. The shopping center is suitable for visitors with children. Moreover, there is a big playground for small kids.
Seville is a beautiful city with numerous iconic sites and noteworthy sightseeing sites. Giralda tower is one of the main sights of the city. The tower was built in the 16th century. The …
Open
The ever famous Sevilla Souvernirs is open close to the Cathedral. It's a must visit destination if you are in need of interesting and memorable gifts or accessories. It's virtually impossible to leave the souvenir shop without making a purchase. At Sevilla Souvernirs, you can buy beautiful handmade bracelets for just 5 euro or pick a gorgeous painted plate with the city's landmarks and panorama for 10 euro. Of course, there are more creative souvenirs for sale. For example, you can purchase an excellent cold steel for 20 euro.
The main shopping street in Seville is home for one more creative shop, Diaz, that is particularly appealing to the fair sex. This shop offers one of the most popular national accessories – the fan. Diaz offers handmade fans of different sizes and shapes. Some of them will easily fit into a female purse, and some fans are perfect as a wall decoration. Absolutely all items for sale in this shop are handmade.
Travellers, who come to Seville with their families, should definitely visit the park named "Magic Island". This is a large entertainment center with numerous funny attractions, a beautiful …
Open
Travelers, who are not ready to shed hard earned cash on new clothes and accessories, should head to Plaza Campana early in the morning. A very unusual market is open on this square – the "counterfeit market". Large stalls are full of precise copies of famous designer clothes, bags, belts, and other accessories that fashionistas are literally ready to die for. The prices are more than affordable – a pair of "designer" sunglasses would cost around 10 euro. Many sellers are open for a bargain if you buy several items from them.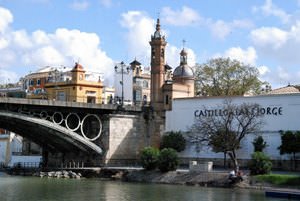 There is a suitable shop for men in Seville, Derby. This designer clothes store offers premium suites and casual clothes, shoes and accessories. The shop is targeted at upscale buyers, so even a classic tie costs more than 60 euro. Derby offers male clothes and accessories by famous European brands.

This guide to shopping in Sevilla is protected by the copyright law. You can re-publish this content with mandatory attribution: direct and active hyperlink to
www.orangesmile.com
.
City tours, excursions and tickets in Sevilla and surroundings
Reference information
Shopping streets in Sevilla
♥ Shopping area ' Calle Tetuán' Sevilla, 1.6 km from the center.
On the map
Photo
♥ Shopping area ' Calle Sierpes' Sevilla, 1.7 km from the center.
On the map
Photo
Designer outlets in Sevilla and nearby
♥ Outlet 'Sevilla The Style Outlets' P.I. los Espartales, San Jos, 41300, Spain, 151.5 km from Sevilla.
On the map
Photogallery of Sevilla best places
Search for shopping areas, streets, boutiques and supermarkeets on Sevilla map
Shopping advices for the whole region around Sevilla
Shopping advices for Sevilla. The best spots for buying designer clothes and local delicacies from Spain - shops, galleries, boutiques and outlets. We provide you with the shopping streets map, so you can plan your efficient shopping routes, while hunting for authentic souvenirs, goods, drinks, shoes and clothes in Sevilla.