City break in Sevilla. Active leisure ideas for Sevilla - attractions, recreation and nightlife
Travellers, who come to Seville with their families, should definitely visit the park named "Magic Island". This is a large entertainment center with numerous funny attractions, a beautiful planetarium, and several nice and cozy cafes. By the way, guests of the park can visit the grandiose water show, and on evenings here takes place a no less colorful laser show. Watching the city's attractions from horse-drawn carriages remains one of the most favorite entertainments for tourists. This peculiar mode of transportation may seem somewhat outdated, but the popularity that it has among locals and tourists says the opposite.
Do you think of ancient fortresses, cathedrals, and corrida arenas when you hear the word "Andalusia"? That means you've never been in Seville as this city can amuse even the most …
Open
When night falls to the city, guests are welcome to visit numerous night clubs and discos, where visitors can not only enjoy their favorite music, but also learn how to dance flamenco. Tenderete bar works until late in the evening. Here in addition to richest selection of drinks and snacks guests are offered to enjoy amazing cultural program. The hall of the bar is decorated with beautiful antique furniture. Among the decorations of this place you can see antique clocks and radios. On the stage of the bar are often organized performances by local bands. You can also participate in special performances, when professional dancers give flamenco lessons to all visitors. Antiguedades nightclub is located in one of the historical buildings of the city. This place is distinguished by cozy atmosphere. Guests are always welcome here. On Fridays the club organizes energetic parties. You will surely remember this place as it is distinguished by unique decor and rich choice of entertainment programs.
Bullfighting is another national pastime. Fans of this exciting spectacle are certainly recommended to purchase tickets to this event. The most famous arena is located near Plaza de Toros de la Maestrantsa. Calle Sierpes Street is simply the best choice for walking. Here you can see beautiful old buildings, attractive shops, and summer cafes. The city often hosts various festivals and carnivals, which will also help guests to experience the atmosphere of euphoria and celebration. Copyright www.orangesmile.com
The luxurious Palace Sevilla, located on Encarnación Square, is widely recognized as one of the most creative and irresistible hotels in the city. Besides the luxurious design in retro …
Open
In general, the majority associate Andalusia with fortresses, cathedrals, and the stadiums for a bullfight. Unfortunately, if you agree with this statement, means you haven't seen a real Seville. This city is capable to surprise even the most skilled travelers. Except for standard excursions, Seville offers his guests the mass of ways to diversify leisure, and even during the standard excursions, you will have the possibility to open something new here.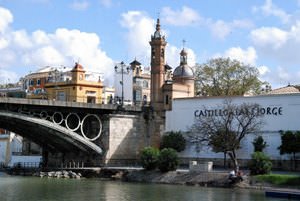 If you came to Seville only for a couple of days so in order to get acquainted with the city fast and productively, use the Bus Touristic service. It runs around the city every day from the early morning to late evening. The route of the bus covers all the outstanding sights of Seville that you definitely must see. The main advantage of the bus is that you can buy a ticket for a day or two and slowly explore the city without worrying about additional expenses for travel.

This guide on active recreation and leisure in Sevilla is protected by the copyright law. You can re-publish this content with mandatory attribution: direct and active hyperlink to
www.orangesmile.com
.
City tours, excursions and tickets in Sevilla and surroundings
Recommended places for active recreation and leisure in Sevilla
El Rinconcillo
Where: Calle Gerona 40, Sevilla; Telephone: +34 (0)95 422 31 83;
Bestiario
Where: Calle Zaragoza 33, Sevilla; Telephone: +34 (0)95 421 34 75;
B3
Where: Avenida de España,111, Sevilla;
El Tremendo
Where: Almirante Apodaca, 15, Sevilla; More info: District;
Sites around Sevilla from our surveys on extreme Earth places
Floral House in Cordoba
From the series
"Unique Living Houses"
Check on the map:
Distance from Sevilla center - 64.4 km.
The tradition of decorating facades and patios with flowers in Cordoba and other cities in Spain has appeared long time ago. However, the streets of the city are literally drowning in flowers in the days of the festival. Hundreds of years ago, the locals have been fixing pots with live plants on the facades of houses in order to protect homes from the sweltering heat. Over the time, decorating houses with living flowers has become a tradition. Many homes have cozy patios that are also literally immersed in the abundance of living plants. Often, you can also see the fountains and artificial waterfalls in the patio. …
Read further

Parque Nacional de Donana
From the series
"Largest Nature Reserves on Earth"
Check on the map:
Distance from Sevilla center - 58.9 km.
Graceful pink flamingos, storks and herons, imperial eagles known for their stern temper – this is one of the only places on Earth with such an enormous variety of bird species like this. Rare species of Iberian lynx are also worth mentioning. The National park was created in 1769 and covers an area of 770 square kilometres. Over 250000 travellers from all over the world come here annually to experience unforgettable natural attractions of the region. …
Read further

Photogallery of picturesque Sevilla
Search for active leisure and attraction spots on Sevilla map
City break ideas for neighbours of Sevilla
Guide to your best city break in Sevilla - popular places for recreation and leisure. Things to do during the day in Sevilla - attractions, parks, beaches, aquaparks, racing tracks, biking trails or waterski. Recommendations (with addresses, phone numbers and links) where to spend your time in the evening (bars, discos, clubs, etc.). We share some good ideas and the question 'What to do in Sevilla?' disappears immediately.