Shopping in Cadiz - authentic goods, best outlets, malls and boutiques
Dia grocery stores are prevalent in Cádiz. They especially attract the attention of budget travelers. Drinks and foodstuffs are purchased at the most attractive prices. Thus, a juice box cost about 0.70 euros. They sell fresh vegetables and fruits, excellent pastries, cheese and sausages, ready-made salads, and other dishes to take away.
Cadiz is famous as one of the oldest port cities in Europe. This is the reason why there are many architectural landmarks in its territory. These sights are reminders of interesting facts in …
Open
Nice Girl is a typical ladies' store. It specializes in selling jewelry. All the presented articles are of high quality. Their prices always remain at a moderate level. Chic bracelets cost about 7.5 euros, for 9 - 10 euros you can choose a wonderful chain with a medallion.
Men should definitely visit Bernal shoe store, that offers exclusively men's footwear. Their choice of shoes is just huge, from classic elegant to sports and exclusive design models. You'll choose sneakers for just 20 euros. Beautiful inter-seasonal shoes will cost you about 40 euros. This store is much appreciated by lovers of sports and recreation. They sell excellent walking shoes. Copyright www.orangesmile.com
Cadiz is one of the oldest port cities in Europe and the city "at the edge of the world". Nowadays, it offers a range of entertainments for tourists. As the city has a beneficial …
Open
The most colorful place in the city is its main market. It's walking distance from the railway station. The market occupies an incredibly beautiful historical house, built in 1837. In the colorful shopping arcades you can find fresh vegetables and fruits, exotic marine products and seafood delicacies, as well as popular ready meals, which have really attractive prices.
Another store that will surely impress women is Francy. It offers luxurious underwear. The most luxurious sets of underwear and negligee cost about 9 - 10 euros, and the usual underwear items are sold for only 4 - 6 euros. All presented goods have not only original design but high quality.
1. Despite the fact that Cadiz is a peaceful and safe city, travelers should not forget about basic safety measures. This means that it is better not to leave personal belongings unattended. …
Open
Gravine is one of the best women's clothing stores in Cádiz. They offer quality clothing of various styles at really attractive prices. The cost of women's blouses starts from 3 euros and the most fashionable and spectacular tunic will cost about 9 - 10 euros. Jeanswear will please with the high quality, however, cost a little more. The store is very small. It is better to come to the opening when a number of visitors is not very large.
Men can appreciate Eutimio clothing store. For just 25 - 30 euros they can purchase sweaters and beautiful shirts of the highest quality. This store will appeal to lovers of business style. An excellent new suit for work can be picked up for just 100 euros. In search of memorable gifts, visit El Populo store. It is famous for the largest choice of panoramic postcards in the city at a cost of 0.30 euros. Customers can choose classic small cards and rather large ones. Other popular souvenirs are also found there.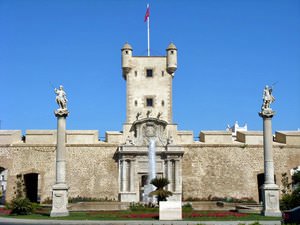 El Melli store presents a large choice of CDs with Spanish music and popular souvenirs. Visitors have a choice of beautiful magnets and exclusive key rings. Yet, they sell magnificent postcards that look more like gorgeous pictures. The choice of souvenirs is huge, and the prices always remain at an attractive level.

This guide to shopping in Cadiz is protected by the copyright law. You can re-publish this content with mandatory attribution: direct and active hyperlink to
www.orangesmile.com
.
City tours, excursions and tickets in Cadiz and surroundings
Reference information
Designer outlets in Cadiz and nearby
♥ Outlet 'Sevilla The Style Outlets' P.I. los Espartales, San Jos, 41300, Spain, 150.1 km from Cadiz.
On the map
Photogallery of Cadiz best places
Search for shopping areas, streets, boutiques and supermarkeets on Cadiz map
Shopping advices for the whole region around Cadiz
Shopping advices for Cadiz. The best spots for buying designer clothes and local delicacies from Spain - shops, galleries, boutiques and outlets. We provide you with the shopping streets map, so you can plan your efficient shopping routes, while hunting for authentic souvenirs, goods, drinks, shoes and clothes in Cadiz.