Sightseeing in Albacete - what to see. Complete travel guide
This city located on the South-East of the country welcomes thousands of tourists every year. The travelers come to see the magnificent nature of Albacete, visit historical places and see unique monuments.
Extraordinary nightlife is one of the most important reasons to visit Albacete. La Zona is the part of the city, where you will be able to enjoy numerous entertaining establishments, from …
Open
You can start your acquaintance with the city from Museum de Albacete. The halls of the museum store a large collection of archeological finds and works of art from absolutely different epochs. If picturesque nature reserves attract you, make a walk in Abelardo Sanchez Park. This place will be particularly interesting for kids as here are traditionally organized engaging and enjoyable programs for children. These programs tell little visitors about peculiarities of the nature and animal world. Among architectural sights we should mention Castillo de Almansa and old districts Villena and Chinchilla de Monte-Aragón, which are located nearby. Here you will find fortifications, living quarters and mansions built several centuries ago. These districts were built at the times when the Moors ruled Albacete, so the architecture doesn't have anything in common with traditional Spanish quarters.
In Chinchilla de Monte-Aragon township you can see a castle, which was built yet in the 15th century. Another wonderful example of Mauritanian architecture can be found in Cuenca district. When you get tired of watching historical sights, it's high time to visit numerous restaurants and enjoy the skills of local chiefs. In Albacete there are many cinemas, sports centers, and attraction parks that are highly recommended for tourists with kids. Copyright www.orangesmile.com
1. The best way to travel around the city is by buses. However, after 8:00 PM they run less often than in the daytime. Suburban attractions can also be easily reached, but it's advisable to …
Open
The majority of travelers prefer renting a car because a great share of Albacete sights is located outside the city. You can take a ride on picturesque landscapes, walk in piedmont regions, or join an excursion to one of local national parks. The end of September is the best time to visit Albacete as the whole city dives into an atmosphere of joy and holiday for 10 days, as in period of the year takes place the famous City Festival.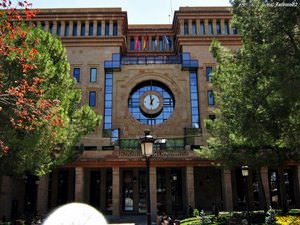 The main historical symbol of Albacete is the Cathedral. During its existence it managed to preserve its unique architectural appearance and interior fittings, and today part of the old cathedral is converted into a museum. It houses an interesting collection of ancient murals and manuscripts, and even some miraculous icons, which are associated with a lot of amazing stories. Cathedral is located in Cathedral Square, which for many years has been the most important venue for public holidays and events. 
The city has several interesting museums, and there is Municipal Museum of Cutlery situated on the Cathedral Square (also known as the Knife Museum). Over the years, the production of knives was one of the most important crafts in Albacete; in the 80s it was possible to meet artists, offering their unique products on the streets. Unfortunately, in recent years, this trade went into decline, today the beautiful old blades can be admired in the museum. The building it occupies was built in 1912, with an area of about 450 square meters. In this historical building, the museum dates back to 2004, its collection includes a variety of historical periods. 
Among the hotels of Albacete notable with their unique design, special attention should be paid to Hotel Castilla. It occupies a hard-baked building near the Knife Museum and offers rooms …
Open
On the territory of Martyrs' Park is no less interesting Provincial Museum of Albacete, its opening took place in 1927. The museum was moved to the recent building in 1978, and is conventionally divided into two parts - archaeology and art. A huge collection of archaeological artefacts occupies ten halls, visitors can see ancient sculptures, works of art and objects of everyday life of our ancestors. The main part of the exhibition, dedicated to the art, are works of famous artist Benjamín Palencia.

This guide to iconic landmarks and sights of Albacete is protected by the copyright law. You can re-publish this content with mandatory attribution: direct and active hyperlink to
www.orangesmile.com
.
City tours, excursions and tickets in Albacete and surroundings
Reference information
Survived castles around Albacete
♥ Castle 'Castle of Vegallera' Albacete, 12.7 km from the center.
On the map
Photo
♥ Castle 'Castle of Alcalá del Júcar' Albacete, 43 km from the center.
On the map
Photo
♥ Castle 'Castle of Alarcón' Cuenca, 65.8 km from the center.
On the map
Photo
♥ Castle 'Castle of Sierra' Albacete, 66.6 km from the center.
On the map
Photo
♥ Castle 'Castle of Yeste' Albacete, 79.7 km from the center.
On the map
Photo
National and city parks around Albacete
♥ Cave 'Cueva de Don Juan' , 65 km from the center.
On the map
Photo
♥ Natural Park 'Hoces del Cabriel' , 71.1 km from the center.
On the map
Photo
♥ Natural Park 'Los Calares del Mundo y de la Sima' , 78.6 km from the center.
On the map
Photo
♥ Regional Park 'Sierra del Carche' , 85.9 km from the center.
On the map
Photo
♥ Natural Park 'Lagunas de Ruidera' , 86.4 km from the center.
On the map
Photo
Sightseeing in Spain: things to see

The Royal Palace remains the main landmark of Madrid. Nowadays, the palace is used to host most important meetings and official ceremonies. An ancient Moorish castle stood on the site of the modern Royal Palace until 1755. In the middle of the 18th century the castle lost its strategic importance, and as it was built in a very beautiful place it was decided to demolish it and build a luxury palace instead. Currently, this magnificent building has more than 2,000 rooms halls that hold precious collections of old items - chandeliers, clocks, furniture, musical instruments, weapons and artworks. …
Open

Car rental on OrangeSmile.com

Thailand Relaxes Its COVID-19 Policy
New Year events in Thailand are likely to bring more people this year because everyone is tired of lockdowns and craving normal life. Many tourists, who book hotels in Pattaya, Krabi, or Phuket for the holiday season, also want to participate. As champagne has become an essential drink for New Year celebrations, the question regarding alcohol consumption comes to mind. The government allowed serving alcoholic drinks during the New Year countdown but only open-air cafes and restaurants with good ventilation will be permitted to do this until 1 am on 1 January 2022. This rule is nationwide.
Read this
01.02.2023
Search touristic sites on the map of Albacete
Sightseeing in regions nearby Albacete
All about Albacete, Spain - sightseeings, attractions, touristic spots, architecture, history, culture and cuisine. Prepare your trip together with OrangeSmile.com - find out the 'must see' things in Albacete, which places to visit, which excursions to take, where the breathtaking views are waiting for you. Planning your trip with this travel guide will help your to get the most out of Albacete in few days.