City break in Cadiz. Active leisure ideas for Cadiz - attractions, recreation and nightlife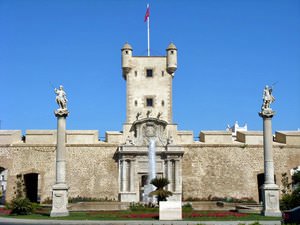 Cadiz is one of the oldest port cities in Europe and the city "at the edge of the world". Nowadays, it offers a range of entertainments for tourists. As the city has a beneficial location at the bay, Cadiz has several wonderful beaches perfect for leisure recreation. Playa de la Caleta, which is located to the north of the Old Town, is usually recognized as the most popular beach in the city. Despite the fact that most locals usually mention this beach first, it is smaller compared to other beaches in Cadiz. Because of that, Playa de la Caleta is always quite crowded. There is an interesting fact about this beach – the discovery of America started here as Playa de la Caleta was the starting point of Columbus's travel to "India".
Many countries and cultures have influenced on the history of this ancient town. Today unforgettable mix of different traditions, architectural and art directions make Cadiz inimitable in …
Open
Playa de Santa Maria del Mar is one more interesting beach. It is very clean and has incredibly picturesque surroundings. The beach looks particularly romantic in the evening. The beach is not very crowded – it is spacious even when there are many people because the beach is wide. The two beaches mentioned above have lounge chairs and tourist infrastructure, such as beach gear rental offices and water entertainment stations. Vacationers can always try surfing, make a cruise, ride a jet ski or try fishing.
The third beach suitable for vacationers is called Playa de Atlanterra. It is a perfect destination for everyone who likes "wild" beaches. The area is also suitable for a stroll – it is so pleasant to admire the gorgeous nature and breathe fresh sea air. Las playas de Caños de Meca is one more "wild" beach. This beach has a wonderful peculiarity – an incredibly attractive sand spit. Warm water, silent and charming atmosphere make this beach a favorite destination of many tourists. It is worth following their example and exploring this beach. Wild beaches have no lounge chairs, gear rental offices, and entertainments, but they have something no less important – serenity and tranquil atmosphere. Copyright www.orangesmile.com
Cadiz is not distinguished by the variety of noisy entertainment centers and amusement parks. It is suitable for a calm family vacation. For tourists with children who visit the city in the …
Open
In Cadiz, there are many companies that offer surfing services. Cadiz Surf Center, Glassy, and Offshore Surf School Club are usually called the best. To try fishing in the region, contact Suntrip. Cruises to the most picturesque areas of the region are also very popular. There are several providers that offer such cruises, and Adventure Sport Club Cádiz, Albarco Com Calidad, and Baluma Charter are the most popular. Pancho Tours also offers interesting tours. Moreover, the company's walking excursions are absolutely free, so it would be a mistake to lose such an opportunity.
Montenmedio Golf & Country Club is one of the best choices for all fans of golf. Besides everything else, it is very pleasant to spend time at this club because of its beautiful emerald hills and lush flora. A visit to Picadero Fuente del Gallo is an excellent choice for everyone who wants to spend more time close to nature. This center offers a very nice bonus to its guests – an opportunity to ride a horse. Vacationers wishing to forget about all troubles and indulge themselves in the world of comfort and luxury will hardly find a more suitable place than U-Spa Royal Hideaway Sancti Petri. In the opinion of many, this is the best spa salon in Cadiz. Sauna, swimming pools, bars - U-Spa Royal Hideaway Sancti Petri has everything needed for excellent relaxation.
It is impossible to imagine an acquaintance with the local culture without trying the national cuisine of the region. And Cadiz has much to offer to its guests. Fish and shellfish, jamon, …
Open
Bicycle remains one of the most popular ways to navigate in the city and explore numerous landmarks. Such companies as Las Bicis Naranjas, Sights and Bikes, and Urban Bike offer bike rental services and locals and guests of the city. Many vacationers may also find it interesting to participate in Segway excursions. This exciting activity will be a perfect gift for groups of vacationers who want to try something unusual. Needless to say, these excursions are very entertaining. It is possible to book these tours from Segway Spot or Junglaventura. A game in the city, during which participants solve quests and move from one landmark to another in search of a treasure, is very popular in Cadiz. Tourists can also play it if they contact La Busqueda.
Besides that, escape quests have become very popular in the region. Lockgical Escape Room is one of the leaders in this sphere in Cadiz. If one escape room is not enough, consider visiting Escairoom. Everyone wishing to watch theatre performances can always do that at Gran Teatro Falla and Museo del Titere. La Cava Taberna Flamenca is one more place to visit to see gorgeous performances. Sports fans should check the schedule of events at Estadio Ramon de Carranza.
Cadiz is an attractive city for tourists not only because of its gorgeous landmarks and rich history but also thanks to numerous festivals that are regular here. Local people are friendly …
Open
It is possible to spend a great time in Cadiz and make an unforgettable stroll. Local nature is full of romantics, so no wonder why couples like to meet in the city's parks. Park Genoves is an excellent place for an unhurried stroll. The park is well-kept and looks very charming. Fans of "wild" nature, in their turn, will prefer to stay in Parque Natural Las Brenas. By the way, there is a restaurant with delicious tapas nearby. One more park is called Parque Natural Bahía de Cádiz. There is a magnificent lake in its territory, so, in addition to walking, visitors can always look at flamingoes, ducks, and even try paragliding.
Life doesn't stop in Cadiz after sunset. For example, Habana Café awaits all fans of attractive décor and excellent cocktails. Palazzio Bar is an excellent choice for all fans of dancing. Vacationers who prefer smaller and louder bars because they think that such establishments are funnier and less boring will find exactly what they need at Kaseron Del 3x4. Finally, connoisseurs of the calm and casual atmosphere (in line with amazing design) will fall in love with Archivo De Indias.

This guide on active recreation and leisure in Cadiz is protected by the copyright law. You can re-publish this content with mandatory attribution: direct and active hyperlink to
www.orangesmile.com
.
City tours, excursions and tickets in Cadiz and surroundings
Photogallery of picturesque Cadiz
Search for active leisure and attraction spots on Cadiz map
City break ideas for neighbours of Cadiz
Guide to your best city break in Cadiz - popular places for recreation and leisure. Things to do during the day in Cadiz - attractions, parks, beaches, aquaparks, racing tracks, biking trails or waterski. Recommendations (with addresses, phone numbers and links) where to spend your time in the evening (bars, discos, clubs, etc.). We share some good ideas and the question 'What to do in Cadiz?' disappears immediately.