How to spend top weekend in Corse - ideas on extraordinary attractions and sites
Adventures on the Waves and under the Water
There are many adventures related to the water element in Corse. For example, you can take a breathtaking canoe ride on a fast mountain river. You will also get a great experience if you go to a modern diving center. You will learn how to scuba dive and become a member of a tour of the most interesting and beautiful places on the coast underwater.
Corsica delights its guests with a variety of interesting specialty stores. In Satrene, near Hotel U Listincu, there is an excellent store specializing in essential oils. This store sells …
Open
The bottom is rocky here. Therefore, you will see well when you are under the water. You will get to the ships that sank during the Second World War, as well as downed aircraft and pleasure ships that sailed on the waves of the Mediterranean Sea in the early XX century. You will visit Capo di Buona Beaches and Santa Giulia Beach. You will ride the waves along the picturesque coast on a surfboard, boat, water ski, yacht or catamaran accompanied by dolphins.
Extreme and Relaxing Trips in Corsica
You should go on a walking, horse riding or cycling trip to get to know Corsica better. This way you will see nature reserves, forests, Genoese towers, ancient chapels, mills, and medieval bridges. If you want more thrills, then you will take a flight on an inflatable boat. It's called a flyboard. You can enjoy the Corsican landscape while parasailing or skydiving. Copyright www.orangesmile.com
Corsica is a popular Mediterranean resort that is often called "a small Italy in France". The reason for this name is in the influence of Italy that is located nearby. This has seriously …
Open
You will also have the opportunity to arrange a downhill mountain bike ride or participate in races on Quad bikes or motorcycles. You can even feel like a Formula 1 racer by taking up karting. If you are a hardy person and have experience of canyoning you can do extreme entertainment on one section of the Baracci River and in the picturesque Richiusa Canyon.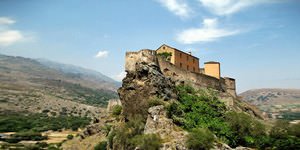 G20 Walking Route
If you like to spend time doing trekking, then a vacation in Corsica will appeal to you. There is a scenic G20 walking route in Regional Nature Park here. It has a high level of difficulty. Its length is 20 kilometers. It will take 2 weeks to overcome it. You will see the Taravo Valley, visit the small lake Bastelica, climb to the top of Monte Renzo, and walk through the forest and along the Mediterranean coast. You will have to pay 790 euros to go on an exciting journey.
A family vacation on the Island Of Beauty (as Corsica is often referred to) will appeal to every family member. In any part of the island, there are places that are definitely worth visiting …
Open
Excursion to the Piscia di Gallu Waterfall
Piscia di Gallu waterfall is located in the Ospedale Mountains. Its height is 60 meters. It is a natural landmark of Corsica. You will go on a tour here. The round trip takes 2 hours. You will enjoy the mountain and forest landscape during this time. You will need comfortable shoes. The last part of the way is quite difficult. You will also need a swimsuit and a towel. You can swim in the waters of Piscia di Gallu.
Desert des Agriates Tour
The company "Guide Angelique" offers you to go on an exciting tour of the Corsican Desert des Agriates on any convenient day of the week. The desert is a limestone hill with poppies growing on them. The duration of the trip is 60 minutes. Its price is 100 euros. The trails that you will walk along are 40 kilometers long. You can choose the way to get around the natural attraction: by jeep or by horse. You can also relax on the deserted beach here.
The place of honor in the national cuisine is occupied by seafood. Almost every Corsican restaurant serves it. The most famous fish market is located in Ajaccio, chefs from all over the …
Open
Corsican Parc Aventure Vizzavona Rope Park
A rope park called Parc Aventure Vizzavona is located near the Mont d'Or mountain in the center of Corsica. It is open from the first days of June to the end of September. You can visit it from 9 am to 7 pm on any day of the week. You will pay 20 euros for the entrance ticket. You will be given the equipment here. You will choose a suitable route and will climb the trunks of ship pines, move on wooden platforms, jump from one branch to another, move on rope bridges, and balance on ropes.

This article about ideas on extraordinary weekend in Corse is protected by the copyright law. You can re-publish this content with mandatory attribution: direct and active hyperlink to
www.orangesmile.com
.
City tours, excursions and tickets in Corse and surroundings
Corse by photo artists
Search for interesting places on Corse map
Visiting neighbours of Corse for exclusive entertainment
Walk through hidden local streets, sneak to a small cafe, breathe and enjoy Corse from inside. Stay out from the beaten track during your city weekend, discover the soul of Corse as a real travel gourment. Follow our guide, take one of the exclusive services and spend your time in Corse unforgettably and with a full passion!