Sightseeing in Le Bourget - what to see. Complete travel guide
Le Bourget is the commune of Seine department St. Denis that is located in Bobigny district. This place is approximately 10.6 kilometers away from Paris, or it's better to say that Le Bourget is located in the north-eastern suburb of Paris. The square of the commune is 2.08 sq. km. and the population of this settlement estimates 12 110 people (the data for 1999).
1. The city has a train station that regularly receives high-speed RER trains from Paris and other neighboring towns. Le Bourget can also be reached from the capital by bus. 2. Since the …
Open
The internationally famous airport Le Bourget has been named to honor this commune. Today this is the location of one of the largest museums devoted to cosmonautics and aviation in the world. The collection of the museum contains approximately 20 thousands of exhibits including over 180 flying machines that picture the development of aviation and its history. Here you can find information about the history of flights in the chronological order, starting from the myth about the Daedalus and Icarus, and the description of works of Leonardo da Vinci, to first devices that have actually helped people to fly high to heaven (balloons, dirigibles, gliders).
The aerospace exhibition is one of the most famous events that are conducted in Le Bourget. Each two years the territory of the city of just 310,000 sq. m. gathers over two thousands of large manufacturers, providers, and buyers who come to Le Bourget from over 60 countries in the world. The exhibition is visited by over 300 thousands of visitors. Approximately 40% of them are professionals. In 2009 Le Bourget exhibition celebrated its 100th anniversary. Copyright www.orangesmile.com
The commune of Le Bourget located in the northeast of the capital of France is one of the best places to spend a vacation with the whole family. Besides the fact that here you can find many …
Open
Many economical travelers choose Le Bourget hotels for their stay, so as to save on hotel services as much as possible, and go for a walk in Paris. Many famous Parisian attractions can be reached in just a few minutes. One of the most romantic parks in Europe – Butte Chaumont is nearby. Looking at this beautiful park now, it is hard to imagine that once in its place, was a huge gypsum quarry.
Now the vast territory of ​​more than 25 hectares is occupied by a landscaped garden, divided into several thematic zones. This park was founded in the late 19th century. Now, it is adorned with beautiful artificial lakes, trees that were planted over a hundred years ago, as well as unusual sculptures made of stone. There are many convenient paths along the territory of the garden. Special bridges and observation platforms are set, from which it is convenient to admire the natural beauties.
Cooking has long become a special kind of art for local residents. Even simple everyday dishes are turned into true gastronomic masterpieces by local chefs. If you visit one of the …
Open
Guests of the city can easily reach the Sacré-Cœur Basilica by metro. It was built at the turn of the 19th and 20th centuries and is a spectacular monument in the Roman-Byzantine style. The main building material for the construction of the basilica was travertine, a very effective internal decoration. The vaulted ceiling and walls have preserved ancient frescoes, as well as elements of stone carving.
From the town, it will not be difficult to reach many of the iconic sights of the French capital, such as the opera Garnier and Louvre. Directly on the territory of the city, is the ancient Church of St. Nicholas, which also preserved its unique historical appearance. The church was built in 1912. Many beautiful pristine sculptures of stone, and an incredibly beautiful mosaic altar were preserved in it. The beautiful stained-glass windows also survived. Also in the church is a very interesting collection of paintings, illustrating its history.

This guide to iconic landmarks and sights of Le Bourget is protected by the copyright law. You can re-publish this content with mandatory attribution: direct and active hyperlink to
www.orangesmile.com
.
City tours, excursions and tickets in Le Bourget and surroundings
Sights around Le Bourget from our guide 'Extreme places on Earth'
Sports and Recreation Center
From the series
"Glass Architecture - Impressive Villas and Buildings from Glass"
Check on the map:
Distance from Le Bourget center - 18.9 km.
Saint-Cloud is very popular city among fans of nature and adventure travellers. The main sightseeing of the city is a large landscape park with hundreds of wonderful trees, decorative plants and artificial lakes. This is a motherland of bicycle sport. The first official bike race was held there on the territory of a nice park in 1866. Nowadays the park has great cycle lanes. Vacationists will find there a lot of things to do. …
Read further

House on Rue D'Alsace
From the series
"Unique Living Houses"
Check on the map:
Distance from Le Bourget center - 13.1 km.
Quite often, there is no place for arrangement of parks and gardens in modern cities. Vertical gardening architectural structures can significantly improve the environment. Each project of Patrick Blanc is unique. In whatever city he is creating an open air botanical garden, he always uses only plants that are typical for the region. This greatly facilitates caring for green facades and makes them look the most natural way. Flower houses of Patrick Blanc have another important feature. Plants serve as natural blinds for the house and protect it from the sun, so even buildings without air conditioning always feature pleasant coolness. …
Read further

Eiffel Tower Experience
From the series
"Breathtaking High-Altitude Observation Points with Panoramic Views on Cities"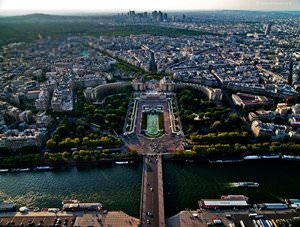 Check on the map:
Distance from Le Bourget center - 12.3 km.
An entrance fee depends on which of the three viewing platforms you want to see. The most expensive ticket allows entering the highest deck. Only there you can see historic streets of Paris in all their glory. This place is ideal for admiring the night city. In addition to excellent viewing platforms at the Eiffel Tower, there are restaurants and cafes offering panoramic views of the surrounding area, as well as shops and stalls, where you can buy nice souvenirs. The most curious travelers can visit museums and galleries in the tower. …
Read further

Car rental on OrangeSmile.com

Saudi Arabia to Open 38 Hotels in Diriyah
Diriyah is one of the first mega projects in Saudi Arabia. Hotels and other infrastructure will start opening next year, and all works are expected to end in 2026. The first 18 restaurants in Bujairi Terrace will start operating already in early 2022.
Read this
10.12.2023
Search touristic sites on the map of Le Bourget
Sightseeing in regions nearby Le Bourget
All about Le Bourget, France - sightseeings, attractions, touristic spots, architecture, history, culture and cuisine. Prepare your trip together with OrangeSmile.com - find out the 'must see' things in Le Bourget, which places to visit, which excursions to take, where the breathtaking views are waiting for you. Planning your trip with this travel guide will help your to get the most out of Le Bourget in few days.