Sightseeing in Corse - what to see. Complete travel guide
Corsica is a popular Mediterranean resort that is often called "a small Italy in France". The reason for this name is in the influence of Italy that is located nearby. This has seriously changed the traditions and culture of this place. The island features tremendous conditions for beach rest. Here you can try various water sports, make marine rides on yachts, or simply enjoy tender sun.
Corsica delights its guests with a variety of interesting specialty stores. In Satrene, near Hotel U Listincu, there is an excellent store specializing in essential oils. This store sells …
Open
Active rest fans should definitely make a walk to mountains. The most popular tourist zones of Corsica are Porto Vecchio, Calvi, and Bonifacio, which are located in the southern part of the island. The beaches here are spacious and have crisp white sand, while the sea is calm and clean. The main sights of the island are located in its capital Ajaccio. According to one legend, this city was founded by Ajax, a famous Greek hero. However, it was not the Greek strong man who made this place famous. Corsica is the motherland of Napoleon, so numerous monuments and sights are devoted to this great emperor.
While walking on the streets of Ajaccio, you will see statues, memorials and the house in which Bonaparte was born and spent his childhood. Today this house is completely turned into a museum. One more famous cultural facility is Cardinal Fesch Palace. It features a unique collection of paintings. In this museum you will find works of great Italian and French masters. Copyright www.orangesmile.com
A family vacation on the Island Of Beauty (as Corsica is often referred to) will appeal to every family member. In any part of the island, there are places that are definitely worth visiting …
Open
This island is full of cozy small towns and each one is ready to greet guests all year long. Nightlife lovers will find much interesting if they visit Saint-Florent town. Gastronomic connoisseurs will enjoy their trip to Propriano that is full of best trading centers and restaurants. Porto-Vecchio attracts travellers by spacious beaches and silent atmosphere. Eastern towns of Corsica are famous for their magnificent nature. Here you can walk in chestnut groves, go fishing or visit nature reserve park named Buguglia.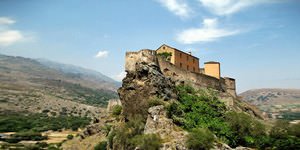 Corsica is famous for its natural attractions. The valley of Calanche de Piana is of great interest. Here, travelers can admire the beautiful granite rocks with red peaks. Some of them have a very unusual shape, so you can barely belief this shape is of natural origin. The height of some rocky peaks is 300 meters. According to geologists, this valley was formed over millions of years ago under the influence of wind and water. It is most interesting to admire the rocks at dusk or at dawn, when their peaks have a bright scarlet color.
The place of honor in the national cuisine is occupied by seafood. Almost every Corsican restaurant serves it. The most famous fish market is located in Ajaccio, chefs from all over the …
Open
In the southern part of the island there is a megalithic field of Filitis. Large-scale studies of this region began relatively recently, in 1946. Today, this amazing valley with unusual stone formations is considered the most important archaeological area. Here, many unique artifacts have been discovered, including fragments of ancient ceramic products, arrowheads, and other interesting evidence of life in these places, which are more than 5,000 years old.
Historical sights of a later period can be seen in the Erbalung district. Here you can see the ruins of an ancient castle, from which only one tower has survived to this day. Not far from it is the Chapel of St. Michael, which was built in the 11th century. The miniature ancient town is famous for its religious monuments. The beautiful Church of St. Catherine, which has remained practically unchanged since the 15th century, has been preserved.
To get acquainted with the culture and traditions of local people you have to visit one of their national holidays. Every year in Corsica interesting festivals and religious celebrations, …
Open
Fans of unusual excursions should visit Bonifacio Caves. These caves are located in one of the most inaccessible and remote areas of the island. To get to them, it is necessary to rent a boat in the harbor of Bonifacio. The path to the caves on a boat is about an hour, but this time will fly very quickly, because, along the coast there are a lot of natural and historical sites. The caves themselves are also located off the coast. Tourists are offered to ride by boat under their vaults and admire the amazing transparent water, which here has an unusual purple hue.
On the island, there is an incredibly interesting and beautiful Scandola National Park which was founded in 1975. The area of ​​this reserve is less than 20 square kilometers. The main value of these natural places is the diversity of rare birds, the observation of which will give a lot of impressions.

This guide to iconic landmarks and sights of Corse is protected by the copyright law. You can re-publish this content with mandatory attribution: direct and active hyperlink to
www.orangesmile.com
.
City tours, excursions and tickets in Corse and surroundings
Reference information
National and city parks around Corse
♥ Regional Nature Park 'Corse' , 9 km from the center.
On the map
Photo
♥ World Heritage Site 'Gulf of Porto: Calanche of Piana, Gulf of Girolata, Scandola Reserve' , 44.7 km from the center.
On the map
Photo
♥ National Park 'Parco nazionale dell'Arcipelago di la Maddalena' , 110.7 km from the center.
On the map
Photo
♥ National Park 'Parco nazionale dell' Arcipelago Toscano' , 113.5 km from the center.
On the map
Photo
♥ National Park 'Parco nazionale dell' Asinara' , 141.7 km from the center.
On the map
Photo
Sightseeing in France: things to see
Tourists with children are recommended to visit Paris Disneyland. This is a large entertainment complex, which territory is divided into several themed zones. Thrilling rides, characters from favourite fairy tales and cartoons, movie theatres, shops and cafes await visitors in every park zone. It is also possible to see main places of interest in France during a cruise on Seine. …
Open

Search touristic sites on the map of Corse
Sightseeing in regions nearby Corse
All about Corse, France - sightseeings, attractions, touristic spots, architecture, history, culture and cuisine. Prepare your trip together with OrangeSmile.com - find out the 'must see' things in Corse, which places to visit, which excursions to take, where the breathtaking views are waiting for you. Planning your trip with this travel guide will help your to get the most out of Corse in few days.