City break in Corse. Active leisure ideas for Corse - attractions, recreation and nightlife
Corsica is a real godsend for those who enjoy scenic walks and prefers outdoor activities. In the eastern part of the island there are beautiful chestnut groves. Anybody who wants to is invited to walk through the nature reserve. During a tour, vacationers have a great opportunity to appreciate the diversity of local flora and fauna. The most famous is Buguglia natural reserve, not only visitors, but also locals like to walk around its beautiful places. It would be interesting to visit Alero pond, where oysters and mussels has being bred for many years. During the tour, visitors will listen about all the intricacies of the craft.
A family vacation on the Island Of Beauty (as Corsica is often referred to) will appeal to every family member. In any part of the island, there are places that are definitely worth visiting …
Open
Snorkelers are recommended to visit Lavezzi islands that are close to the southern coast of Corsica. Fishermen also like these places, but underwater hunting in this area is forbidden. The place called Campoloro located off the east coast of the island also attracts divers. Here lies an ancient warship that sank in 1915. Ajaccio is located near the coastal zone Castagna; there divers can see the sunken ship and a lot of other interesting underwater artifacts.
A great place for hiking is piedmont area of Monte Cinto; the most active visitors can climb to the top of the mountain and appreciate the bird's eye panorama of the island. The height of Monte Cinto is 2710 meters, but no special skills to climb to its top are required. In mountainous areas hundreds of trails are laid; these places will also suit for riding. Travelers can continue exploring natural attractions of Corsica during safari in Agriates desert. Two-day tours as well as short walks to the most beautiful places are organized for foreigners. Copyright www.orangesmile.com
The place of honor in the national cuisine is occupied by seafood. Almost every Corsican restaurant serves it. The most famous fish market is located in Ajaccio, chefs from all over the …
Open
There are beautiful beaches well-equipped for outdoor activities in every city and town. In Bonifacio the most popular beach is Palombaggia; fans of quiet and secluded places would like beaches of Bastia more. In the coastal zone there are lots of nightclubs and bars, where music doesn't stop until the morning. Travelers, who will be able to visit Calvi, definitely have to pop into the Club 24. This entertainment venue is famous for its original parties and inimitable welcoming atmosphere.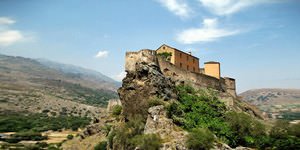 The island has many excellent equestrian centers where tourists can try horseback riding through the picturesque areas of Corsica. Thus, Ranch Jose is available in Solaro, Fior di Lezza in Serra di Ferro, and Country Horse in Sainte Lucie De Porto Vecchio (near Lecci). This kind of leisure will be of interest to both solo tourists and those traveling along with friends or family. In Corsica, no less popular are eco-tours, during which you can arrange camping, have a picnic and enjoy the magnificent views of the island. And the bravest ones can choose excursions into the mountains and climb the peaks to experience incomparable emotions from admiring the views and the fact that the effort spent is fully rewarded.
To get acquainted with the culture and traditions of local people you have to visit one of their national holidays. Every year in Corsica interesting festivals and religious celebrations, …
Open
In Vero, you will find Reves de Cimes, a great rope town where several routes are available for visitors depending on the level of difficulty. However, of equal interest to travelers wishing to spend time actively is A Tyroliana Park based in Sainte -Lucie-de-Porto-Vekshio. Try bungee jumping fully enjoying the strong surge of adrenaline in Solenzara, which is located near Solara - the park is called Acqua & Natura. The same entertainment is also provided by Baracci Natura operating in Propriano. Another interesting rope town can be found in Bocognano (near Vero), its name is Parc Aventure Vizzavona.
Throughout the island, there are amazing golf courses striking with their excellent game organization and scenic views fascinating all tourists. While in Bonifacio (in the south of Corsica), be sure to visit Golf de Sperone, the most popular golf club on the island. Other centers include Golf du Reginu based in Spelonkato (near Calvi) and Golf de Lezza in Porto-Vecchio. In Sartene (south of the island) mini-golf enthusiasts should never ignore Murtoli Golf Links. Besides that, fans of the mini-version of golf can fully enjoy the favorite pastime in Conquet. This is about Mini Golf de Tarco located here.
Every town of Corsica boasts an abundance of unique attractions. For tourists it would be interesting to visit castles and see the beautiful buildings, stroll through the picturesque natural …
Open
Those who came to the island together with their friends or families will be happy to visit Centuri (Upper Corsica) - or rather, a paintball club called Serra Sport, which can help participants build trust in relationships. Figari is interesting for its entertainment center Prokart, which is ready to please fans of racing. In Biguglia, both young tourists and adults can enjoy the water park called Western Park. Here they can find pools for every taste and interesting slides, as well as sunbathing areas and a great bar. Fans of intellectual games and active pastime would probably be interested in scape rooms. The best ones include Scappà center located in Bastia and Escape Game Corsica that should be looked for in Porticcio.
Tourist train tours are in particular demand among travelers who can thus see local attractions and meet new people at the same time. The same leisure is also available in Conquet and Bastelica. The best spa on the island is located in Sartene and is called Bains De Caldane. It is stylized as Roman terms, and every visitor likes its peaceful atmosphere. Bains de Baracci located in Olmeto is worth visiting too, creating all conditions for a relaxing stay. Other excellent spa centers include Riva Bella Thalasso in Aleria and Un Brin de Beaute, which can be found in Porto.
1. Divers should remember that in any case it isn't possible to damage the coral while diving; severe penalties and fines are collected for such violations. You shouldn't buy any …
Open
Porto-Vecchio particularly stands out in terms of nightlife opportunities. Thus, here you can visit Bel Ombra bar that will certainly appeal to connoisseurs of good wines, the most popular bar among fans of good cocktails is Le Patio, and for those wishing enjoy not only fine drinks and a fun atmosphere but also listen to live performances by local musicians, it may not be superfluous to mention La Taverne du Roi. Via Notte will be of interest to those who want to spend this night dancing to DJs' fiery hits. While in Ajaccio, it is worth exploring L'Empire des Vins delighting tourists with a rich selection of wines. Calvi has one more worthy place - Le Bar de la Tour where excellent cocktails are served. And the most atmospheric and spacious bar is Black Sheep located in Bastia.

This guide on active recreation and leisure in Corse is protected by the copyright law. You can re-publish this content with mandatory attribution: direct and active hyperlink to
www.orangesmile.com
.
City tours, excursions and tickets in Corse and surroundings
Reference information
National and city parks around Corse
♥ Regional Nature Park 'Corse' , 9 km from the center.
On the map
Photo
♥ World Heritage Site 'Gulf of Porto: Calanche of Piana, Gulf of Girolata, Scandola Reserve' , 44.7 km from the center.
On the map
Photo
♥ National Park 'Parco nazionale dell'Arcipelago di la Maddalena' , 110.7 km from the center.
On the map
Photo
♥ National Park 'Parco nazionale dell' Arcipelago Toscano' , 113.5 km from the center.
On the map
Photo
♥ National Park 'Parco nazionale dell' Asinara' , 141.7 km from the center.
On the map
Photo
Michelin-starred restaurants in Corse
♥ Restaurant 'U Licettu' Mezzavia. Type - Traditional cuisine. 28.5 km from the center.
On the map
Photo
♥ Restaurant 'Auberge du Prunelli' Bastelicaccia. Type - Traditional cuisine. 34.8 km from the center.
On the map
Photo
Photogallery of picturesque Corse
Search for active leisure and attraction spots on Corse map
City break ideas for neighbours of Corse
Guide to your best city break in Corse - popular places for recreation and leisure. Things to do during the day in Corse - attractions, parks, beaches, aquaparks, racing tracks, biking trails or waterski. Recommendations (with addresses, phone numbers and links) where to spend your time in the evening (bars, discos, clubs, etc.). We share some good ideas and the question 'What to do in Corse?' disappears immediately.