Sightseeing in Disneyland Paris - what to see. Complete travel guide
This is a wonderful town and a park located not far away from Paris. It has been founded not long ago and so today its magic castles, attractions and fairytale characters will definitely not leave indifferent any visitor. Near the park entrance you will see a huge pink castle that is used as a ticket office and it sells tickets for entering Disneyland. Here you can also take a map of the park. Without it it's really simple to get lost in wide choice of thematic zones and multiple facilities.
1. The majority of the travelers visit the park in July and August. Given that it is usually quite hot in the town during these months, a stay in Disneyland can be quite tiresome. If your …
Open
For convenience the park is divided into 5 zones. Main Street U.S.A is designed like an American boulevard of the beginning of the 20th century. On this street you will find several souvenir shops, restaurants and even a hairdresser's. Main Street U.S.A has become the place of conducting grandiose parades that take place here several times a day. The most picturesque parade is organized on evenings and it is finished by fireworks.
Frontierland park features wide choice of attractions. Here you can ride on roller coasters, visit a ghost house, try your luck in a shooting range, or buy an authentic cowboy costume. Adventureland park reminds of a pirates' base. Here you will see an old ship, several taverns, and, of course, many exciting attractions and playing rooms. The fans of Jules Verne and science fiction novels should definitely move their feet to Discoveryland. This is a true fantastic world that offers not only attractions, but also several lections where you can learn new things. The main decoration of Fantasyland park is the castle of Sleeping Beauty. Visitors are welcome to enter the castle and climb on one of its towers to enjoy stunning panoramic looks of Disneyland. This part of the park is built mostly for its youngest guests, and so here they will meet their favorite fairytale characters. Little visitors of the park can walk with them or even dine in one of the cafes nearby. Copyright www.orangesmile.com
There is a real film set here, which is located in the inner courtyard of a medieval castle. The process of filming is reproduced on it very realistically, and absolutely everyone can watch it. Visitors to this part of Disneyland will have the opportunity to stroll along Hollywood Boulevard. It is an exact replica of Sunset Boulevard, which is located in Los Angeles. Along this boulevard, there are very interesting souvenir shops and stores selling exact replicas of accessories appearing in various films, as well as costumes of popular movie heroes.
Paris Disneyland is famous not only for its unforgettable and inimitable attractions and colorful shows but also gorgeous restaurants. Many dining establishments have a separated menu for …
Open
This part of the park will be interesting to visit, even with the youngest children. A very interesting thematic zone devoted to animation has been prepared for them. Here visitors can, not only learn about how to shoot cartoons, but also create their own animated film themselves.
One of the most interesting places in the new part of the park is the studio special effects. During the day, the most incredible special effects are reproduced here, at the epicenter of which, are the visitors of the studio. There are attractions that simulate descents from spectacular roller coasters, rocket flights and meteor shower. All attractions were created with the participation of professional stuntmen and pyrotechnics.
Paris Disneyland has long become an iconic landmark that is a true "paradise for children". Besides numerous attractions that are like a magnet for children of all ages (let's be …
Open
Nowadays, Disneyland Paris is visited by more than 12 million tourists from all over the world. This amusement park is good because, it is equally suitable for tourists with the youngest children, and noisy youth. Among the hundreds of its attractions and entertainment programs, suitable one will be found for absolutely everyone.
On the territory of the amusement park, there are excellent hotels oriented to family rest, restaurants and cafes of various specializations, and many shops. Visiting them will make the rest even more interesting. Within a few months after the opening, Disneyland Paris has gained worldwide fame and popularity. It has long not been considered a place where it will be interesting to spend time only for tourists with children. This fabulous park is visited by people of mature age.

This guide to iconic landmarks and sights of Disneyland Paris is protected by the copyright law. You can re-publish this content with mandatory attribution: direct and active hyperlink to
www.orangesmile.com
.
City tours, excursions and tickets in Disneyland Paris and surroundings
Reference information
Survived castles around Disneyland Paris
♥ Castle 'Château de Nantouillet' Seine-et-Marne, 15.9 km from the center.
On the map
Photo
♥ Castle 'Château de Brie-Comte-Robert' Seine-et-Marne, 23.4 km from the center.
On the map
Photo
♥ Castle 'Château de Vincennes' Val-de-Marne, 25.7 km from the center.
On the map
Photo
♥ Castle 'Château de la Grange-Bléneau' Seine-et-Marne, 26.1 km from the center.
On the map
Photo
♥ Castle 'Château de The Bastille' Paris, 30.4 km from the center.
On the map
Photo
National and city parks around Disneyland Paris
♥ Regional Nature Park 'Oise-Pays de France' , 38.5 km from the center.
On the map
Photo
♥ Regional Nature Park 'Gâtinais français' , 56.7 km from the center.
On the map
Photo
♥ Regional Nature Park 'Haute vallée de Chevreuse' , 57.2 km from the center.
On the map
Photo
♥ Regional Nature Park 'Vexin français' , 69.3 km from the center.
On the map
Photo
♥ Regional Nature Park 'Montagne de Reims' , 88.2 km from the center.
On the map
Photo
Sights around Disneyland Paris from our guide 'Extreme places on Earth'
House on Rue D'Alsace
From the series
"Unique Living Houses"
Check on the map:
Distance from Disneyland Paris center - 37.3 km.
Quite often, there is no place for arrangement of parks and gardens in modern cities. Vertical gardening architectural structures can significantly improve the environment. Each project of Patrick Blanc is unique. In whatever city he is creating an open air botanical garden, he always uses only plants that are typical for the region. This greatly facilitates caring for green facades and makes them look the most natural way. Flower houses of Patrick Blanc have another important feature. Plants serve as natural blinds for the house and protect it from the sun, so even buildings without air conditioning always feature pleasant coolness. …
Read further

Eiffel Tower Experience
From the series
"Breathtaking High-Altitude Observation Points with Panoramic Views on Cities"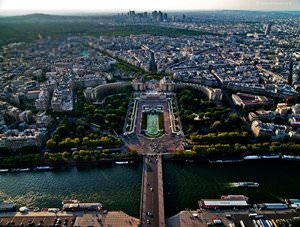 Check on the map:
Distance from Disneyland Paris center - 36 km.
An entrance fee depends on which of the three viewing platforms you want to see. The most expensive ticket allows entering the highest deck. Only there you can see historic streets of Paris in all their glory. This place is ideal for admiring the night city. In addition to excellent viewing platforms at the Eiffel Tower, there are restaurants and cafes offering panoramic views of the surrounding area, as well as shops and stalls, where you can buy nice souvenirs. The most curious travelers can visit museums and galleries in the tower. …
Read further

Eiffel Tower
From the series
"15 Unofficial Man-Made Wonders of the World"
Check on the map:
Distance from Disneyland Paris center - 35.8 km.
Currently, one of the most famous towers in the world is essential for the practical usage. It is home to dozens of television antennas and radio equipment, cell towers, and even a unique weather station that monitors the radiation level in the city and the level of air pollution. Tourists can visit the tower at a reasonable cost. They can go up to its upper levels, ride vintage elevators, and admire the panorama of the city from dedicated lookouts. The ground floor of the tower houses the famous restaurant 58 Tour Eiffel, as well as some nice souvenir shops. …
Read further

Search touristic sites on the map of Disneyland Paris
Sightseeing in regions nearby Disneyland Paris
All about Disneyland Paris, France - sightseeings, attractions, touristic spots, architecture, history, culture and cuisine. Prepare your trip together with OrangeSmile.com - find out the 'must see' things in Disneyland Paris, which places to visit, which excursions to take, where the breathtaking views are waiting for you. Planning your trip with this travel guide will help your to get the most out of Disneyland Paris in few days.