Family trip to Corse with children. Ideas on where to go with your child
A family vacation on the Island Of Beauty (as Corsica is often referred to) will appeal to every family member. In any part of the island, there are places that are definitely worth visiting with the kids. Corsica boasts a great variety of sights - both man-made ones (architectural, historical, cultural and religious) and those created by mother nature (mountains, forests, cliffs, streams). Together with kids, parents can enjoy peaceful relaxation (walking in parks, picnicking) or choose active pastime - cruising, canyoning, climbing, water sports.
In the southwest of the island, near the town of Sartene, you can find Le Parc Naturel D'olva. This wooded mini-zoo invites visitors to look at peacocks, horses, donkeys, pheasants, rabbits. All the animals are in an excellent mood, as they are properly cared for. A shady campsite is located on a small hill within the territory of the zoo - perhaps an ideal center for family holidays. Besides that, a swimming pool, a children's playground, and a barbecue area are available here as well. And as a bonus, one can admire amazing mountain views. Copyright www.orangesmile.com
Corsica delights its guests with a variety of interesting specialty stores. In Satrene, near Hotel U Listincu, there is an excellent store specializing in essential oils. This store sells …
Open
Another widely recommended Corsican zoo is called A Cupulatta. It is located near the town of Vero, in the west of the island. This is a really nice place, especially in the hot summer time, as here you can always hide in the shade of lush trees. A Cupulatta can safely be called a "turtle zoo" since it is completely dedicated to these animals, and many different turtle species can be seen here. The zoo also takes care of animals that are currently on the verge of extinction (for example, the Galapagos tortoise). It is also worth noting that the animals receive the best care so that they feel as comfortable as possible. Here you can have a picnic to share impressions from visiting the lovely zoo with all family members.
Nearby is Paint Ball Power where each family member will be able to try their hand at shooting. Other good entertainment centers that would be of interest to kids include Mini Golf de Tarco located in Conca in the southeast, as well as Mini Golf de Calvi, which should be looked for in the north-west of the island. Nearby is Piscine à Calvi where you fully enjoy swimming. It is worth noting that in the same city you can arrange great camping and take a promenade along the waterfront - these opportunities attract hundreds of tourists.
Corsica is a popular Mediterranean resort that is often called "a small Italy in France". The reason for this name is in the influence of Italy that is located nearby. This has seriously …
Open
The city of Biguglia near Bastia has a wonderful entertainment center called Western Park. Here, children, teenagers, and adults have fun as never before. They can find both water and land entertainment. Kids especially like a wave pool. The park is known for its safety, all structures are absolutely reliable. The amusement park has a great location - nearby is Hippodrome de Casatorra where kids will certainly appreciate horses' skills. Of course, one will need to follow the billboards in order not to miss an interesting event. Also, pretty close are Bowling de Furiani and Family Sport Center.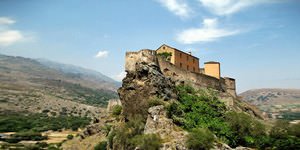 Rico et les Pirates is located in the same city. The smallest kids will enjoy this entertainment center more than others. Children can try out various structures and slides - and all this is themed in a pirate manner (which, as is known, all kids really like). Also, the smallest kids will definitely enjoy traveling on a small train (Le Petit Train), this can be done in the city of Corte (in the center of the island). Among museums that would be of interest to young citizens, it is worth highlighting Musée de la Miniature in Bastia where the city life is presented in miniature and Naporama (can be found in Ajaccio, Napoleon's hometown) where the great battles of the emperor and commander are shown.
The place of honor in the national cuisine is occupied by seafood. Almost every Corsican restaurant serves it. The most famous fish market is located in Ajaccio, chefs from all over the …
Open
It's worth mentioning a few more places where kids will enjoy every minute. This is Parc Aventure Vizzavona, which is located in the very center of Corsica, the city of Bocognano. Here, visitors have a unique chance to try zipline and experience an incredible amount of impressions. The Island of Beauty's best Go-karting center can be found in the city of Figari. There is one more opportunity to ride a tram - namely, Le Petit Train du Maquis, in the city with the beautiful name of Bastelica.

This guide to family holidays in Corse is protected by the copyright law. You can re-publish this content with mandatory attribution: direct and active hyperlink to
www.orangesmile.com
.
City tours, excursions and tickets in Corse and surroundings
Photogallery of best places of Corse
Children attractions (aquaparks, zoos, amusement parks) on the map of Corse
Interesting places to visit with children around Corse
Guide to sightseeing and entertainment for children in Corse - parks, attractions, museums, zoos, water-parks. All fascinating and educational sites of Corse, which are must visit and see for your child. Find out the best discovery routes and places for kids (local theaters, exhibitions and museums), where you can spend quality time together. Corse for families with children.