How to spend top weekend in Albacete - ideas on extraordinary attractions and sites
Hunting
In Albacete, there is a mansion located in the Alcaraz Mountains. It is an ancient house that once belonged to Alba Duchess. Nowadays, the territory of the mansion has been turned into hunting fields. The mountain range is covered with an oak forest that is home to wild boars, deer, moufflons, roe deer, and even wild mountain goats. There is a water reservoir, which is surrounded by five hills, right in the heart of the mansion. The reservoir is really big and covers an area of 15 hectares.
1. The best way to travel around the city is by buses. However, after 8:00 PM they run less often than in the daytime. Suburban attractions can also be easily reached, but it's advisable to …
Open
Visitors are permitted to hunt wild boars, ducks, and partridges using a rifle. The center of the valley is located in a volcanic vent with pines and oaks on the sides. There are towers with observation points in the forest. They offer a fabulous view of the area, and tourists can climb up and admire the view. So, you will enjoy not only hunting but also the observation of the valley. As the weather is usually warm and dry, you will feel very comfortable in the territory of the mansion.
Thanks to the mountain terrain of the area, you can enjoy different types of hunting – a classical one in the air or on the ground. By the way, if you hunt partridges on the ground, the process will be definitely not easy. It is also quite complicated to hunt ducks. They fly high in the sky, so you need patience and must be an experienced rifleman. On the other side, that is even more interesting and the result will please you even more! Copyright www.orangesmile.com
Among the hotels of Albacete notable with their unique design, special attention should be paid to Hotel Castilla. It occupies a hard-baked building near the Knife Museum and offers rooms …
Open
Cycling Adventure
Albacete is rich in beautiful parks, and many local landmarks are located on the outskirts of the city. If you choose to visit all interesting areas of the region, cycling is one of the most convenient ways to do that. You can hire a bicycle and head to an unhurried individual adventure on ancient streets and neighborhoods of Albacete that are not present in standard city tours. You will see the old botanical garden of Castilla-La Mancha and the giant Pulgosa Park. The territory of the latter is 40 hectares. There is a clean lake approximately one hour away from the city. You can stop and rejuvenate there. During such an adventure you will take many memorable photographs and get acquainted with the heritage of the region.
Las Pinaíllas Golf Club
In Albacete, you can not only visit interesting landmarks but also play golf in Las Pinaíllas, a popular golf club. It is open in a beautiful building made of pricey materials. Naturally, there are no constructions on the golf course. At a glance, the golf course looks quite simple – it has a slight elevation difference and broad fairway to the green lawn. These greens are the biggest difficulty – they are not very big and have quite a significant elevation. Therefore, such a golf course will "dictate" you a play style, but it is suitable for any golfers of any level. The course has 18 holes and a big training area.
The most prestigious and renowned hotel of Albacete is Gran Hotel Albacete occupying a unique building with centuries of history in the Plaza del Altosano. Simple rooms are very large and …
Open
Paintball
Do you want to forget about stress and feel like the main character of an action movie? Then paintball in Albacete is a great choice. It is very popular in Spain – locals consider it an interesting adventure that is perfect for relaxing and forgetting about daily duties and stress. There is an entertainment complex with a sports area for paintball in the city. You will get all the necessary gear there.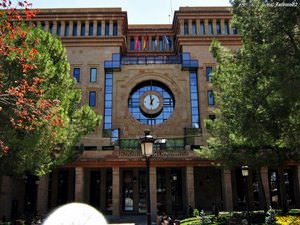 To try paintball, you will need the following gear – air marker, uniform, shoes, and other gear. You will play in a team, firing with a rifle that shoots gelatin balls filled with paint. The price of a game depends on a number of "bullets" that you purchase. You can try paintball regardless of your age. This amazing game will help you raise your mood.
Albacete is a perfect place for unforgettable vacations together. Hotel Albacete is aimed at couples and romantic natures. It's set in an incredibly charming historic building near the …
Open
Bullfighting
If you decide to boost your adrenaline level during your holidays in Albacete, we recommend you to attend a bullfighting arena that is open in a round-shaped building. Every morning, local toreros train there in order to show you and other attendees a fight between two opponents – a bull and a toreador. However, the fight is not for the weak-nerved. If you consider damaging a helpless animal a blasphemy, you are not likely to have any pleasant memories after bullfighting.

This article about ideas on extraordinary weekend in Albacete is protected by the copyright law. You can re-publish this content with mandatory attribution: direct and active hyperlink to
www.orangesmile.com
.
City tours, excursions and tickets in Albacete and surroundings
Reference information
Survived castles around Albacete
♥ Castle 'Castle of Alcalá del Júcar' Albacete, 43 km from the center.
On the map
Photo
♥ Castle 'Castle of Alarcón' Cuenca, 65.8 km from the center.
On the map
Photo
♥ Castle 'Castle of Yeste' Albacete, 79.7 km from the center.
On the map
Photo
Car rental on OrangeSmile.com

Hilton builds third luxury hotel in Kyoto
The Hilton Kyoto hotel will be attractive to a wide range of guests. Leisure travelers will appreciate the close proximity to famous attractions such as Heian and Yasaka Temples, the Kyoto Imperial Palace, and the scenic Gion Historical District. In a few minutes, guests can reach the metro stations, the path to the sights of interest will not take much time.
Read this
10.06.2023
Albacete by photo artists
Search for interesting places on Albacete map
Visiting neighbours of Albacete for exclusive entertainment
Walk through hidden local streets, sneak to a small cafe, breathe and enjoy Albacete from inside. Stay out from the beaten track during your city weekend, discover the soul of Albacete as a real travel gourment. Follow our guide, take one of the exclusive services and spend your time in Albacete unforgettably and with a full passion!