Sightseeing in Calabria - what to see. Complete travel guide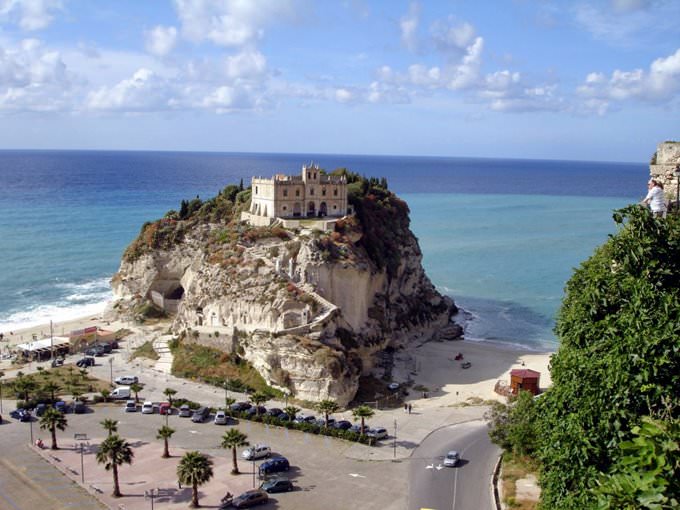 Calabria is the largest region of the peninsula; travelers come here attracted by its mild climate, beautiful wide beaches, delicious cuisine, as well as a rich historical and cultural heritage of cities. The coast of the province borders with two seas, Ionian and Tyrrhenian, so tourists have a unique opportunity to appreciate the diversity of local beaches. The coastline is about 800 km; the Calabrian coast is the longest in Italy.
Charming Calabria is usually associated with sunny beaches, while fans of excursion tourism come here every year in search of new discoveries and experiences. Virtually any city would suit …
Open
It's worth to say a few words about the unique nature of these places that has attracted poets and painters for many centuries. You can see rich forests and groves a few steps away from the coast; even large cities have picturesque parks, bright flower beds and alleys. Fans of ecotourism can go for a walk in the mountains; those fond of water activities can relax at any beach. In addition to natural beauty, travelers are attracted with relatively low prices for accommodation and service. Most local hotels are of mid-market level, but the quality of their service remains on top.
There is a huge number of provincial towns and villages along the coast, each of which has something to surprise their guests. Travelling around towns allows visiting the most interesting historical sites of these places, as well as olive and mandarin groves, verdant meadows and azure coasts. The most famous town of the province is Tropea; the resort is located on the shore of the Tyrrhenian Sea. Walking through the historic center you can see beautiful palaces, old squares and churches, as well as panoramic views of the surrounding area rising to one of the rocks. Copyright www.orangesmile.com
The southernmost region of Italy is literally created for beach holidays and hiking. Enthusiasts will appreciate a decent selection of different sports and entertainment centers; the region …
Open
Another attractive resort - Pizzo – is located near the Gulf of Saint Euphemia. In addition to beautiful beaches, vacationers note local restaurants and cafes. There you can try a special ice cream with truffles. Among architectural landmarks, Pedigrotta Church is notable. More than three centuries ago, sailors had found its ruins. They have restored church, and local artists decorated it with exquisite paintings. Every day spent at resorts of Calabria gives unforgettable impressions.
This guide to iconic landmarks and sights of Calabria is protected by the copyright law. You can re-publish this content with mandatory attribution: direct and active hyperlink to
www.orangesmile.com
.
City tours, excursions and tickets in Calabria and surroundings
Reference information
Survived castles around Calabria
♥ Castle 'Castle of Sant'Aniceto' Motta San Giovanni, 11 km from the center.
On the map
Photo
♥ Castle 'Altafiumara Fort' Villa San Giovanni, 14.5 km from the center.
On the map
Photo
♥ Castle 'Ruffo Castle of Scilla' Scilla, 16.7 km from the center.
On the map
Photo
♥ Castle 'Ruffo Castle of Amendolea' Amendolea, 25.7 km from the center.
On the map
Photo
♥ Castle 'Castello di Milazzo' Milazzo, 38.1 km from the center.
On the map
Photo
National and city parks around Calabria
♥ National Park 'Parco nazionale dell'Aspromonte' , 17.7 km from the center.
On the map
Photo
♥ National Park 'Parco nazionale della Sila' , 161.3 km from the center.
On the map
Photo
Art galleries in Calabria and around
♥ Art museum 'Museo Nazionale della Magna Grecia' Reggio Calabria, 0.1 km from the center.
On the map
Photo
♥ Art museum 'Museo Regionale' Messina, 13.6 km from the center.
On the map
Photo
Sights around Calabria from our guide 'Extreme places on Earth'
Etna Volcano
From the series
"Volcanoes and traps that changed the face of the planet"
Check on the map:
Distance from Calabria center - 70 km.
Locals hurried back to the place of grace. Even now, they grow vineyards, olive trees, and orchards on the slopes of the volcano. The geological implications of the volcanic activity are enormous too. For hundreds of years, mountainsides were collapsing after each of the next series of explosions. So, new huge basins and craters appeared close to the volcano. Scientists believe that after one of the regular eruptions of Etna, the water took a large settlement of Atlit Yam in Israel. All of its residents fled from the disaster, but many of them died later. …
Read further
Car rental on OrangeSmile.com
Search touristic sites on the map of Calabria
Sightseeing in regions nearby Calabria
All about Calabria, Italy - sightseeings, attractions, touristic spots, architecture, history, culture and cuisine. Prepare your trip together with OrangeSmile.com - find out the 'must see' things in Calabria, which places to visit, which excursions to take, where the breathtaking views are waiting for you. Planning your trip with this travel guide will help your to get the most out of Calabria in few days.