Culture of Lille. Places to visit - old town, temples, theaters, museums and palaces
Each point of interest in Lille is a unique facility with its own history and characteristics. Indigenous architectural and historical monuments will certainly impress those who aren't indifferent to the culture of past centuries; curious travelers would like local museums and galleries. A unique attraction is Le Palais des Beaux-Arts. This monument in its beauty can compare with Louvre in Paris. Spacious and beautifully decorated rooms of the palace host various art collections. Walking through the palace, visitors can appreciate the beauty of famous paintings by Renoir, Rubens, Monet and Rembrandt. An extensive cellar of an ancient palace is allocated for storing collections of ancient sculptures.
1. The most favorable time for the trip is from May to September, as it's warm and sunny. In winter the temperature rarely drops below zero, but sightseeing may be difficult because of …
Open
An excursion to Charles de Gaulle birthplace museum is promising too. Atmosphere of the early 19th century is accurately preserved in a beautiful old mansion; its collection can compare to exhibitions of eminent museums. Next to the mansion is an old factory building, which was recently converted into a historical museum.
In the center of the historic district is a lovely L'Hotel de Ville. The first city hall was built on this site in the 19th century, but in 1916 it was completely destroyed by great fire. Construction of the new building was completed in 1926. The height of the tower is 105 meters. All visitors can climb to the observation deck on the top of the building; it offers unique panoramas. The interior of the building is unique too. You can see beautiful paintings and frescoes by contemporary artists in its corridors and halls. Copyright www.orangesmile.com
One of the most visited shopping facilities in Lille is Euralille Mall, the largest in town. Among dozens of stores concentrated within its walls, there are fashion boutiques of well-known …
Open
Among religious sites, Cathedrale Notre-Dame de la Treille is worth to mention. Recently it has been completely renovated; the vast majority of the restoration work was carried out on donations from local residents. Today the old church is decorated with striking modern facade. The citadel of Lille is the first and one of the most famous works of the famous Vauban. An old building is surrounded by a large picturesque park. These places are the most popular among travelers.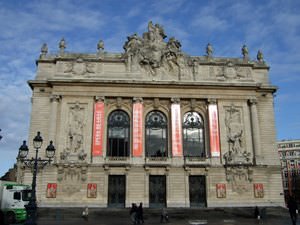 Those wishing to watch wonderful theater performances, as well as listen to opera or classical music concerts, are welcome at the Opéra de Lille. It must be said that its building can hardly be overlooked - its spectacular exterior catches the eye immediately. The Théâtre Sebastopol's shows will appeal to those who prefer avant-garde productions. The theater building is equally noteworthy in terms of architecture. The Musee Hospice Comtesse stands out among other museums. Here, visitors can enjoy works of fine art, furniture, and household items of the 15th-18th century. The building was built in the typical Flemish style back in the 13th century and once served as a hospice founded by Joan, Countess of Flanders.
Lille is the fourth largest city of France that perfectly combines culture and history of Flanders, France and Norway. It is located in Nord-Pas-de-Calais region and is known as the …
Open
Get acquainted with the flora and fauna of northern France in the Musee d'Histoire Naturelle de Lille. Among its exhibits are stuffed animals and the animals themselves (spiders, snakes, leeches), fossils, plants. Find out what children played with centuries ago at the Musee de la Poupee et du Jouet Ancien, which is of particular interest to the youngest travelers. Another wonderful Lille's museum is called Centre d'Art Sacre de Lille, and here you can discover an impressive collection of fine and sculptural art with a religious focus.
The Vieille Bourse de Lille built in 1663 in the Flemish Mannerist style is another object that must be included in any sightseeing tour. The richly decorated building fascinates at first glance so one should definitely get inside learn its history better. It's worth noting that is more than interesting. Nearby is the new Stock Exchange building (Chambre de Commerce), which also deserves a visit due to its appearance. Palais Rameau dated 1881 was built in the Orientalism style atypical of Northern France - and this, however, attracts many tourists. Of particular interest is a richly decorated facade of the building.
Lille has many excellent entertainment centers. Fans of game simulations will like the center AviaSim Lille. In this center, everyone can feel himself as a professional pilot. On special …
Open
A prominent historic monument is Porte de Paris - it was through these gates that the Sun King passed in 1667 to get the keys to the city from the magistrate. It seems as if tourists walk here along with Louis XIV, and this feeling of his presence is amazing. After passing through this place, the monarch issued a decree on the construction of the gate, which was completed by 1692. The gates were erected to commemorate Lille's accession to France. Another beautiful historical monument is Pont Napoleon, which suffered twice during the world wars but each time restored - after all, Lille couldn't lose such a treasure. It was built in 1809 and immediately named after the great French commander to become a monumental symbol of his victories.
Lille has many other prominent religious attractions. For example, Eglise Saint Maurice built at the end of the 14th century. The building acquired its final appearance in the 19th century, representing a delightful combination of Gothic and neo-Gothic styles. Inside, one can still notice some traces of the fire that occurred in 2001. Another neo-Gothic church built in 1886, Eglise du Sacré-Coeur, is striking with its magnificent exterior. The interior of the church is no less stunning, which particularly applies to wonderful stained glass windows.

In the section below, you can get one of our excursion, activities or city discovery tours over Lille and surroundings. Our website offers 10-30% lower ticket prices, when compared to the offline purchase on the spot.
City tours, excursions and tickets in Lille and surroundings
This guide to cultural sights Lille is protected by the copyright law. You can re-publish this content with mandatory attribution: direct and active hyperlink to
www.orangesmile.com
.
Reference information
Art galleries in Lille and around
♥ Art museum 'Palais des Beaux-Arts' Lille, 0.4 km from the center.
On the map
Photo
♥ Art museum 'Lille Métropole Museum of Modern' Villeneuve-d'Ascq, 5.9 km from the center.
On the map
Photo
♥ Art museum 'Louvre-Lens' Lens, 29.2 km from the center.
On the map
Photo
Cathedrals and basilicas near Lille
♥ Basiliek Onze-Lieve-Vrouw van Dadizele, Dadizele, 24.3 km from the center.
On the map
Photo
♥ Basilique Notre-Dame de Bonsecours, Bon-Secours, 41.1 km from the center.
On the map
Photo
♥ Basilique-Cathédrale Notre-Dame et Saint-Vaast, Arras, 43.1 km from the center.
On the map
Photo
♥ Basilique Notre-Dame du Saint-Cordon, Valenciennes, 44.9 km from the center.
On the map
Photo
♥ Basilique-Cathédrale Notre-Dame-de-Grâce-et-St-Sépulcre, Cambrai, 52.6 km from the center.
On the map
Photo
♥ Benedictijner Abdij van Zevenkerken, Sint-Andries, 58.9 km from the center.
On the map
Photo
♥ Basilique Sainte-Maxellende, Caudry, 61.6 km from the center.
On the map
Photo
Photogallery of cultural heritage of Lille
Landmarks of culture on Lille map: art-galleries, monuments, palaces, etc
Excursions over cultural sights of neighbours of Lille
Culture guide to Lille. Which fascinating sights to visit once you are in Lille: temples, churches, museums, theaters and castles. Recommendations (with addresses, phone numbers and links) on the places 'must visit' in Lille. Plan your own city excursion by using this page info!